TOP-10 regions by the total profit of companies
An universal indicator, by which one can judge the scale of a business, is the volume of revenue. How efficiently the company operates in the market is indicated by the derived index from revenue - profit or loss. Revenue is demonstrated by any operating firm, but not all of them are profitable. The number of profitable companies, as well as their total profit can show the concentration ratio of Russian business in a regional level, the attractiveness of one or another territory for the development of entrepreneurship.
Moscow is the center of country's economic life, the city where the largest, most competitive and successful enterprises are located, which sometimes not conduct production activities directly in the capital. It's hard to argue against this thesis, namely in Moscow, according to the results of 2018, 29,9% of the total profit of Russian companies were formed. St. Petersburg is in the second place with a noticeable lag: only 5,6% of total corporate profit were earned in the city on the Neva. The third place is occupied by Khanty-Mansijsk Autonomous District - Yugra – 5,3%.
In total, almost 62% of profit are accounted for by TOP-10 regions, the remaining 75 regions - a little over a third - 38%. This indicates the maintaining of a high degree of concentration of entrepreneurial activity in a small group of economically significant subjects to the detriment of the rest.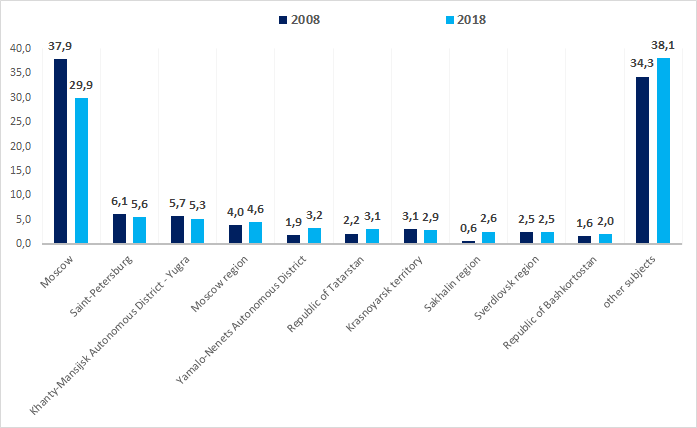 Picture 1. TOP-10 regions in terms of the maximum share of companies' total profit, % of the total profit of enterprises in the country; comparison of indicators of 2008 and 2018
However, if we consider the dynamics of the distribution of companies' profit by regions over the past 10 years, we can make an interesting conclusion: the total share of profitable organizations of Moscow in the total profit of Russian companies decreased by a substantial 8,1% (s. Picture 2). This was the maximum decrease among all the subjects of the RF.
On the other hand, the share in the total profit of companies of the Sakhalin region increased by 2%, of the organizations of the Yamalo-Nenets Autonomous District - by 1,3%, of the enterprises of Leningrad region - by 1%.
In other words, there is a slow, gradual flow of business from the capital to regions. This process can be considered exclusively as a boon for the country as a whole.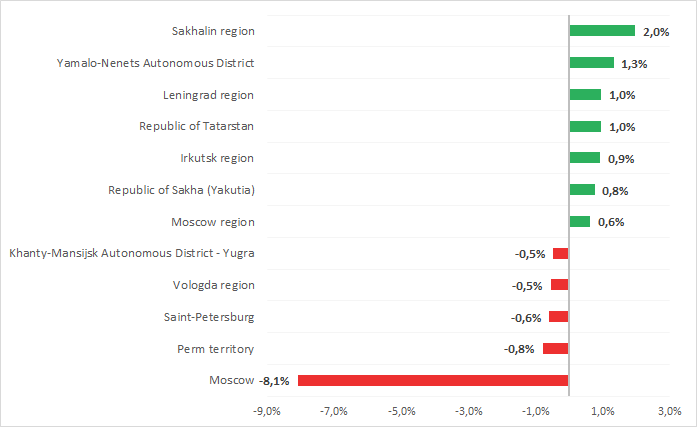 Picture 2. The maximum decrease / increase in the share of total profit of regional companies from the total profit of all companies of the country in 2018 compared to 2008, %