Soy reaches new peaks
Soy is one-year grass plant from the bean family (Leguminosae) one of the oldest planted by humankind. Soybeans consist of 40% of proteins, 20% of fats and the same amount of carbohydrates, 10% of water, 5% of cellulose and 5% of ashes.
World soy production. Planting areas
The main value of this product are fullvalued proteins which are nearly as nutrient as animal proteins. Soy oil contain lecithin, choline, components similar to fi sh lipids, vitamins B and E, different macro- and micro elements. Soy is mostly popular in Japanese, Chinese and vegetarian cuisine. It is highly used in the production of vegetable
and vegetarian analogs of animal products. Soy oil cakes, going into agricultural animals feed, are got due to soybeans pressure.
World soy planting areas have reached 111.3 millions of hectares, having grown by about 33% for the last 10 years. The largest soy planting distribution areas are concentrated in North and South American countries: 30.7 million hectares in the USA (27.8% of the total area), 27.9 million hectares in Brazil (25.1%) and 19.4 million hectares (17.4%) in Argentina.
The total amount of 276 million tons of soy was gathered from the fi elds in 2013, with 79.9% of the production volume belonging to several big market players: the USA with 89.5 million tons, Brazil with 81.7 million tons and Argentina with 49.3 million tons. It is worth noticing that soy is becoming more popular in our country as well, in 2013, Russia reached the 11th position worldwide with the volume of 1.6 million tons, or 0.6% of the total production volume.
Soy cultures gross yield and productivity
In 2014, soy gross yield in Russia has reached 2,5 million tons, agricultural professionals have achieved double-digit growth rates: the value has grown by 56.3%. Last season, the absolute record in total grown soy volume in national agriculture history was seen (see diagram 1). During the 90's, the yield was kept at the constant level of about 0.3 million tons, the fast expansion of this culture began several years ago mostly due to the wider
use in meat and dairy industry.

Soy cultures are planted at the area of 2 million hectares for the 2014 yield in all categories of households (agricultural organizations, farmers, domestic households). The crops have increased to the 2013 level by 30.7% (1531.8 million hectares) and 196.5% (675.2 millions hectares), or three times, compared to 1990. The soy planting areas are concentrated in the Far East: Amur region and the Primorye district support 49.2% of planting areas in common (see table 2). In these regions, summer is quite hot and very humid, which is the best for this plant.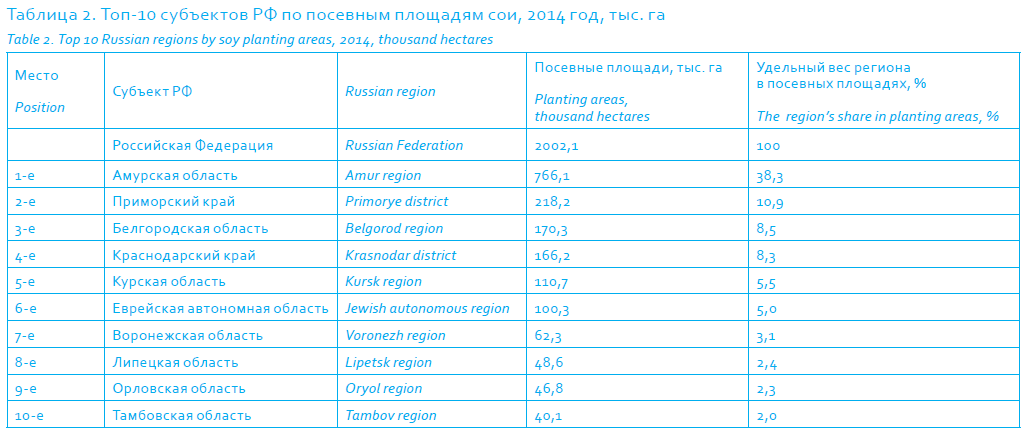 The productivity of soy cultures all over the country has reached 13.5 centenaries from one hectare of planting area, which is a bit behind the 2013 level – by 0.1 centenaries (-0.7%). The highest productivity from all Russian regions of 22.8 centenaries per hectare was seen in North Ossetia – Alanya republic.
In comparison: the average soy productivity in 2013 worldwide was 24.7 centenaries per hectare, reaching 41.6 centenaries per hectare in Turkey and 35.2 centenaries per hectare in Philippines. In the main planting regions, such as the USA and Brazil, soy productivity was 29.1 centenaries per hectare and 29.3 centenaries per hectare correspondingly.
The leading regions by harvested soy volume in 2014 are Amur region (1.1 million tons), Krasnodar district (0.3 million tons) and Primorye district (0.2 million tons). About 41% of all yield in the country belonged only to Amur region.
Technomall company, which is part of 'Protein. Technologies. Ingredients' group is the Russian leader in soy processing. The capacities of the company's enterprise in Lytkarino let produce 11.2 thousand tons of fl our or textured soy protein a year and up to 1.6 thousand tons of soy oil. This provides more than 10% of Russian market's needs. The company is the offi cial distributor for ADM, which is the world leader in soy proteins and food industry ingredients production.
'Technomall. Soy products', one of the biggest deep soy processing enterprises in Russia, is also part of this group. Modern technologies, the use of unique processing methods let get the green products, such as low-fat soy fl our, soy oil and feed additive (soy bean covers). Only non-GMO beans grown in the country are used as raw materials in the manufacturing process. In 2012, a line for food cellulose production was started by PTI company
group on the base of 'Technomall. Soy products'.
Inter-Soy company, working at this market since 1995 has re-oriented the existing technologies for Russian market's needs, national equipment and raw materials. At this enterprise, several products were developed and adapted to Russian traditional food habits, such as Soyka dairy drink, yogurt, kefir and cheeses. They are being modifi ed, and some innovations are also being fi nalized, such as cookies with okara, semi-fi nished products based on okara and fermented bifi dumbacterinum.
Bob I Soya (Bean & Soy) company is the exclusive owner of a number of technologies of getting dairy products from soy and some technologies for compound dairy products using high-quality soy proteins. These technologies and new kinds of food are the result of developing the ideas stated in the 60's by the academician A.N. Nesmeyanov which are world-class now.
Besides of that, we can highlight other two raw soy processing enterprises such as Irkutsk oil and butter plant, leading in soy oil cakes production, and Khabarovsk oil and butter plant, specializing in soy oil production.
Certain soy products manufacturing
In 2014, about 372,7 thousand tons of soy oil were manufactured in Russia, which is 10.9% above the 2013 level. This product is the leader in world vegetable oil production. It is purifi ed and consumed as food product. Many different food products are made with soy oil on a commercial scale, including salads, margarine, bread, mayonnaise, nondairy cream for coffee and snacks. High smoking temperature of soy oil lets use it for frying.
Lecithin is the high-value component extracted from soy seeds together with the fatty oil for confectionery and pharmacy industry. Oil is also used for feed enrichment in production of compound feed formulas and dry feed for agricultural animals.
Otherwise, soy sauce production has the trend of step-by-step reducing: in 2014, about 18 million of standard cans were supplied to the market, which is 2.3 million standard cans lower than in 2013.
Soy sauce is one of the main components of Asian cuisine, the product of soy beans fermentation (sometimes with the addition of grain) driven by the Aspergillus fungi. It contains lots of mineral elements, vitamins and amino acids. It also has the quality to brighten the food taste due to the presence of glutamic acid products.
External soy market trade
The lack of agricultural and climatic resources leads to the fact that Russia imports most of soybeans which are the primary raw material for soy food production. Last year, about 2 million tons of soybeans were imported from anroad by USD 1.2 billion (see table 5).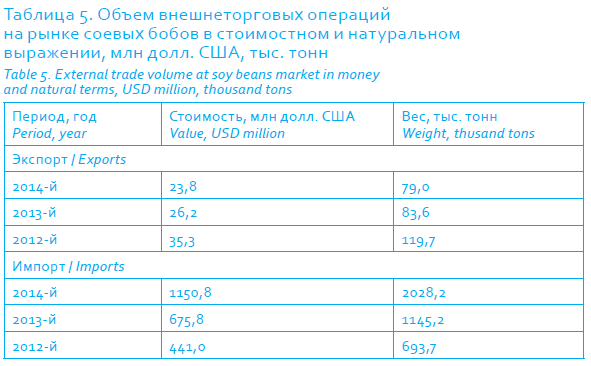 Paraguay is 47.6% of soybeans supply market in natural terms (table 6).

93.3% of soybeans weight is exported to the neighbouring China. But the total trade surplusat this market is negative – the total imports are 48 times over the exports.
The opposite trend is seen at the soy oil market. Russian exports of secondary soy processing production are far over its imports. The total of 349.4 thousand tons of soy oil valued for USD 291.6 million were put to exports last year, although 2.5 thousand tons for USD 2.7 million were imported.
National soy oil is mostly exported to African countries: Algeria, Tunisia and Morocco together support 67.8% of exports volume in natural terms and 66.6% of currency income.
The most of the small soy oil imports come from South Korea – 72% of supply in natural terms. In this market, the positive trade surplus is seen: exports are 108 times over the imports in money terms.
At the soy sauce market, imports are much over the exports. In 2014, production for USD 24 million were imported to the country, although goods for USD 1.4 million were put to exports.
Soy sauce is mostly imported from China, Netherlands and Vietnam, with the total amount of 77.8% of output in natural terms. Soy sauce is mostly exported to the neigbouring Ukraine, with its share in the total exports potential volume of 71.5% in natural terms.
Thus, Russia not only imports raw materials for soy-based production, but also exports large volumes of products from secondary processing, which is surely a positive moment.
Prices from soy manufacturers
The average soy prices from manufacturers are presented at Table 14. According to its data, a conclusion can be made that in February 2015, soybean price has increased by 24.4% to the February 2014 level, reaching RUR 20,101.3 per ton.

The further growth in prices will be caused by the signifi cant acceleration of infl ation processes in economy. The limiting factor is the decrease in the population's purchasing power, refl ecting in the decrease in consumers' demand.
In conclusion, we can say that Russian soy market shows quite good results. Last season, the record amount of soy was harvested; for several years, Russia increases its exports potentials in soy oil supply to external markets.
Otherwise, farmers need state support to increase its production safety (also in the fi eld of interest rate compensation for loan capitals and fuel costs): all countries successful in this field have such measures. Intensifi cation, logistics improvement, land amelioration are part of the problems faced by farmers' households.
Crimea republic, Russia's new region, would make its contribution in the future of national agriculture. In the case of financing adequacy and solving the problems of fresh water supply and complex land melioration, the peninsula can be among the leading regions, in soy plantation as well.
Source publish: Ptitseprom magazine, #3 (27) 2015