Accounts payable turnover of the largest Russian travel companies
Information Agency Credinform has prepared the ranking of the largest Russian travel companies by accounts payable turnover.
The largest enterprises in terms of revenue were selected according to the data from the Statistical Register for the latest available period (for the year 2014). Then, the companies were ranged by decrease in accounts payable turnover ratio (TOP-10).
Accounts payable turnover (times per year) – is a ratio of average accounts payable for a period to sales revenue. The ratio shows how many times within a year the enterprise paid its average accounts payable.
The ratio reflects the repayment process of the debt to contractors (partners, suppliers, agents etc.). It identifies the number of debt repayments and is calculated for cash flows assessment. The ratio helps to make a conclusion about the efficiency of company's activity and its strategic financial management.
The higher is the ratio, the faster the enterprise pays to the suppliers. Low ratio value may testify about problems with bill payment as well as more effective relationship with suppliers, provides more favorable deferred payment schedule and uses accounts payable as a source of cheap financial resources.
For the most full and fair opinion about the company's position, the whole set of financial and non-financial indicators and ratios should be taken into account.
Table 1. Net profit, revenue, dynamics of short-term and long-term liabilities, accounts payable turnover and solvency index Globas-i of the largest travel companies (TOP-10)
N
Name, INN, region
2014 net profit, th RUB
2014 revenue, th RUB
2014/2013 revenue, %
2014/2013 short-term and long-term liabilities, %
Accounts payable turnover, times per year
Solvency index Globas-i®
1
NAO CITY CENTER OF BOOKING AND TOURISM
INN 7707113869
Moscow region
9 335
1 061 228
85
77
350,92
258 High
2
JOINT STOCK COMPANY INTERCONNECT MANAGEMENT CORPORATION
INN 7728580286
Moscow
298 154
831 455
21
105
182,83
212 High
3
South Cross Travel LLC
INN 7707650655
Moscow
1 753
1 530 916
81
286
172,82
550 Unsatisfactory
4
S 7 TRAVEL RETAIL LLC
INN 7701607660
Moscow
69 269
907 537
129
96
160,07
236 High
5
SVOY TOUR AND TRAVEL
INN 7730633954
Moscow
-22 289
1 098 191
111
60
151,71
337 Satisfactory
6
ACADEMSERVICE LTD
INN 5024053441
Moscow region
2 662
3 580 755
102
104
93,51
189 The highest
7
DANKO TRAVEL COMPANY
INN 7704524814
Moscow
38 451
1 188 419
96
96
80,70
266 High
8
LIMITED LIABILITY COMPANY VODOHOD
INN 7707511820
Moscow
-64 702
2 907 212
96
115
70,53
218 High
9
Grand Baikal LLC
INN 3808079832
Irkutsk region
50 906
534 871
103
146
53,17
191 The highest
10
INTERCOM LLC
INN 7708676102
Moscow
179 869
970 449
89
131
46,15
265 High
Accounts payable turnover of the largest travel companies (TOP-10) varies from 350,92 times per year (NAO CITY CENTER OF BOOKING AND TOURISM) to 46,15 times (INTERCOM LLC). In 2014 the average ratio among travel industry amounted to 152,28 times. 4 leading companies from the Top-10 list have indicators higher than this value.
8 out of 10 participants have high and the highest solvency index Globas-i. This fact shows the ability of the companies to meet their obligations in time and fully; the risk of unfulfillment is low.
SVOY TOUR AND TRAVEL LLC has the satisfactory solvency index Globas-i in connection with its participation as a defendant in debt collection arbitration proceedings. The solvency level doesn't guarantee the repayment of debts in time and fully.
South Cross Travel LLC has unsatisfactory solvency index Globas-i due to the submitted bankruptcy notice. Besides, in comparison with 2013, the company demonstrates the significant growth of debt obligations in 2014 among TOP-10 participants.
Picture 1. Accounts payable turnover and revenue of the largest travel companies (TOP-10)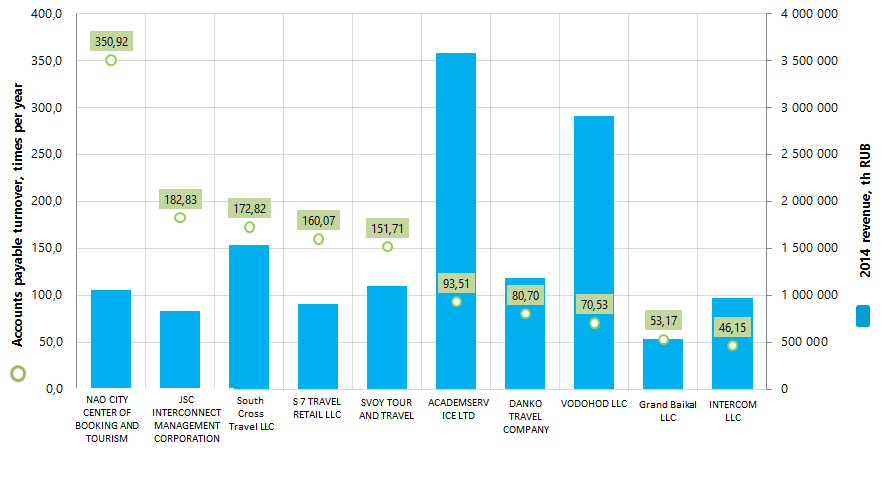 The companies from the TOP-10 list as well as enterprises within industry as a whole have high accounts payable turnover. Thus, in 2014 with the average value of the indicator for travel industry 152,28 times, the indicator of electric grid companies amounted to only 28,16 times, perfumes manufacturers 59,92 times.
According to 2014 results, the annual revenue of TOP-10 industry leaders amounted to 14,6 bln RUB, that is 19% lower than total revenue in 2013. At the same time, only 4 companies from the TOP-10 list improved the revenue indicators in comparison with the previous year.
However, the data from the Statistical Register for 2014-2015 (Table 2) demonstrates the growing revenue of travel companies in 2015 and simultaneous growth of debts to suppliers and contractors.
Table 2. Sales revenue and payables to suppliers and contractors within Russian travel industry in 2014 – 2015

Russian Federation

,

Tourism

2014
2015
2015

/

2014, %

Net sales proceeds of goods, products, works and services

(less the value added tax, excises and other similar compulsory payments) (th RUB)

1 411 635 887
1 719 242 724
122

Payable to suppliers and contractors for goods, works and services (th RUB)

189 908 171
233 983 756
123
Analysis of the distribution across the country of 50 largest travel companies in terms of 2014 revenue indicates about high concentration of business in Moscow – the largest financial center of the country and the city with the most credit worthy population (Table 3).
Table 3. TOP-5 of Russian regions by the number of largest registered travel companies

| Region | The number of registered companies from TOP-50 largest enterprises in terms of 2014 revenue |
| --- | --- |
| Moscow | 32 |
| Saint-Petersburg | 5 |
| Moscow region | 3 |
| Sverdlovsk region | 3 |
| Irkutsk region | 2 |
| Khabarovsk region | 2 |