Net profit ratio of the largest manufacturers of aviation equipment
Information agency Credinform presents a ranking of the largest manufacturers of aviation equipment in terms of net profit ratio.
The largest Russian enterprises (TOP-10) with the highest volume of revenue were selected for this ranking according to the data from the Statistical Register for the latest available period (2015). These enterprises were ranked by decrease in net profit ratio. (Table 1).
Net profit ratio (%) is calculated as the ratio of net profit (loss) to sales revenue. The ratio shows sales profit rate of companies.
There is no prescribed value. It is advisable to compare companies within one industry or analyze change of ratio in time on particular enterprise.
Negative value of an indicator shows that there is net loss. Higher value reflects high efficiency of enterprise operation.
For the most full and fair opinion about the company's financial position the whole set of financial indicators and ratios should be taken into account.
Table 1. Net profit, revenue, net profit ratio and solvency index Globas-i of the largest manufacturers of aviation equipment
Name, INN, region
Net profit of 2015, mln RUB
Revenue of 2015, mln RUB
Revenue of 2015 to 2014, (+/- %)
Net profit ratio, %
Solvency index Globas-i
SPB OAO KRASNYI OKTYABR


INN 7830002462 Saint-Petersburg

2 201,0
7 772,8
16,2
28,32
136
The highest
JOINT STOCK COMPANY HYDROMASH


INN 5262008630 Nizhny Novgorod region

480,4
5 409,3
13,9
8,88
177
The highest
UMPO JOINT STOCK COMPANY


INN 0273008320 The Republic of Bashkortostan

3 577,3
67 511,0
38,1
5,30
199
The highest
JOINT STOCK COMPANY KLIMOV


INN 7802375335 Saint-Petersburg

484,0
15 211,8
53,8
3,18
200
High
Joint-stock Company United Engine Corporation


INN 7731644035 Moscow

434,8
28 027,9
25,5
1,55
232
High
JOINT STOCK COMPANY PERM ENGINE COMPANY


INN 5904007312 Perm territory

63,9
20 699,2
3,3
0,31
226
High
NPO SATURN JOINT STOCK COMPANY


INN 7610052644 Yaroslavl region

-2 287,4
24 039,0
33,1
-9,52
264
High
JOINT STOCK COMPANY KUZNETSOV


INN 6319033379 Samara region

-1 036,8
10 267,6
2,1
-10,10
282
High
JOINT STOCK COMPANY SUKHOI CIVIL AIRCRAFT


INN 7714175986 Moscow

-10 788,0
35 396,7
21,9
-30,48
270
High
AO MMP NAMED AFTER V.V. CHERNYSHEV


INN 7733018650 Moscow

-10 890,7
10 055,1
40,4
-108,31
281
High
The average net profit ratio among TOP-10 companies in 2015 is marked with negative value and is equal to -11,8. The same indicator among TOP-30 companies is 0,22, at industry average value of 1,22. Besides, dynamics of industry average values (Picture 1) has reference to the macroeconomic situation, while enterprises of the industry to a large extent use the Government assistance.

Picture 1. Industry average values of net profit ratio
All of TOP-10 companies have got the highest and high solvency index Globas-i that shows their ability to pay off the debts in time and to the full extent.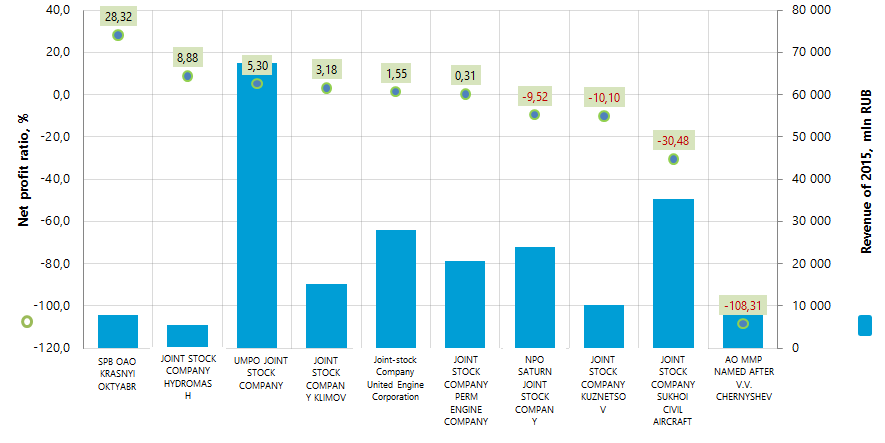 Picture 2. Net profit ratio and revenue of the largest manufacturers of aviation equipment (TOP-10)
Total revenue of TOP-10 companies in 2015 was 224,4 bln RUB that is 27% more than in 2014. Besides, total net loss in this group decreased by 15 %. Seven companies of TOP-10 (marked with red colour in Table 1) have got decrease in net profit values or loss at year-end 2015 compared to the previous period.
In the TOP-30 group increase in revenue for the same period was 23%, with decrease in total net loss by 21%.
Six companies of TOP-10, as in the industry in general, are observed to have positive values of net profit ratio. On the back of economic turbulence, the industry has positive prospects for further development, taking into account constant support from the Government. This is confirmed by estimated indicators of increase in flying vehicles sales revenue (Picture 3), based on data of the Federal State Statistics Service.

Picture 3. Revenue (net) from sale of flying vehicles including space vehicles (less value-added tax, excise duties and other statutory payments) (increase from year to year, %)
*) – data for 6 months of 2016 are given to the corresponding period of 2015.
Manufacture of aviation equipment is significantly attracted to regions with prominent productive and scientific potential – Moscow and Moscow region, Saint-Petersburg, Nizhny Novgorod and Samara regions. This is confirmed by data of the Information and analytical system Globas-i, according to that 30 largest enterprise of the industry in terms of revenue volume for 2015 are concentrated in 12 regions of Russia (Picture 4).

Picture 4. Regional distribution of 30 largest enterprises on manufacture of aviation equipment