Business reported for 2020
Despite the 5% growth to 255 trillion RUB of total revenue, the 21% decrease in net profit was recorded and amounted to 15 trillion RUB, the largest fall compared to the 2008 results.
Consequences of the economic slowdown
The analysis of financial reports for 2020 revealed that every second company suffered from the economic slowdown: 782 thousand businesses received less net profit than in 2019, and the year-end loss was recorded for over 421 thousand enterprises.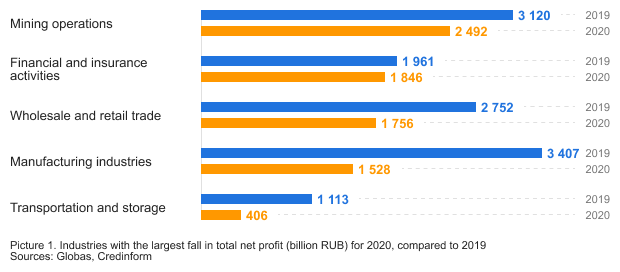 In the manufacturing sector, the most affected segments are the production of vehicles and chemicals. The spring lockdown, imposed by the Government of the Russian Federation, lead to the decrease in net profit of automotive companies by 710 billion RUB, and this figure is 477 billion RUB for chemical enterprises.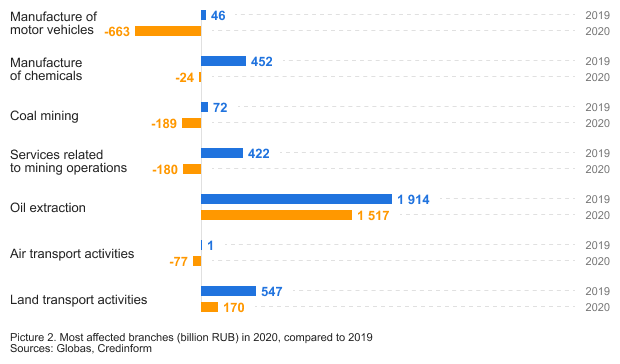 Mining in the Russian Federation is export-oriented, so the industry is directly dependent on external demand. Due to similar restrictions in other countries, the demand for raw materials has decreased, and the volume of production capacity and the net profit of raw materials companies has fallen.
Growth leaders
Agriculture and construction are one of the few industries that have shown growth during the recession of the Russian economy. The agro-industrial complex, along with the construction industry, kept working during the restrictions. Now agriculture is an independent, stable industry, and it was proved in spring 2020: with the peak demand for groceries, store shelves have always were full of goods.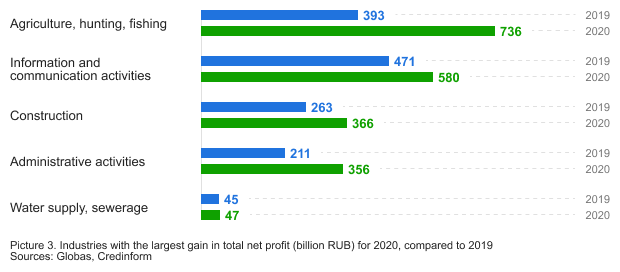 In conclusion
The fall of the aggregate net profit of most industries, followed by the business limitation in 2020, had a negative impact on the formation of GDP. According to the Ministry of Economic Development and Trade, there was a 3% decrease in the volume of the Russian economy in 2020. Despite the difficult economic situation, the Ministry of Economic Development and Trade has updated the socio-economic forecast for Russia for 2021: GDP is expected to grow by 2.9% due to the stabilization of business and the recovery of consumer demand.
You can learn or update your knowledge on how to analyze the new financial data of your counterparties and to assess their financial situation at the webinar on June 2, 2021.