7 important facts about Russian companies
According to the Information and Analytical system Globas, there are 3,1 million operating legal entities in Russia as of August 1, 2021.
We bring to your attention a few of the most important facts that will help you compose an overview of Russian companies.
1. General structure
The majority of the operating legal entities counts for commercial organizations - 2.5 million or 81%. The most common legal form is a limited liability company. The number of registered LLC is 2.4 million. Joint stock companies are a less spread legal form. 48.7 thousand joint-stock companies are registered in Russia, including 41.6 thousand non-public and 6.5 thousand public joint-stock companies. In 2019, there were 67 thousand joint-stock companies in the Russian Federation, since this year the number of joint-stock companies has been constantly decreasing.
The shareholders of operating companies with a controlling stake in the authorized capital of 50% or more are mainly Russian citizens. There are 2,1 million such kind of companies. Citizens of other countries with a share in the capital of more than 50% have established 50 thousand organizations.
2. Region of registration
Moscow remains the leader in terms of the number of registered legal entities. As of August 1, 2021, over 520 thousand legal entities were registered in the capital of our country, St. Petersburg is in the second place with 208 thousand registered companies, Moscow region closes the top with 178 thousand companies. The share of the three regions of the total number of operating companies exceeds 29%.
3. Activity types
Most of the companies are engaged in wholesale and real estate transactions. These sectors are the most popular in Moscow, St. Petersburg and Moscow region (Picture1). The largest number of construction and development companies is registered in St. Petersburg and Moscow too.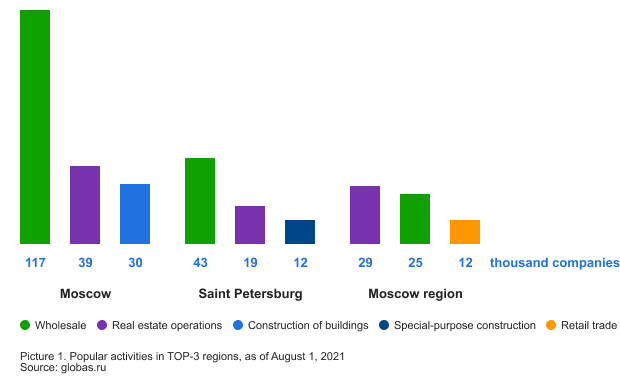 4. Companies' duration
The significant part of operating companies have passed the formation period: 67% of organizations were founded more than 5 years ago (Picture 2). The share of newly established companies from 1 to 3 years is 13%. In 2020, a large number of new companies could not survive the decline in the level of business activity: 110 thousand legal entities with duration from 1 to 3 years ceased their activities.

5. Business categories
2.1 million operating companies refer to small and medium-sized businesses, and 1,9 million companies are micro-enterprises.
6. Result of activity
Most of the companies in Russia show positive financial result: in 2020, the share of profitable companies was 75%. The share of unprofitable ones is 25%.
7. Globas index
According to Globas, 30% of operating companies have Superior / High and Strong / Medium solvency index, 47% have Adequate / Weak solvency index, and 11% have Unsatisfactory / Poor solvency index.
7 conclusions from 7 facts
Russian business remains fairly closed. Entrepreneurs make a choice in favor of non-public legal form.
There is a high concentration of business in the capital and its environs.
The majority of Russian companies are engaged in trade.
The backbone of Russian business is mature enterprises that have experienced several economic shocks and crises. Young companies were unable to overcome the difficulties of 2020, and their share in the total number of operating organizations decreased.
Despite the large number of small enterprises, Russia is a country of large companies, in which the bulk of GDP is provided by the largest taxpayers.
About 75% of companies turned out to be profitable by the results of 2020, and only a third were unprofitable.
The profitability of a company does not always guarantee solvency. Only a third of companies meet the requirements of Superior / High and Strong / Medium solvency index.