Solvency ratio of fertilizers and nitrogen compounds manufacturers
Information agency Credinform prepared а ranking of Russian enterprises engaged in manufacturing of fertilizers and nitrogen compounds. The ranking list includes industry's largest Russian companies with mentioned activity type and is based on total revenue as stated in the Statistics register, with the reference period of 2012. The selected companies were ranked by decrease of solvency ratio.
Solvency ratio (х) is calculated as the relation of own capital to the balance sum. This reflects the dependence of the company from external borrowings. Recommended value is more than 0,5. If the value less than 0,5, then we can talk about imbalance of company's finance, high leverage, which increase the economic risks.
On the other hand, in order to keep the market and to develop all the time each enterprise, whether it is a global or small regional company, needs a strategy for technological upgrading, plan for the development of new sales markets. All this demands long-term financial investments, because own funds are not enough. Companies have to attract credit resources.
Thus, the high value of solvency ratio in the conditions of global competition also doesn't save from financial difficulties in the future. They could arise against decline in demand for production, which doesn't meet the changed requirements or worse than production of other enterprises by properties and quality. The financial management and company's principals should take into account all internal and external factors of the business environment, to look for golden mean between the development and financial independence.
Solvency ratio of the largest manufacturers of fertilizers and nitrogen compounds

| № | Name | INN | Region | Turnover 2012, mln. RUB. | Solvency ratio | Solvency index GLOBAS-i® |
| --- | --- | --- | --- | --- | --- | --- |
| 1 | Public Joint Stock Company " Azot" | 7116000066 | Tula Region | 34 936,8 | 0,91 | 127(the highest) |
| 2 | OJSC MINUDOBRENIYA | 3627000397 | Voronezh Region | 29 699,0 | 0,90 | 178(the highest) |
| 2 | Public Joint-Stock Company "Nevinnomyssky Azot" | 2631015563 | Stavropol Territory | 28 596,0 | 0,89 | 159(the highest) |
| 4 | JSC "TOGLIATTIAZOT" | 6320004728 | Samara Region | 35 151,0 | 0,74 | 151(the highest) |
| 5 | OJSC "KuibyshevAzot" | 6320005915 | Samara Region | 28 349,7 | 0,64 | 169(the highest) |
| 6 | KJSC "AZOT" | 4205000908 | Kemerovo Region | 27 784,5 | 0,50 | 185(the highest) |
| 7 | Kirovo-Chepetsky Khimichesky Kombinat, OJSC | 4312138386 | Moscow | 24 074,0 | 0,49 | 208(high) |
| 8 | JSC Acron | 5321029508 | Novgorod Region | 36 058,8 | 0,40 | 232(high) |
| 9 | OJSC Uralkali | 5911029807 | PermTerritory | 110 116,3 | 0,29 | 170(the highest) |
| 10 | Uralchem, OJSC | 7703647595 | Moscow | 22 554,2 | 0,28 | 239(high) |
Total 2012 turnover of TOP-10 nitrogen fertilizers manufacturers amounted 377 320,3 mln. RUB. The average estimated value of market leaders solvency ratio - 0,6, which means the maintaining of balance between own and borrowed funds.
Solvency ratio of the largest Russian manufacturers of fertilizers and nitrogen compounds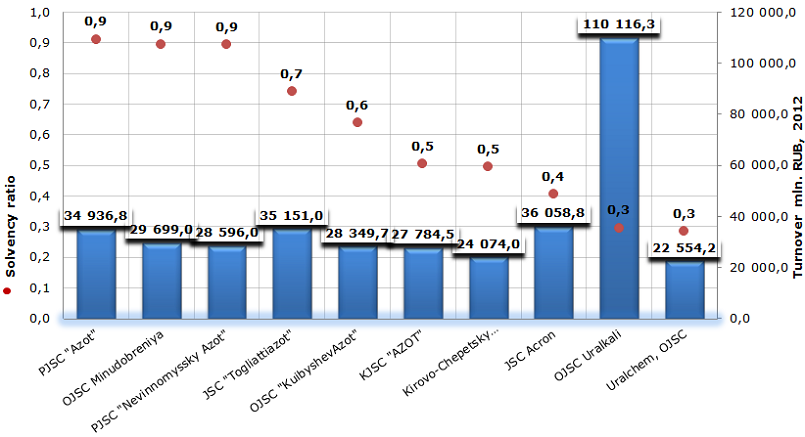 The following enterprises of TOP-10 have the solvency ratio value more than 0,5: Public Joint Stock Company " Azot" - 0,91, OJSC MINUDOBRENIYA – 0,90, Public Joint Stock Company "Nevinnomyssky Azot" – 0,89, JSC "TOGLIATTIAZOT" - 0,74, OJSC "KuibyshevAzot" – 0,64.
The largest enterprise of the industry by turnover - OJSC Uralkali, with the solvency ratio 0,29, is on 7 place from 10. Rather low ratio value can testify about high proportion of credit to company's finance.
The worse ratio value in TOP-10 of nitrogen fertilizers manufacturers has Uralchem, OJSC - 0,28, the company takes the last place in the table. Nevertheless, according to independent assessment of creditworthiness by Information agency Credinform, the company has the high solvency index GLOBAS-i®. That means the opportunity to repay the liabilities on time and fully, the non-execution risk of which is insignificant.
It should be noted, that all enterprises in TOP-10 list have the high and the highest solvency index GLOBAS-i®. This fact testifies about good situation in the industry, the companies are competitive not only within the country, but successfully export its production abroad.
From the investment point of view, the collaboration with the companies from the list is quite attractive.
High technology export is an impulse to development of the country's economy
Prospects of further development of Russian export were discussed in the course of international investment forum in Sochi. Back in December 2011 the Government of the Russian Federation approved the «Strategy of innovation development for the period till 2020». It mentioned the necessity of russian business integration into global chains for creation of additional value and necessity of open national innovation system developing. But for the moment the situation in this field is far from ideal: in this year both physical quantity and value quantity of export have decreased.
For a long time experts discuss the rising of laying-up risks for the Russian economy, connected to its fuel and raw specialization and loss of scientific and technological resources on the back of low rate of development. According to experts, increase of high technology export share might act as an impulse to development of the country's economy.
By various estimates Russian share in the world market of knowledge-intensive and high technology goods doesn't exceed 0,3% at year-end 2012. Today Russia supplies innovation market with ideas and researches (so-called intellectual raw), and imports ready-made technologies and equipment, created frequently on the basis of our offers. Current situation speaks for the necessity to stimulate support of national innovation companies.
Along with underdevelopment of modern institutions of Russian export support, many experts mention high transaction expenses for participant of foreign economic activities, appeared due to immense amount of formal administrative and customs procedures as one of the main causes of low indices of high technology export.
3 billion 100 million USD were allowed for financial support of Russian export in the 2013 country's budget. Moreover, in total export volume of non energy products share of export, provided by state guarantee support, accounts for no more than 0,5%. One of the measures to increase share of non-resource export might be efficient advance of export of engineering products.
Furthermore, during «round table» the topic about Russia's WTO accession was'nt left behind. According to the Minister of Economic Development of the Russian Federation Alexei Ulyukaev, the state would actively protect its domestic manufacturers-exporters. The corresponding suits for liberalization of exports are filed. He adds that we had had 70 restrictive prohibitive measures, in 2012 - 16 of them were eliminated, and in first half of 2013 - 5 more. Thus, supportive measures, corresponding to standards of WTO, have already began to work and bring results. Owing to liberalization, revenues of domestic manufacturer have increased by hundreds of million dollars.
In addition, the Minister said that development program of foreign economic activity, so to say «road map of export support», is approved.
Ulyukaev also mentioned that specific reform will concern Russian trade agencies. In minister's opinion,their potential isn't used fully. It is proposed to turn agencies into service centres, where enterpreneurs could get full assistance service, from searching of partners, market researches, preparation of necessary alalytics to providing of legal and informational consultations. Conversion program of trade agencies is approved at government level. At present time the evaluation system is being organized and opinion of businessmen also will be considered. It is expected that such changes will favourably influence small and medium business.