Russian air travel is taking off
In 2017 all-time peak of air passengers number was recorded: 105 mln passengers.
Transfer intensity and passenger traffic volume are indicative of the country's economic climate and human wellbeing. When there is an economic downturn, demand for air tickets drops – first for holiday trips being a product of deferred demand, and then for business flights.
105 mln travelers used Russian airports in 2017, that is by 15,4% higher than in 2016. Speaking about the Soviet period, the highest number of passengers was recorded in 1990 – 91 mln, and then there was a reduction up to 1999 when airports have served only 22 mln people. As the GDP grew, the positive dynamics of air carriage was restored but fall under crisis of 2008 and 2015-2016 though (see Picture 1).
Following the results of January 2018, air companies transferred 13,5% more passengers than in January 2017: 7,5 mln and 6,5 mln respectively. If the trend of growth continues this year, increase in annual rate up to 119 mln people should be expected.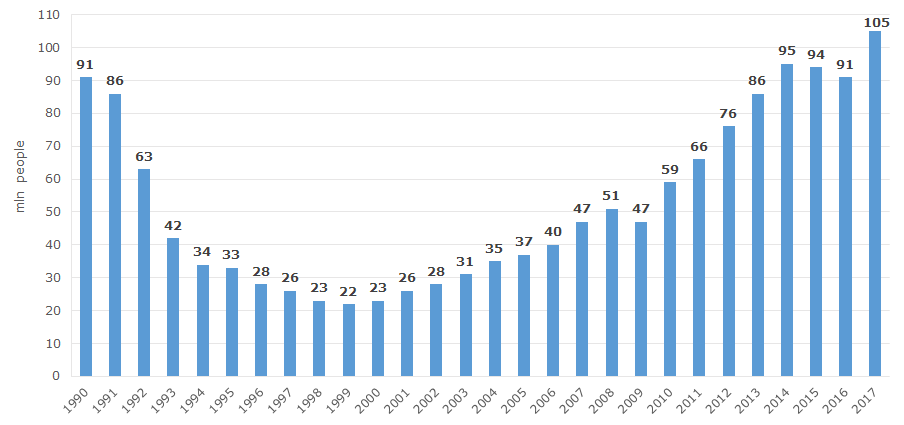 Picture 1. Number of passengers transferred by air transport in Russia, mln people
Increased ridership is beneficial to ratings of key airports in the RF. Top-10 of the largest air harbors record a considerable increase in the number of served passengers (arrived and departured). However, airport in Simferopol became an exception with a small decrease to the level of 2016 that can be explained by resumed flights to Turkey after a one-year ban.
Vnukovo Airport demonstrated the highest increase (30,1% up to 18,1 mln passengers) and became the 3rd in the top. Koltsovo in Yekaterinburg also made a huge dynamics: plus 26% up to 5,4 mln. St. Petersburg Pulkovo Airport increased transfer by 21,6% up to 16,1 mln people.
Sheremetyevo, the leading air gate of Russia, is the first among all domestic airports to surpass the mark of 40 mln arrived and departured passengers. This figure allowed the airport to become 11th in Europe and be included in Top-50 of major hub airports of the world. For reference: being the largest airport in the Old World, London Heathrow served 78 mln people in 2017; Hartsfield-Jackson Atlanta International Airport (the USA), the world's only airport with ridership over 100 mln passengers per year, served 104 mln.
All Top-10 airports placed all-time high number of served passengers, excluding Domodedovo with record 33 mln in 2014 and Simferopol with 5,2 mln in 2016 and 1991.
Because of growth in demand for travels, airline and routs network is expectedly growing. Table 1 contains information about flights that will be opened this spring. From Sheremetyevo since March 1, 2018 Air Arabia will transfer to Sharjah (UAE). Flights to Casablanca will be voyaged by Royal Air Maroc from March 26 from Domodedovo. Flight map from Pulkovo is significantly grown: London, Pisa, Pula, Teheran, Alicante, Izmir, Chongqing – here is a partial list of routes to be opened in spring. Like capital air hubs, regional airports also developed new points of destination.
Table 1. The largest airports of Russia by the number of served passengers (arrived and departured) and new air travel destinations of spring 2018

Position in Russia (Europe)

Airport

Number of served passengers in 2017, mln people

Growth rate of number of served passengers to 2016, %

Air company and new destinations of spring 2018

Air company

Destination

Starting date

1 (11)
Sheremetyevo (Moscow)
40,1
17,8
Aeroflot
Saransk
01.05
Air Arabia
Sharjah (UAE)
01.03
Cobalt Air
Larnaca (Cyprus)
26.03
Ellinair
Chania (Greece)
29.04
Kavala (Greece)
28.05
Rhodes (Greece)
30.05
Ural Airlines
Simferopol
25.03
Sochi
Yekaterinburg
2 (13)
Domodedovo (Moscow)
30,7
7,6
Aegean Airlines
Kerkyra (Greece)
28.04
Royal Air Maroc
Casablanca (Morocco)
26.03
S7 Airlines
Tenerife (Spain)
26.04
Saratov airlines
Krasnoyarsk
27.04
3 (31)
Vnukovo (Moscow)
18,1
30,1
Pobeda
Kaliningrad
26.03
Innsbruck (Austria)
02.03
Utair
Kaluga
07.03
Azimut
Grozny
01.05
Krasnodar
4 (34)
Pulkovo (Saint-Petersburg)
16,1
21,6
Rossiya Airlines
London (Great Britain)
25.03
Air Malta
Malta (Malta)
30.03
Germania
Dresden (Germany)
26.04
I-Fly
Antalya (Turkey)
27.05
Iran Air
Teheran (Iran)
25.03
Pobeda
Gyumri (Armenia)
18.04
Kaliningrad
Naberezhnye Chelny
27.03
Tbilisi (Georgia)
28.03
S7 Airlines
Alicante (Spain)
28.04
Barcelona (Spain)
27.04
Perm
30.04
Pisa (Italy)
27.03
Pula (Croatia)
27.05
SunExpress
Izmir (Turkey)
18.05
Tianjin Airlines
Chongqing (China)
01.04
Ural Airlines
Frankfurt (Germany)
26.03
Utair
Kaluga
02.04
5
Sochi
5,7
8,0
airBaltic
Riga (Latvia)
14.05
Ural Airlines
Moscow
25.03
Utair
Kaluga
03.04
6
Koltsovo (Yekaterinburg)
5,4
26,0
Air Moldova
Kishinev (Moldova)
28.04
Corendon Airlines
Antalya (Turkey)
01.05
Pobeda
Krasnodar
25.03
Ural Airlines
Moscow
25.03
Bologna (Italy)
21.04
7
Simferopol
5,1
-1,4
Ural Airlines
Moscow
25.03
Rostov-on-Don
26.05
8
Tolmachevo (Novosibirsk)
5,0
22,2
I-Fly
Antalya (Turkey)
28.05
S7 Airlines
Beloyarskiy
03.05
Kazan
29.04
Kogalym
02.05
Minsk (Belarus)
Nadym
01.05
Pavlodar (Kazakhstan)
30.05
Samara
27.04
Tbilisi (Georgia)
28.04
Ufa
Globus Airlines
Larnaca (Cyprus)
01.05
9
Pashkovsky (Krasnodar)
3,5
17,0
Ellinair
Kerkyra (Greece)
28.05
Pobeda
Yekaterinburg
25.03
Turkish Airlines
Istanbul (Turkey)
08.05
Utair
Kaluga
01.04
10
Ufa
2,8
21,4
S7 Airlines
Novosibirsk
26.04
Aviation service market is an indicator of situation in economy, because recession has a negative impact on air transfer too. Under crisis, air companies continue to operate due to the government or "rich" shareholders support. Private air companies are profitable only at increasing demand, working with numbers and developing new routes. That is confirmed by Transaero, formerly the second domestic carrier, failed after the rouble devaluation and dramatic reduction in overseas trips.
Expanding flight geography, our air harbors could be a part of the global market and eventually become not air hubs focused mainly on local tourism, but transnational transit hubs. Development of domestic destinations, sometimes being lossmaking, is mandatory condition for economic growth, because such a huge state as Russia cannot be connected together without it.
Amendments to the notification procedure about business opening
Legal entities and individual entrepreneurs are obliged to inform the correspondent authorities of the state control or supervision about opening a business. That is required by the Federal Law of 26.12.2008 №294-FL «On protecting rights of legal entities and individual entrepreneurs during the execution of the public control (supervision) and municipal control».
According to the Law, the regulations for presenting of notifications for carrying out particular types of business were developed (The Decree of the Government of 16.07.2009 №584). By the Decree the order of filing of notifications to the correspondent federal executive authorities (or territorial bodies) was established in terms of actual location of providing works or services.
According to the Decree of the Government of the RF of 09.12.2017 №1500, since January 1, 2018 notification about business opening can be filed regardless from location of providing works or services.
It should be noted that by the same Decree of the Government of the RF of 16.07.2009 №584 edited from 09.12.2017, the List of works and services as a part of particular types of business activities, that should be provided with notification, was approved. Among these activities:
Provision of hotel services, domestic services, public food services;
Wholesale;
Provision of services for transportation of passengers, luggage and cargo by automobile transport;
Transportation of cargo and freight luggage by marine, railroad transport;
Manufacture of food products (bread, bakery and confectionary products, milk and dairy products, refined oils and fats, sugar, flour, grain, mineral water, soft drinks, meat and poultry meat products, cocoa, chocolate, sugar confectionary products, tea, coffee, spices, condiments, baby food, dietetic food products);
Manufacture of prepared pet foods;
Exploitation of explosive and chemically hazardous production facilities of IV hazard class;
Treatment of medical products;
Manufacture of textiles, wearing apparel, clothes, leather, leather apparel, footwear;
Publishing and printing activities;
Wood processing and manufacture of wood and cork products, except for furniture;
Manufacture of tare and wrapping, furniture, individual protective gear, fire-fighter products, low voltage equipment, construction materials and apparel;
Provision of social services and activities of touristic agencies;
Processing and preserving of potatoes, fruits, vegetables, fish- and sea food products;
Technical maintenance, repair and technical diagnostics of domestic gas equipment.
Subscribers of the Information and Analytical system Globas can get comprehensive information about contractor`s notifications for opening a business in the section «Licences. Certificates» of the company report.