Trust economy attracts corporate investment
St. Petersburg International Economic Forum 2018 (SPIEF 2018) showed that Russia is the territory of possibilities: over 17 thousand participants from 143 countries visited the event. During the Forum 593 agreements at the amount of over 2,6 trillion RUB were signed.
The biggest agreements of SPIEF 2018 (May 2018, St. Petersburg) were the following: an agreement worth USD 1.5 billion to construct a natural gas processing plant in the town of Ust-Luga (Leningrad Region); contracts with a total value of USD 2.1 billion for the supply of petrol fuel; an agreement to open a credit line of EUR 807 million by a consortium of five European banks; an agreement to form a syndicated loan of up to RUB 278 billion to fund the construction of the Belkomur railway line. The agreements were signed by companies from Germany, Japan, Mongolia, other countries of Europa and Shanghai Cooperation Organization.
SPIEF 2018 was held under the slogan «Building a Trust Economy». Trust is a key asset in business. It is more complicated to comply with agreements and make forecasts under media wars and sanctions. The Forum confirmed the importance of winning confidence in cooperation with business partners under the conditions of global economy. Trust cerates the breeding ground for corporate investment.
Despite the sanctions pressure and political turbulence over Russia, transnational companies achieved a dominant position in the Russian market. Excluding isolated cases, they continue successful business development by establishing subsidiaries or investing into domestic companies. It is often the case ultimate beneficiary of a foreign shareholder is of Russian origin. This fact is the further proof of Russia's integration in the global economy and being its integral part.
Bulk of investment to corporate sector flows from the West
Among large Russian companies with revenue exceeding 2 bln RUB, there are about 1,5 thousand organizations of the real sector with foreign legal entity holding a control share in the capital (see Picture 1). Total turnover of these companies is up to 21,5 trillion RUB. As a comparison, the GDP of Russia in 2017 was amounted to 92 trillion RUB.
A third of companies from the list is owned by investors from Cyprus. Usually this means Russian citizens as ultimate beneficiaries. It is revealing that France and Germany are in top ten of investors in the Russian capital. In business community, these countries speak more often about meaningless of sanctions and necessity of their ending.
It is interesting that despite good political relations between Russia and Asia, China and India being included in the region, invest to the Russian corporate sector extra carefully. Only 16 from 1,5 thousand companies with foreign capital are owned by Chinese business, that is almost 10 less in comparison with Germany; and merely 1 company is invested by India. In this context, it is premature to speak about pivot to Asia; connections with Europe remain to be crucial and preferred.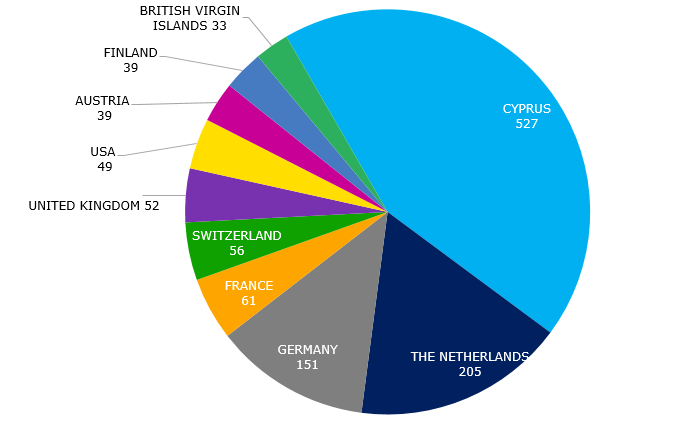 Picture 1. Number of the Russian companies with turnover exceeds 2 bln RUB being controlled by foreign shareholders, country of investment origin
Being on the Russian market, leading transnational corporations continue to draw significant income
The Table 1 contains Top-10 of the largest companies established by foreign corporations in Russia. LA SOCIETE A RESPONSABILITE LIMITEE AUCHAN, leading by revenue, is a subsidiary of French retailer. The share in operating revenue of AUCHAN HOLDING from the Russian presence is almost 10%. TOYOTA MOTOR LLC, the second by revenue, contributes 1,8% to the concern. The share of JTI MARKETING AND SALES LLC in the corporation's operating revenue is 24,5%.
Range of corporate investment's interests is very wide: retail, food and tobacco industry, engineering.
Table 1. The largest companies established by foreign corporations in Russia

Rank

Company
Revenue for 2016
Industry
Majority shareholder
Interest

Country of majority shareholder

Parent company
Country of incorporation
Operating revenue for 2016

Share of the Russian company in total operating revenue

1
LA SOCIETE A RESPONSABILITE LIMITEE AUCHAN
$5,5 bln
Retail
99%
SOGEPAR S.A.
France
AUCHAN HOLDING
France
$55,7 bln
9,9%
2
TOYOTA MOTOR, LLC
$4,6 bln
Engineering
100%
TOYOTA MOTOR EUROPE
Belgium
TOYOTA MOTOR CORPORATION
Japan
$252,2 bln
1,8%
3
JTI MARKETING AND SALES, LLC
$4,5 bln
ТTobacco industry
100%
JT International Germany GmbH
Germany
JAPAN TOBACCO INC
Japan
$18,4 bln
24,5%
4
PHILIP MORRIS SALES AND MARKETING, LLC
$4,4 bln
ТTobacco industry
99%
Philip Morris GmbH
Germany
PHILIP MORRIS INTERNATIONAL INC.
USA
$26,7 bln
16,5%
5
METRO CASH & CARRY, LLC
$4,4 bln
Retail
54,45%
Metro Cash & Carry INTERNATIONAL HOLDING B. V.
The Netherlands
METRO AG
Germany
$42,3 bln
10,4%
6
VOLKSWAGEN GROUP RUS, LLC
$3,2 bln
Engineering
55,14%
VOLKSWAGEN FINANCE LUXEMBOURG S.A.
Luxembourg
VOLKSWAGEN AG
Germany
$237,6 bln
1,3%
7
LA SOCIETE A RESPONSABILITE LIMITEE LEROY MERLIN VOSTOK
$3,1 bln
Retail
99,99%
Bricolage Investissement France
France
GROUPE ADEO
France
$17,5 bln
17,7%
8
International Tobacco Marketing Services, JSC
$3,0 bln
ТTobacco industry
89,3%
BRITISH AMERICAN TOBACCO COMPANY LIMITED
The Netherlands
BRITISH AMERICAN TOBACCO P.L.C.
United Kingdom
$27,6 bln
10,9%
9
MERCEDES-BENZ RUSSIA SAO
$2,8 bln
Engineering
100%
Daimler AG
Germany
DAIMLER AG
Germany
$164 bln
1,7%
10
NESTLE ROSSIYA, LLC
$2,3 bln
Food industry
84,08%
NESTLE S.A.
Switzerland
NESTLE S.A.
Switzerland
$88,8 bln
2,6%
Some of the largest Russian companies are owned by foreign legal entities
The Table 2 contains the largest Russian companies owned by a foreign shareholder, for example: MAGNITOGORSK IRON & STEEL WORKS, NOVOLIPETSK STEEL, VIMPEL-COMMUNICATIONS, RUSSIAN ALUMINIUM, AVTOVAZ. The experience of attracting nonresidential stockholders confirms that Russia is a country with open economy, including in term of transferring business to another jurisdiction.
Table 2. The largest Russian companies owned by foreign shareholders

Rank

Company
Revenue for 2016
Industry
Majority shareholder
Interest

Country of majority shareholder

1
TRADE COMPANY MEGAPOLIS, JSC
624,1 bln RUB
Food distribution
Megapolis Distribution B.V.
99,99%
The Netherlands
2
MAGNITOGORSK IRON & STEEL WORKS, PJSC
339,1 bln RUB
Metallurgy
Mintha Holding Limited
84,26%
Cyprus
3
NOVOLIPETSK STEEL, PJSC
335,2 bln RUB
Metallurgy
FLETCHER GROUP HOLDINGS LIMITED
84,03%
Cyprus
4
VIMPEL-COMMUNICATIONS (Beeline), PJSC
272,4 bln RUB
Communications, IT
VEON Holdings B.V.
99,99%
The Netherlands
5
RUSSIAN ALUMINIUM (Rusal), JSC
233,9 bln RUB
Metallurgy
UNITED COMPANY RUSAL ALUMINIUM LIMITED
100%
Cyprus
6
AVTOVAZ, PJSC
190,0 bln RUB
Engineering
ALLIANCE ROSTEC AUTO B.V.
64,6%
The Netherlands
7
O`KEY, LLC
180,6 bln RUB
Retail
O'KEY GROUP S.A.
99,3%
Luxembourg
8
SNS-HOLDING, LLC
149,3 bln RUB
Tobacco distribution
GK SNS LIMITED
100%
Cyprus
9
RUSENERGISBYT, LLC
148,5 bln RUB
Electricity supply
RESENERGO INVESTMENTS LTD
50,5%
Cyprus
10
ANTIPINSKY REFINERY, JSC
146,7 bln RUB
Manufacture of petroleum products
Vikay Industrial Limited
79,99%
Cyprus
Notification procedure for assembling and exploitation of elevators and escalators
Amendments to the Federal Law № 294-FL «On protecting rights of legal entities and individual entrepreneurs during the execution of the public control (supervision) and municipal control» were made by the Federal Law of April 23, 2018 № 94-FL.
According to the Amendments, during 6 months after September 1, 2018 legal entities and individual entrepreneurs, involved in assembling, exploitation and repair of elevators, platforms for the disabled, moving sideways and escalators, are obliged to inform the authorized federal executive body about carrying out these activities. This regulation is not applicable to activities involving subways escalators.
Notifications should be sent according to the order defined by the Federal Law № 294- FL of 26.12.2008.
According to the Russian Classification of Economic Activities, operating since February 1, 2014 (OKVED2), these activity types can be defined by the following codes:
28.22 Manufacture of lifting and transporting equipment, including
28.22.6 Manufacture of elevators, skip winders, escalators and moving sideways;
43.29 Other construction and assembling works, including installation or assembling of elevators and escalators in the buildings, their repair and maintenance.
According to the Information and Analytical system Globas currently more than 21 thousands of legal entities and individual entrepreneurs are carrying out these activities as main ones.