Instruments allowing to cut expenses
The Government and the expert community from time to time are coming back to the topic of necessity to support business in financial and time costs cutting that an entrepreneur has to bear under reliability investigation of current or potential partners. Such support is possible by means of legislation development.
For example, the Central Bank of the RF for the purposes of anti-money laundering and terrorism financing (AML/TF) demands financial organizations to identify clients, representatives of clients, beneficiaries and beneficial owners. The Federal Financial Monitoring Service is charged with similar functions that can request and receive information about beneficial owners of legal entities and individual entrepreneurs` clients.
The Federal Tax Service of the RF, realizing the AML/TF task demands business entities before entering into business transactions to take measures of «Due Diligence and Care» by investigating contractors for corresponding to certain criteria using as well open data sources and specified data bases.
Russian business more frequently applies for compliance method – orientation to the world`s best practices and standards. Compliance represents correspondence to internal and external demands and standards: legislative requirements, regulatory documents, rules and standards of supervisory authorities, industry associations and self-regulating organizations, codes of behavior etc.
Under the conditions of economic reconstruction to new forms of development, instruments helping business to keep rules, demands, standards and assisting to cost cutting become currently important. It should be noted that the Information and analytical system Globas-i in a meaningful way helps to keep the above-mentioned demands of legislation and regulatory acts. First of all it is a data base of legal entities and individual entrepreneurs and also:
Business information source
Instrument for different business tasks and taking primary management decisions
Complex on prevention for business activities risks
Among solvable business tasks – investigation of Russian and foreign contractors; financial analysis and solvency assessment; identification of frauds, potential bankrupts,fly-by-night companies; analysis of government contracts, purchases, tenders; assessment of claim load; analysis of competitive environment, industry state; ultimate beneficiary detection etc.
The government for its part also attempts to help business in costs cutting, while current legislation imposes limitations on receiving information about business entities and by that makes difficult the possibility to get full information and estimate potential constant contractors.
Shortly the Ministry of Economic Development and Trade estimates actual effect of legislation on business efficiency. At the first stage 239 regulatory legal acts will be examined. Quite possibly that some acts will fail the investigation.
Equity turnover ratio of the largest Russian motor freight companies
Information Agency Credinform has prepared the ranking of the largest Russian motor freight companies by equity turnover ratio. The largest enterprises (TOP-10) in terms of revenue were selected according to the data from the Statistical Register for the latest available period (for the year 2014). Then, the companies were ranged by equity turnover ratio for a year (Table 1).
Equity turnover ratio (times) is calculated as a ratio of revenue to yearly average sum of equity and demonstrates the company's usage rate of total assets.
Equity turnover ratio reflects the turnover rate of own capital. The higher is the ratio value, the better the enterprise uses its own funds. Accordingly, low ratio value indicates about inaction of the part of own funds.
Too high equity ratio or, in other words, significant excess of the sales level over invested capital leads to growth in credit resources. The creditors' risk is also growing and the enterprise may meet serious difficulties due to decrease in income.
For the most full and fair opinion about the company's financial position, not only compliance with standard values should be taken into account, but also the whole set of financial indicators and ratios.
Table 1. Net profit, revenue, equity turnover ratio, solvency index Globas-i of the largest Russian motor freight companies (TOP-10)
Name, INN, Region
2014 netprofit, mln RUB
2014 revenue, mln RUB
2014/2013 revenue, %
Equity turnover ratio, times
Solvency index Globas-i
LLC MALINOV YAR
INN 3123282167
Belgorod region
18,1
1 677,2
117
101,19
252 High
LLC KADROVYI CENTER OZD
INN 7838384830
Saint-Petersburg
14,0
1 269,4
82
11,07
220 High
LLC AVTOTRANSPORTNOE UPRAVLENIE
INN 7414006930
Chelyabinsk region
4,9
2 066,9
112
4,61
231 High
LLC REGION 42
INN 4217104669
Kemerovo region
126,4
2 870,4
101
4,40
227 High
NAO LORRY
INN 6663006255
Sverdlovsk region
-124,3
3 084,4
85
2,64
288 High
LLC BELOZERNOE UPRAVLENIE TEHNOLOGICHESKOGO TRANSPORTA
INN 8603104188
Khanty-Mansi Autonomous Okrug - Yugra
16,6
1 646,0
57
2,18
223 High
LLC NORILSK PROMYSHLENNYI TRANSPORT
INN 2457063821
Krasnoyarsk Territory
59,3
4 147,5
100
2,05
223 High
JOINT STOCK FIRST AUTOKOMBINAT OF A NAME G.L.KRAUSE
INN 7734032873
Moscow
382,1
1 917,8
84
1,15
164 The highest
PAO UPRAVLENIE PO PROFILAKTIKE I REKILTIVATSII
INN 4212005449
Kemerovo region
38,0
2 709,0
111
-44,78
303 Satisfactory
LLC USINSK UPRAVLENIE TEHNOLOGICHESKOGO TRANSPORTA
INN 1106022790
The Komi Republic
-71,7
2 147,7
105
-121,19
325 Satisfactory
Equity turnover ratio of the largest motor freight companies varies from 101,19 times (LLC MALINOV YAR), to a negative value -121,19 times (USINSK UPRAVLENIE TEHNOLOGICHESKOGO TRANSPORTA). Equity turnover ratio of the largest enterprise by annual revenue LLC NORILSK PROMYSHLENNYI TRANSPORT is 2,05 times per period.
2 participants from the TOP-10 list PAO UPRAVLENIE PO PROFILAKTIKE I REKILTIVATSII and LLC USINSK UPRAVLENIE TEHNOLOGICHESKOGO TRANSPORTA have negative equity ratio; that indicates about difficult financial position and low solvency level. The available funds, short-term financial investment and accounts receivable don't cover their accounts payable. These enterprises have satisfactory solvency index Globas-i, in particular, due to the loss in the balance structure; this fact confirms the risk of non-fulfillment of financial obligations.
Other participants of TOP-10 have the highest and high solvency index Globas-i, that shows their stable financial position.
Picture 1. 2014 revenue and equity turnover ratio of the largest Russian motor freight companies (TOP-10)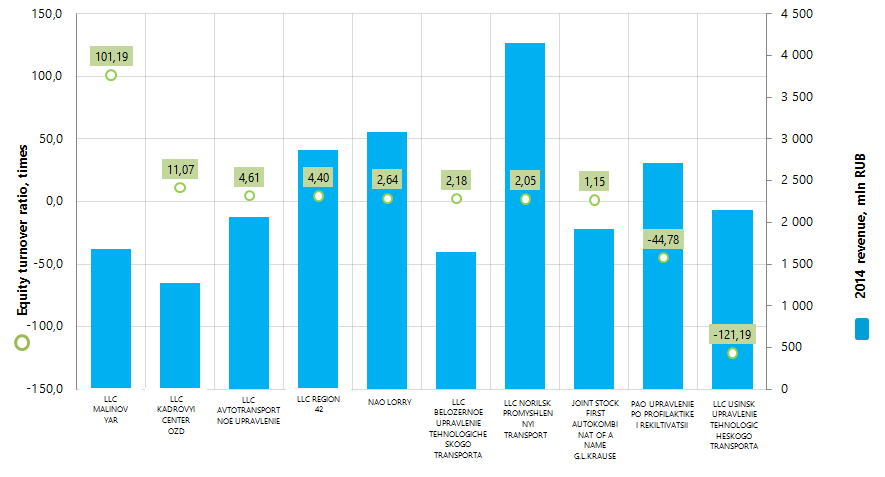 According to 2014 results, the annual revenue of TOP-10 enterprises amounted to 23,5 bln RUB, that is 6% lower than total revenue in 2013. 4 participants demonstrated decrease in 2014 revenue and 7 companies showed decrease even in net profit.
Taking into account the difficult economic situation of business loss, the trucking industry as a whole has some difficulties. This testifies the data from the Federal State Statistics Service on freight turnover of motor transport in Russia (Picture 2).
Picture 2. The freight turnover of motor transport (bln tkm, ratio value for the year)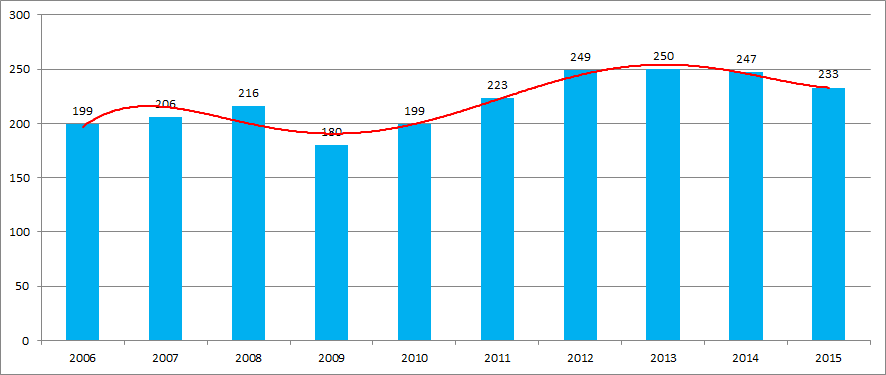 This data demonstrates the maximum freight turnover in 2013 and subsequent decrease in 2014 and 2015. In comparison with 2013 the decrease in 2015 freight turnover amounted to almost 7%.
Cargo transportations are characterized by relatively equal concentration of enterprises across the country with reference to large industrial centers and regions with developed mining industry. This fact is confirmed by the data from the Information and analytical system Globas-i® on distribution across the country of 100 largest registered companies of the industry in terms of 2014 revenue (TOP-12 of Regions):
| Region | Number of registered companies |
| --- | --- |
| Saint-Petersburg | 11 |
| Moscow | 8 |
| Kemerovo region | 7 |
| Sverdlovskregion | 6 |
| Bryanskregion | 3 |
| Krasnoyarsk Territory | 3 |
| Leningradregion | 3 |
| Moscow region | 3 |
| Nizhny Novgorod region | 3 |
| Omskregion | 3 |
| Smolensk region | 3 |
| Khanty-Mansi Autonomous Okrug | 3 |