Fines for unfiled bankruptcy petition
Information agency Credinform always pays attention to bankruptcies. There are more than a dozen of articles on this topic on our web-site. For example, in October 2015 we have covered the bankruptcy issue in the articles "Оn individual bankruptcy" and "Individual bankruptcy - new reality for the Russian economy".
The legislation on bankruptcy was appended with the enforceable Federal Law N 353-FL "On amendments to the Civil Procedure Code of the Russian Federation" of December 12, 2010.
The amendments to the "Code of Administrative Offences of the Russian Federation" N 195-FL of December 30, 2001 (as last amended on 30.12.2015) were accepted and aimed at toughen up the administrative responsibility for unfiled bankruptcy petition by natural persons and legal entities. The Federal tax service amerces from 1 to 3 thousand rubles for individuals and from 5 to 10 thousand rubles for public officials committed an offense. In case of repetition of the violation throughout the year, the arbitral tribunal has the right to disqualify the guilty persons on the proposal of the tax authorities.
Following the amendments, the persons supervising the debtor can also be disqualified by judicial decision. This is possible if there is a protocol on administrative offense of non-performing the judicial act to bring to vicarious liability. Tax authorities are now endowed with the right to establish such protocols.
These amendments also downgrade for breaches of bankruptcy procedures legislated in the Federal Law N 127-FL "On Insolvency (Bankruptcy)" of October 26, 2002, as well as for non-performance the obligation to file the bankruptcy petition to the arbitration court by the debtor. This applies to professional participants of the bankruptcy proceedings, including arbitration managers. For the first breach a warning will be given, and for the violation repeated during a year disqualification can be followed.
Moreover, the Federal Law "On Insolvency (Bankruptcy)" was amended in bankruptcies of real estate developers and citizens-debtors. Conditions for the repayment of participants' requirements through the transfer of unfinished construction of the facility were simplified. The list of information about the bankruptcy of a citizen for publication was arranged. The conditions and procedure of bankruptcy of a citizen and the distribution of his property with a notary in case of the citizen-debtor's death were specified.
For information:
According to the Federal tax service, 221 806 legal entities and 14 128 individual entrepreneurs (farms in form of individual private enterprise) have ceased their activities for bankruptcy for the whole monitoring period, including the year 2015 with 11 213 bankrupted legal entities and 1 926 individual entrepreneurs and farms in form of individual private enterprise.
Following the same source, 4 820 432 active legal entities and 3 640 230 individual entrepreneurs (farms in form of individual private enterprise) are registered in Russia as of January 1, 2016. All information about active and bankrupted companies is available by subscription on the Information and analytical system Globas-i®.
Profitability of sales of the largest paints and varnishes manufacturers in Russia
Information Agency Credinform has prepared the ranking of the largest Russian paints and varnishes manufacturers.
Top-10 enterprises in terms of annual revenue were selected according to the data from the Statistical Register for the latest available period (for the year 2014). The enterprises were ranked by decrease in profitability of sales. Besides, profit dynamics relative previous financial period and solvency index GLOBAS-i® are also represented (see table 1).
Profitability of sales (%) is the share of operating profit in the sales volume of the company.
The ratio characterizes the most important aspect of company's activity - the efficiency of the industrial and commercial activity and shows the company's funds, which are remained after covering the cost of production, interest and tax payments.
Profitability of sales is an indicator of the company's price policy and shows its ability to control the expenses. Differences in competitive strategies and product lines cause a substantial range of ratio values. Therefore it should be taken into account, that at equal values of revenue, operational expenses and profit before tax, the profitability of sales ratio of two companies can be significantly different, due to the influence of interest payments on net profit.
Table 1. Revenue, revenue growth for the year, profitability of sales and solvency index GLOBAS-i® of the largest paints and varnishes manufacturers (Top-10)
№
Name
Region
Revenue,mln RUB, 2014
Revenue growth, %
Profitability of sales, %
Solvency index GLOBAS-i®
1
LLC Akzo Nobel Lakokraska


INN 5034019048

Moscow region
1 662
28,7
21,3
200 high
2
CJSC NPK YarLi


INN 7602003918

Yaroslavl region
2 193
13,7
13,4
183 the highest
3
Gesellschaft mit beschraenkter Haftung BASF Wostok


INN 7710317252

Moscow region
3 127
-0,5
12,8
193 the highest
4
CJSC Akzo Nobel Dekor


INN 5001027607

Moscow region
3 418
10,4
12,2
193 the highest
5
LLC TIKKURILA


INN 7816424590

Saint-Petersburg
9 775
3,0
12,1
221 high
6
LLC MEFFERT POLILUX


INN 5041024497

Moscow region
1 711
17,3
10,0
304 satisfactory
7
CJSC EMPILS


INN 6167008343

Rostov region
2 315
-2,8
9,9
253 high
8
CJSC ABC FARBEN


INN 3618003426

Voronezh region
1 692
12,4
9,7
223 high
9
JSC RUSSIAN COATINGS


INN 7605015012

Yaroslavl region
2 628
1,0
7,3
209 high
10
LLC LAKRA SINTEZ


INN 7702177932

Moscow region
2 891
7,6
6,9
199 the highest
According to 2014 financial results, the average value of profitability of sales ratio of Top-10 enterprises is 11,5%; the highest value is 21,3 % (LLC Akzo Nobel Lakokraska), the lowest value is 6,9% (LLC LAKRA SINTEZ).
The ratio of the industry leader LLC TIKKURILA is above average (12,1%).
Tikkurila concern started its activity in Russia in the 1980-ies, the company exported industrial coatings. In 1990-ies Tikkurila became the first western company, which presented the paint tinting system in Russia. In 1995 Tikkurila opened first European paint plant in Russia.
Today LLC Tikkurila is represented by four industrial areas, which are located in Saint-Petersburg and Stary Oskol: three plants produce decorative paints and varnishes under Tikkurila, Fincolor, TEKS trademarks and one plant produces paints and varnish materials for industrial purposes.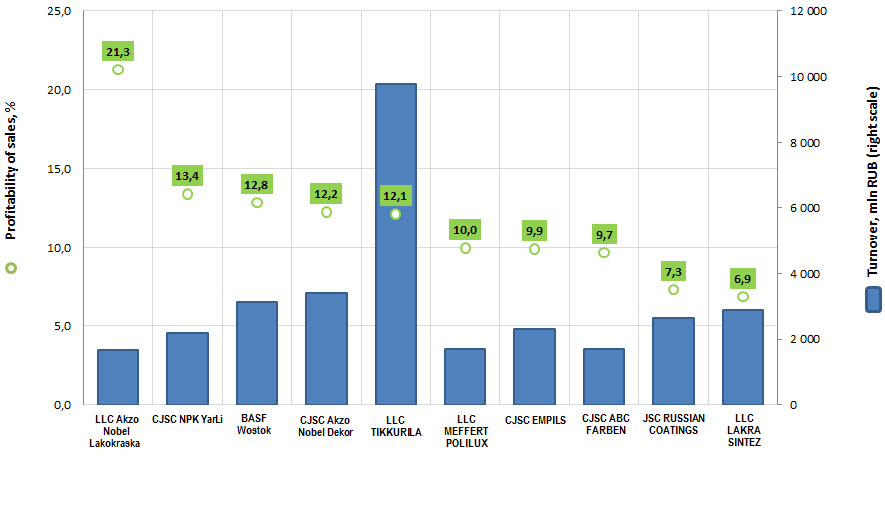 Picture 1. Revenue and profitability of sales of the largest paints and varnishes manufacturers in Russia (Top-10)
According to 2014 results, the annual revenue of Top-10 enterprises amounted to 31,4 bln RUB; total turnover of Top-10 enterprises increased by 6,2% in the reporting period.
According to 2015 results, 811 ths tons of paints and varnishes based on polymers were produced in Russia (-6% to 2014 level); 420 ths tons of paints and varnishes (+4,5%) and 28,7 ths tons of synthetic organic dyes and colored varnishes (+15,1%).
All enterprises (except LLC MEFFERT POLILUX with net loss in the reporting period) demonstrated high and the highest solvency index GLOBAS-i®, that is a sign of good company's solvency to investor or partner.