Inventory turnover of sugar manufacturers
Information Agency Credinform has prepared the ranking of inventory turnover of sugar manufacturers. The largest enterprises in terms of revenue volume (TOP-10) were selected according to the data from the Statistical Register for the latest available periods (2015 - 2017). Then they were ranked by decrease in inventory turnover ratio (Table 1). The analysis was made on the basis of the data of the Information and Analytical system Globas.
Inventory turnover (times) is a ratio of revenue to average value of inventories for a period. The ratio shows rate of inventory realization.
Inventory turnover characterises mobility of funds that the company invests in inventories: the faster monetary funds invested in inventories are regained in the form of revenue from sale of finished products, the higher is business activity and efficiency of the recources use with time effect.
There are no recommenmded values for this indicator, because they vary strongly depending on the industry. The higher is value, the better. The experts of the Information agency Credinform, taking into account the actual situation both in the economy as a whole and in sectors, has developed and implemented in the Information and Analytical system Globas the calculation of practical values of financial ratios that can be recognized as normal for a particular industry. For sugar producing companies the practical value of inventory turnover ratio was from 3,01 in 2017.
For getting of the most comprehensive and fair picture of the financial standing of an enterprise it is necessary to pay attention to all combination of indicators and financial ratios.
Table 1. Net profit, revenue, inventory turnover ratio, solvency index Globas of the largest Russian sugar manufacturers (TOP-10)
Name, INN, region
Revenue, billion RUB
Net profit (loss), billion RUB
Inventory turnover, times
Solvency index Globas
2016
2017
2016
2017
2016
2017
1
2
3
4
5
6
7
8
LLC RUSAGRO-BELGOROD
INN 3126019943 Belgorod region
9,67
6,76
0,94
0,13
15,76
11,30
249 Strong
LLC RUSAGRO-TAMBOV
INN 6804008674 Tambov region
10,78
10,15
1,25
0,08
9,67
9,00
222 Strong
LLC AGROSNABSAKHAR
INN 4826050108 Lipetsk region
5,11
5,28
0,08

-0,92

3,58
4,43
254 Medium
JSC LENINGRADSKY SUGAR PLANT
INN 2341006687 Krasnodar territory
7,09
5,72
1,19
0,42
4,35
4,05
210 Strong
JSC USPENSKIY SAHARNIK
INN 2357005329 Krasnodar territory
6,81
6,21
1,87
1,18
3,87
2,98
183 High
LLC KRISTALL
INN 6824004406 Tambov region
6,08
4,91
0,15
0,01
2,74
2,91
269 Medium
JSC Olkhovatsky Sugar Factory
INN 3618003708 Voronezh region
6,51
6,35
1,79
0,30
2,48
2,47
188 High
JSC Zainsky Sakhar
INN 1647008721 The Republic of Tatarstan
4,60
4,89
0,46
0,01
2,64
2,14
233 Strong
JSC SUGAR PLANT DOBRINSKI
INN 4804000086 Lipetsk region
11,24
9,10
1,61
0,35
2,74
2,02
198 High
JSC ELAN-KOLENOVSKII SUGAR PLANT
INN 3617006819 Voronezh region
5,28
5,46
1,72
0,59
1,89
1,94
189 High
Total for TOP-10 companies
73,18
64,82
11,04
2,16
Average value for TOP-10 companies
7,32
6,48
1,10
0,22
4,97
4,32
Average industrial value
1,28
1,19
0,17
0,01
3,34
3,01

growth decrease of indicator to the previous period,

decrease of indicator to the previous period.
The average indicator of the inventory turnover ratio of TOP-10 companies is above the industry average value and the practical one. In 2017 three companies out of TOP-10 have improved their indicators.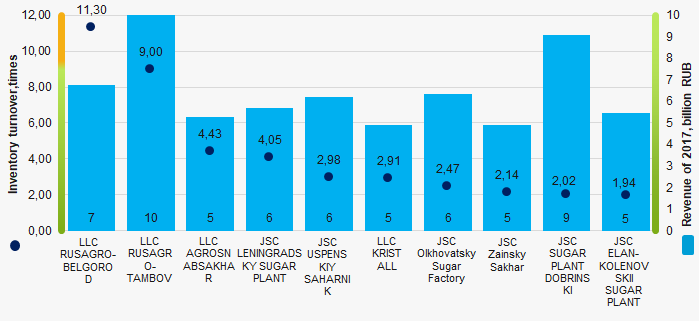 Picture 1. Inventory turnover ratio and revenue of the largest Russian sugar manufacturers (TOP-10)
Over a ten-year period the industry average indicators of the inventory turnover ratio have decreasing tendency. (Picture 2).

Picture 2. Change in the average industry values of the inventory turnover ratio of the largest Russian sugar manufacturers in 2008 – 2017
TOP-10 of the Russian companies controlled by offshore shareholders
In July 2018, the special administrative regions (hereinafter "SAR") were established on Russky Island in Vladivostok and Oktyabrsky Island in Kaliningrad.
Foreign companies can register in SAR if a number of conditions are fulfilled. They must be established before January 1, 2018, invest over 50 million RUB in Russia in six months, be registered in countries adhering to the rules of The Financial Action Task Force (FATF) or be a member of the Committee of Experts on the Evaluation of Anti-Money Laundering Measures and the Financing of Terrorism (MONEYVAL).
Foreign companies redomiciled in Russia are allowed not to disclose information on beneficiaries, not to pay tax profits from the sale of assets (shares) and tax on dividends from subsidiaries. Rate from dividends paid will be 5%.
Russia tried to create domestic offshores aimed at protection and support of companies under sanctions.
Since 2019, offshore zones, popular with the Russian business (British Virgin Islands, Islands of Bermuda, Cayman Islands and the Republic of Seychelles), started to adopt the laws requiring the companies to be engaged in real activities on their territories: companies have to open an office, move out offshore zone or provide proofs of paying taxes in transparent jurisdiction.
According to the data on August 2019, Cyprus is the most popular jurisdiction to register business of Russian origin. Formally not being an offshore, Cyprus attracts with minimum taxes, simple registration and reporting procedures. Over a half (53%) of the Russian companies with shareholders from offshores or low-tax countries are controlled through Cyprus. Seychelles rank the second: shareholders from these islands control 14% of companies (see Picture 1).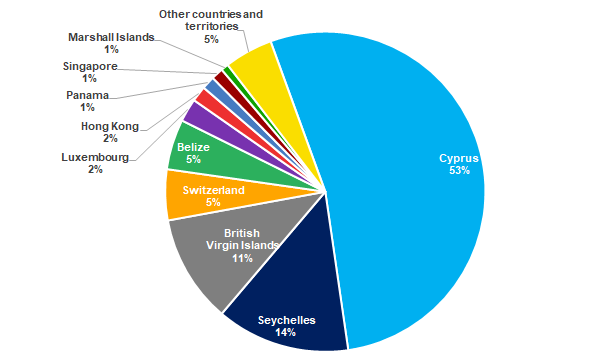 Picture 1. The most popular offshores and low-tax jurisdictions for the Russian business, % from total number of companies controlled by offshore shareholders
On July 9, 2019, En+ (controlling JSC Rusal), the world leader in the production of aluminum, was redomiciled on Oktyabrsky Island, Kaliningras. Previously, the company was controlled by Oleg Deripaska. The articles of association that were in force when the company was registered in Jersey, were replaced by the new one, and the company was given a name on Russian language - «Международная компания «Публичное акционерное общество «Эн+ Груп».
However, offshore companies still control many large Russian enterprises, such as Novolipetsk and Magnitogorsk iron and steel works (see Table 1).
Table 1. The largest Russian companies in term of revenue under control of offshore and low-tax jurisdictions
Rank
Company
Revenue, billion RUB
Increase/decline of revenue to the previous period, %
Net profit/loss, billion RUB
Shareholder, share, country/territory
1
JSC NOPOLIPETSK IRON AND STEEL WORKS
493,8
(2018)
+19,9
117,8
(2018)
FLETCHER GROUP HOLDINGS LIMITED 84,03%
Cyprus
2
JSC MAGNITOGORSK IRON AND STEEL WORKS
458,2
(2018)
+16,6
73,3
(2018)
Mintha Holding Limited 84,26%
Cyprus
3
JSC RUSSIAN ALUMINUM
253,3
(2017)
+8,3
12,9
(2017)
UNITED COMPANY RUSAL ALUMINIUM LIMITED 100%
Jersey
Since July 9, 2019, is controlled by International company "Joint-Stock Company En + Group"
4
JSC PIPE METALLURGICAL COMPANY
211,2
(2018)
+14,3
-2,6
(2018)
TMK STEEL HOLDING LIMITED 65,06%
Cyprus
5
JSC ANTIPINSKY OIL REFINING PLANT
186,0
(2017)
+26,8
0,03
(2017)
VIKAY INDUSTRIAL LIMITED 80%
Cyprus
6
LLC SNS-HOLDING
182,9
(2017)
-0,3
0,05
(2017)
GK SNS LIMITED 100%
Cyprus
7
LLC RUSENERGOSBYT
166,1
(2017)
+11,9
5,5
(2017)
RESENERGO INVESTMENTS LTD 50,5%
Cyprus
8
JSC ILIM GROUP
155,7
(2018.)
+41,0
35,6
(2018)
Ilim SA 96,37%
Switzerland
9
LLC ROLF
153,7
(2018)
+26,5
5,3
(2018)
DELANCE LIMITED 99,98%
Cyprus
10
LLC O'KEY
150,4
(2018)
-10,8
0,2
(2018)
O'KEY GROUP S.A. 99,3%
Luxembourg
The return of the Russian capital will have a beneficial effect on the domestic economy, as additional investments will follow. Enterprises with Russian roots are under constant suspicion. Foreign regulators, banks, auditors and law firms introduce new additional procedures for them to confirm reliability and good faith.
Since tax authorities of Russia and foreign jurisdictions, primarily offshore, began to exchange with information, the business had another good reason to move. If a company makes money in Russia and pays taxes in another country (controlled by a foreign company), then the Federal Tax Service may file claims for tax evasion at the place of actual activity.
Another reason to return to Russia is continued political pressure. On the one hand, companies can indirectly or directly be under American or European sanctions and lose assets if they are registered abroad. On the other hand, offshore companies themselves are becoming less and less loyal to structures that do not conduct real economic activity, but exist solely to distribute cash flows between shareholders.