Current assets to equity ratio of plate glass manufacturers
Information agency Credinform has prepared the ranking of plate glass manufacturers on current assets to equity ratio. The largest companies in this industry by revenue from sale for the last available in the Statistical register period (2014) were taken for the investigation. Further the Top-10 enterprises by revenue were ranked in the descending order of current assets to equity ratio value.
Current assets to equity ratio (х) shows the ability of an enterprise to control the rate of own working capital and replenish current assets in case of need at its own sources. This indicator is calculated as a ratio of company's own current assets to the total sum of own assets. Recommended value: from 0,2 to 0,5.
Decrease of an indicator designates the possible delay in payment of receivables or tightening of trade credit conditions on the part of suppliers or contractors.
Table. Current assets to equity ratio and solvency index of the largest plate glass manufacturers in Russia, Top-10
№
Name, tax number
Region
Revenue for 2014 г., RUB million
Current assets to equity ratio, (х)
Solvency index Globas-i®
1
ООО STIS


Tax number 6451415520

Moscow region
2 113 458
1,00
228 (high)
2
ООО AKMA


Tax number 7808032006

Saint-Petersburg
1 836 908
0,74
262 (high)
3
PAO A G C BSZ


Tax number 5246002261

Nizhny Novgorod region
7 407 998
0,66
186 (prime)
4
NAO AO SALAVATSTEKLO


Tax number 0266004050

Republic of Bashkortostan
4 942 687
0,08
208 (high)
5
PAO SARATOVSTROISTEKLO


Tax number 6453054397

Saratov region
3 123 517
0,01
289 (high)
6
ООО GARDIAN STEKLO RYAZAN


Tax number 6234017547

Ryazan region
4 202 786
-0,17
252 (high)
7
ООО A G C FLAT GLASS KLIN


Tax number 5020033028

Moscow region
8 392 857
-0,89
313 (satisfactory)
8
ООО PILKINGTON GLASS


Tax number 5040054932

Moscow region
2 727 782
-1,57
268 (high)
9
ZAO RSK


Tax number 7802445776

Saint-Petersburg
4 210 347
-4,21
217 (high)
10
ООО GARDIAN STEKLO ROSTOV


Tax number 6148559000

Rostov region
2 948 023
-4,33
302 (satisfactory)
The first spot of the ranking is taken by OOO Stis with the value of current assets to equity ratio that equals to 1,00. It shows that all company's own working capital is in turnover and gives evidence to the high degree of freedom to manipulate own assets. The company was given the high solvency index Globas-i® by the experts of Information agency Credinform, which characterize it as a financially stable.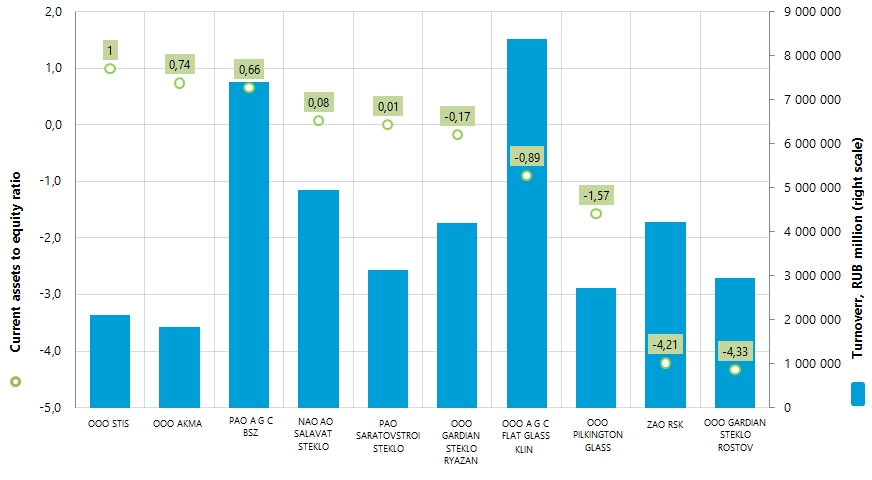 Figure. Current assets to equity ratio of the largest plate glass manufacturers in Russia, Top-10
The industry leader by turnover OOO A G C Flat Glass Klin is placed on the seventh spot of the ranking with the current assets to equity ratio value that equals to -0,89 and satisfactory solvency index Globas-i®.
None of the represented companies in the Top-10 fit in the ratio statutory value. The closest to the statutory values are the indicators 0,66 and 0,08 belonging to PAO A G C BSZ and NAO AO Salavatsteklo respectively, having the prime and high solvency index Globas-i®.
Following the results of 2014 the industry-average indicator of current assets to equity ratio amounted to -1,8, which in the whole speaks for irrational use of the working capital. The indicators of ZAO RSK and OOO Gardian Steklo Rostov are lower that the industry-average ones. It means that the companies have the low mobility rate of own assets due to the fact that the major part of them is invested in the slowly realizable assets instead of the currents assets.
Due Diligence and Care: what documents need to be requested before entering into business transactions with contractor
Recently concept «Due Diligence and Care» is often mentioned in the business environment. First time this concept was mentioned in the Resolution No. 53 of the Plenum of the Supreme Arbitration Court of the Russian Federation of 12.10.2006: «On the assessment of arbitration courts of the grounds for receipt of tax profit by taxpayers». According to the mentioned Resolution, «tax benefit can be qualified as unjustified, if it is proved by tax authorities that taxpayer acted without «due diligence and care» and he should be aware of violations made by contractor, in particular, due to interdependence or affiliation of taxpayer to contractor».
Currently under «due diligence and care» is meant measures on investigating contractors before entering into business transactions. It includes complex of measures on confirming the following: whether the contractor is legally registered, or it is «fly-by-night» company, whether the contractor has adequate financial and human resources, or is able to execute the contract commitments.
According to the letter of the Federal Tax Service of the RF №3-7-07/84 of 11.02.2010 as part of investigating contractor «taxpayer can ask his contractor for copies of articles of association; certificate of registration in the Unified State Register of Legal Entities; Certificate of Registration with the Tax Authorities; copies of licenses (in case when business transactions are made within the context of licensed activities); orders certified the director`s right to sign documents; information about tax or administrative liabilities attached to the director».
Depending on collected information and on kind of business relations it is good practice to ask for additional documents. According to experience of specialists on investigating contractors, list of the above mentioned documents may be completed with:
notarized copy of the director`s passport,
notarized financial account for the year previous to the year of making a transaction,
confirmation of qualified personnel for the declared work/service accomplishment,
letters of reference and confirmation of contractor`s generalized experience,
information about working, storage facilities and/or showrooms,
extract from the cash flow on bank account for the last six months and others.
It is believed that investigation of collected information let secure the entrepreneur from bad-faith contractor and copies of documents can become further evidence of execution of measures on «due diligence and care», for example, while investigating your company by the federal authorities.
It should be noted that contract with the supplier of information services – Information Agency Credinform, company business reports and extract from the Unified Register of Legal Entities of the RF (EGRUL) / Unified State Register of Sole Entrepreneurs (EGRIP), received from the Information and Analytical System GLOBAS-i®, can be also additional evidence of «due diligence and care».