Investment as a barometer of business climate
After a 3-year decline, investment in fixed capital have been growing in Russia. Positive trend of 6 months of 2018 amounted to 3,2%.
The Ministry of Economic Development of the Russian Federation expects a 3,5% growth at year-end 2018.
In 2016 investment in Russia decreased by 0,2%, in 2015 – by 10,1%, in 2014 – by 1,5%.

Investment activity started to recover in 2017, with a growth of 4,4%. Total investment in fixed capital of Russian companies amounted to 16 trillion rubles in 2017.

Investment in fixed capital is the key driving force for a company that has an impact on production growth and economic soundness. On a national scale, condition of investment activity influences economic and social development rate, technical level of production and its efficiency, competitive performance at global markets, and – as a result – living standards of the population.
In Russia, projects related to infrastructure have the greatest shortage of investment. This investment has a long payback period and an unattractive profitability, therefore the state is forced to participate in such projects using support of large investment state funds.

Relying on a review of the last 20 years, there were three waves of investment crisis in Russia - 1998, 2009 and 2014-2016. The last one is featured not only by a decrease in investment, but also by a long duration (s. picture 1). Downturn in energy prices coupled with sanction pressure affected the companies' plans to modernize assets and buy new ones.

Investment growth started in 2017 is still unstable and subject to influence of external economic context.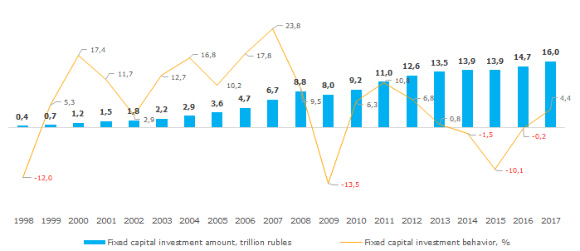 Picture 1. Fixed capital investment amount and behavior in comparable prices
However, Russia earns not only an oil and gas; new production facilities are opening up in the country both in traditional industries and in new segments, for example, production of superconductors or assembling of domestic industrial gas turbines (s. table 1).
Table 1. Domestic investment in new production units launched in Russia in 2017 – 6 months of 2018
№
Region of production
Company
Investment amount, billion rubles
Project description
1
Belgorod region
JSC LEBEDINSKIY MINING AND PROCESSING PLANT (JSC METALLOINVEST Holding)
35,0
Launch of Hot Briquetted Iron (HBI-3) production unit – the largest Russian and one of the most efficient in the world for production of HBI; design capacity is 1,800 thousand briquettes annually
2
Yaroslavl region
JSC UEC SATURN (RISTECH Corporation)
6,7
Launch of the first Russian assembly and testing complex for gas turbine power units for marine programs
3
Belgorod region
KRASNAYA GVARDIYA LLC
5,2
Production of ceramic bricks by soft-mud process.
Design capacity — 60 million bricks annually
4
Voronezh region
JSC Liski-Fitting
4,5
Production of high-resistance longitudinally welded large diameter pipes
5
Novosibirsk region
VPK-OIL LLC
4,5
Production of bitumen.
Capacity: 80 thousand annually
6
Saint Petersburg
JSC PHARMASYNTHEZ-NORD
2,5
Oncology drug manufacturing
7
Moscow region
PETKORM LLC
1,8
Production of animal feedstuff
8
Vladimir region
GUSAR LLC
1,7
Foundry operation.
Capacity of 8 thousand tons of steel annually
9
Moscow
1,7
The first Russian production unit of current-limiting devices based on high-temperature superconductors
10
Ivanovo region
1,7
Garment manufacture.
Capacity of 200 pcs. per month

There are also no stable trends in foreign direct investment (FDI) behavior: after a dramatic drop in investment in the Russian business against the backdrop of sanctions and oil price downturn, investment growth started in 2016, but in 2017 introduction of liquidity has slowed down again (s. picture 2). In general, accumulated FDI amounts to $583,4 billion since 1994 by now. This figure is absolutely incommensurable with the scale of the Russian Federation, with its role in foreign policy. For reference: about 380 bln USD of foreign investment annually comes to the United States, about 160 bln USD to Hong Kong, 130 bln USD to China. This situation comes out of favorable conditions for investment growth and developed protection of investors' interests in these countries.

FDI has a significant influence on any country's economic development, and Russia is no exception. Receipt of FDI promotes innovation projects, growth in product production and revenue, federal budget replenishment and economic growth acceleration.

During 1Q 2018 FDI increased by 33,4% compared to similar period of 2017. However, the result seems less optimistic, if the investment of several countries that are traditionally considered offshore ones is excluded. Investors registered in Bahamas, Bermuda Islands, British Virgin Islands, and Cyprus, which is not an official offshore area, contribute jointly almost three-quarters of investment in Russian companies.

A significant part of foreign investment in Russia from offshore areas is money of Russian origin, capital of Russian beneficiaries, transited through offshore jurisdictions.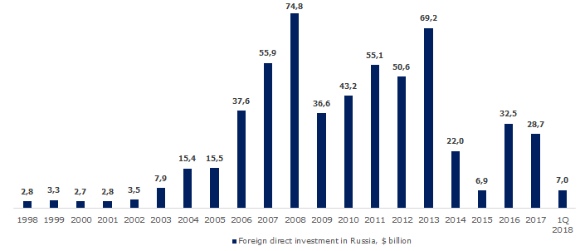 Picture 2. Foreign direct investment behavior in Russia
Many multinational corporations operate in Russia, despite investment environment problems, risks and threats of new sanctions from the USA. Efficient companies are not inclined to give up a large market (s. table 2).

The interests of present-days' investors are multidirectional – this is production of automobile tires, and construction of the country's first industrial wind farm.

It merits mention the projects using innovative technologies. For example the opening of the Italian network of fueling and renting electric vehicles Enel in October 2017. The pilot project will be launched in Moscow with further integration into the regions.
Table 2. Foreign investment in new production units launched in Russia in 2017 – 6 months of 2018
№
Region of production
Company
Investment amount, billion rubles
Project description
Parent company
1
Ulyanovsk region
BRIDGESTONE TIRE MANUFACTURING C.I.S.
12,5
Manufacture of car tires
Bridgestone, Japan
2
Voronezh region
DONSKOY BACON LLC
7,5
Pig breeding units
Tönnies Holding, Germany
3
Moscow region
TH-RUS MILK FOOD LLC
5,5
Dairy farming unit
TH True Milk, Vietnam
4
Ulyanovsk region
WIND PARKS FRV LLC
5,0
The first Russian 35 MW wind park
Fortum Corporation, Finland
5
Saint Petersburg
TOYOTA MOTOR LLC
3,9
Modernization of new generation Toyota Camry production line
Toyota Motor Corporation, Japan
6
Vladimir region
JSC QUARZWERKE RYAZAN
2,1
Extraction and processing of high-quality silica sand
Quarzwerke GmbH, Germany
7
Krasnodar territory
PEPSICO HOLDINGS LLC
2,0
Baby food production plant
PepsiCo, Inc., USA
8
Leningrad region
JOTUN PAINTS LLC
2,0
Production of paints and powder coverings
Jotun,
Norway
9
Lipetsk region
PPG Industries Lipetsk LLC
2,0
Production of paints and varnishes
PPG Industries,
USA
10
Lipetsk region
Viessmann Lipetsk LLC
1,5
Industrial water boilers production plant
Viessmann Werke GmbH, Germany

Russia remains to be a country with one of the most underestimated markets. Low investment activity of Russian companies impedes economic capacity. Moreover, external restrictions lead to artificial obstacles for foreign investors.

In the message to the Federal Assembly in March, President Vladimir Putin instructed to accelerate the growth rate of investment and increase it to 25% in GDP. In July 2018, the Government Decision approved the draft plan of the Ministry of Economic Development of Russia, suggesting an improvement of the investment climate through comprehensive development of infrastructure and competitive environment, increasing the efficiency of companies with state participation, and lowering the level of interest rates in the economy.
The largest transnational corporations in the Russian market
Despite sanctions and political confrontation with the West, the leading transnational companies are not in a hurry to leave the Russian market. With the exception of single cases of winding-up, they continue to build successfully their business, by opening subsidiaries or entering into the capital of domestic enterprises.
The experience of the American automaker General Motors may be used as a negative example: after 20 years of presence in our market the management decided to wind down its operations and mothball the car manufacturing plant, referring to sanctions risks and a sharp decline in sales. At the same time, other the largest American corporations, such as Ford Motor or General Electric, were not afraid of possible difficulties and do not abandon investment plans.
In total, Russia employs currently more than 63,000 real sector companies with foreign participation in the capital, that proves once again the active integration of the domestic economy into the global market. Moreover, the largest organization of world economies are developing their production sites - 10 enterprises from Top-50 companies in terms of global revenue, directly owning subsidiaries not only around the world, but also in the RF.
Table 1. The largest transnational companies in the world, doing business in Russia
№
Company, headquarters
Main activity
Revenue, bln USD, for 2017
Position in the world ranking by revenue, 2017
Number of registered subsidiaries directly owned, worldwide
Number of subsidiaries directly owned, in Russia
1
Royal Dutch Shell
Great Britain
Crude oil and natural gas production
305.4
6
1244
6
2
Volkswagen
Germany
Manufacture of motor vehicles
287.9
8
1010
11
3
BP
Great Britain
Manufacture of petrochemical product
240.6
9
915
3
4
Exxon Mobil Corp
USA
Manufacture of petrochemical product
237.2
10
351
1
5
Daimler
Germany
Manufacture of motor vehicles
200.0
14
527
9
6
Ford Motor
USA
Manufacture of motor vehicles
156.8
20
140
1
7
Samsung Electronics
Republic of Korea
Manufacture of electronic parts and devices
151.3
24
230
6
8
Total
France
Добыча сырой нефти и природного газа
149.3
25
1009
9
9
General Electric Company
USA
Manufacture of industrial equipment, engines, electric turbines
120.5
38
797
2
10
Toyota Motor Corporation
Japan
Manufacture of motor vehicles
114.9
43
564
3
The range of interests of foreign corporate investment is very wide - development of deposits, hydrocarbon production, automotive industry, power engineering, petrochemical industry, consulting, banking services (s. Table 2).
Table 2. Projects implemented by transnational corporations in Russia
№
Company
Short project description
1
Royal Dutch Shell
- Development of deposits on the shelf of Sakhalin Island, development of the Salym group of oil fields (KhMAD-Yugra), as well as participation in the Caspian Pipeline Consortium.
- Network of petrol stations «Shell».
- Complex for the production of lubricants «Shell» in Torzhok, sale of petrochemical products.
- Consulting services.
2
Volkswagen
- Plant for manufacture of Volkswagen Tiguan, Volkswagen Polo and ŠKODA Rapid in Kaluga.
- Plant for the production of automobile engines in Kaluga.
- Plant for manufacture of Volkswagen Jetta, ŠKODA OCTAVIA and ŠKODA KODIAQ in Nizhny Novgorod.
3
BP
- Development of the Srednebotuobinsky oil and gas condensate field (the Republic of Yakutia).
- Exploration works in Western Siberia and the Yenisei-Khatanga basin with a total area of about 260 000 km2, drilling.
- Joint project with Oil company «Rosneft» on the development of subsoil of the Yamal-Nenets Autonomous District within the Kharampursky and Festivalny licensed areas with total geological reserves of more than 880 bln m3 of gas.
4
Exxon Mobil Corp
- Exploration and development of the project Sakhalin-1.
- Sale and marketing of motor oils «Mobil 1», «Mobil Delvac 1» and «Mobil SHC»; ale of petrochemical products.
- Participation in the Caspian Pipeline Consortium.
5
Daimler
- Production of trucks Mercedes-Benz Sprinter Classic at the plant «GAZ as well as diesel engines for them in Yaroslavl.
- Construction of a factory for the production of Mersedes Benz cars.
6
Ford Motor
- Plant for manufacture of Ford Focus and Ford Mondeo in Vsevolozhsk (Leningrad region).
- Plant for manufacture of Ford Explorer, Ford Kuga and Ford Transit plant for production of engines in Yelabuga (Tatarstan).
- Plant for manufacture of Ford Fiesta и Ford EcoSport in Naberezhnye Chelny (Tatarstan).
7
Samsung Electronics
- Factory for the production of TVs, washing machines, monitors Samsung Electronics in Kaluga region.
8
Total
- Oil extraction on the basis of a production sharing agreement (PSA) at the Kharyaga oil field (Nenets Autonomous District).
- Participation in the project «Yamal-LNG» and development of Termokarstovoye gas field in the Yamal-Nenets Autonomous District.
- Construction of a plant for the production of lubricants in the Kaluga region.
9
General Electric Company
- Joint production, assembly, sale and servicing of high-performance industrial gas-fired plants in Rybinsk (Yaroslavl region).
10
Toyota Motor Corporation
- Plant for manufacture of Toyota Camry and RAV4 in St. Petersburg..
- Banking activity - Toyota Bank JSC.
Russia is too important market to abandon it. Our country remains a focus area for transnational corporations, despite all difficulties and uncertainties that arose due to the situation in Ukraine. A great many is ready to open a business here, renew or expand existing facilities, as well as create new workplaces, that points to the confidence in the economic prospects, trust gained over many years. The Western Europe and United States remains the main investors in the Russian economy, that confirms the presence of a wide range of subsidiaries.