Russia: Disclosure Requirements of Beneficiaries of Foreign Non-legal Entities
Beneficiaries of Foreign Non-legal Entities have to be disclosed in accordance with a new law which came into effect as of January 2016: Federal Law of the Russian Federation of 30 December 2015 No.424-FZ "On Amendments to the Federal Law "On Counteraction of Legitimization (Laundering) of Proceeds of Crime and Financing of Terrorism".
The law introduces amendments and additions to several articles (2 and 3) devoted to the scope and basic definitions; the article 7 devoted to duties of organizations engaged in transactions with funds or other property (credit organizations, insurers, leasing companies, pawn offices etc.) was also added.
The improvements are mainly related to the regulation of foreign non-legal entities (funds, partnerships, trust management and other similar entities of collective investments which are not legal entities according to international law) active in the territory of Russia.
A foreign non-legal entity doing or contemplating business in Russia has to disclose the following data: name, registration/tax numbers, location of its primary activity. For trusts and similar foreign entities the following data has also to be disclosed: owned property/property under management, surname, name (and patronymic if available), residential address or location of founders, trustee or trust administrator.
There is a ban for Russian credit organizations to open and maintain accounts or deposits for anonymous owners of foreign non-legal entities. Credit and other organizations engaged in transactions with funds or property will now have the right to refuse their services to these non-legal entities in the event of suspicious transactions aimed at legalization of criminal proceeds or terrorism financing.
Russian banks are now obliged to record data on all cases of refusal to enter into a contract or dissolution of contracts with such high-risk foreign clients and submit these data to the Federal Financial Monitoring Service (Rosfinmonitoring) of Russia. Rosfinmonitoring in its turn will forward this information to the regulator – Bank of Russia – which will inform other banks and financial market players.
Accounts payable turnover ratio of electric grid companies in Russia
Information Agency Credinform has prepared the ranking of electric grid companies in Russia according to the turnover rate of payables.
Top-10 enterprises in terms of annual revenue were selected according to the data from the Statistical Register for the latest available period (for the year 2014). The enterprises were ranked by decrease in the accounts payable turnover ratio.
Accounts payable turnover ratio (times) is proportion of the average accounts payable for the period to revenue. Ratio shows how many times (as a rule, for a year) company discharged average amount of accounts.
Index of accounts payable turnover ratio reflects the process of debt repayment to contractors (partners, suppliers, agents etc.). Ratio defines the quantity of debt repayment, and is calculated for cash flow valuation, that helps analyze efficiency of the company work and financial strategy.
The higher is the index, the faster company pays to its suppliers. Decrease in turnover may be implied to either problems on payment of accounts or more effective organization of relations with the suppliers, providing more profitable postponed payment schedule and using accounts payable as a source of getting cheaper financial resources.
For getting of the most comprehensive and fair picture of the financial standing of an enterprise it is necessary to pay attention not only to average values in the industry, but also to all available combination of financial data of the company.
Table 1. Revenue, accounts payable turnover ratio and solvency index Globas-i® of the largest electric grid companies in Russia (TOP-10)
№
Name
Region
Turnover of 2014, th RUB
Proportion of turnover in 2014 to turnover in 2013, %%
Accounts payable turnover ratio in 2014, once a year
Solvency index Globas-i®
1
JSС "E.ON Russia"


INN 8602067092

Khanty-Mansiysk Autonomous Okrug – Ugra
79 955 933
99,3
15,2
161 The highest
2
Joint-Stock Company for Power and Electrification Mosenergo


INN 7705035012

Moscow
158 819 795
103,0
11,1
204 High
3
JSC «Second Wholesale Power Market Generating Company»


INN 2607018122

Stavropol territory
116 004 240
104,0
11,1
178 The highest
4
JSC Inter RAO — Electric Power Plants


INN 7704784450

Moscow
147 846 693
107,5
10,1
236 High
5
JSC IDGC of Centre


INN 6901067107

Moscow
86 705 172
93,3
9,1
193 The highest
6
JSC ELECTRIC POWER DIVISION OFROSATOM


INN 7721632827

Moscow
253 215 398
108,7
4,4
211 High
7
JSC T PLUS


INN 6315376946

Moscow region
77 851 475
131,8
4,0
276 High
8
JSC Federal Grid Company of Unified Energy System


INN 4716016979

Moscow
168 940 833
108,7
2,5
199 The highest
9
JSC «MOESK»


INN 5036065113

Moscow
125 260 155
100,4
2,5
232 High
10
JSC «Hydro-power generating company RusHydro»


INN 2460066195

Krasnoyarsk territory
108 478 000
99,7
2,5
197 The highest
Accounts payable turnover ratio of the largest electric grid companies (TOP-10) varies from 15,2 times a year (JSС "E.ON Russia") to 2,5 times (JSC «Hydro-power generating company RusHydro»).
The average value of TOP-10 companies is 7,7 times. Half of TOP-10 companies are below that rate.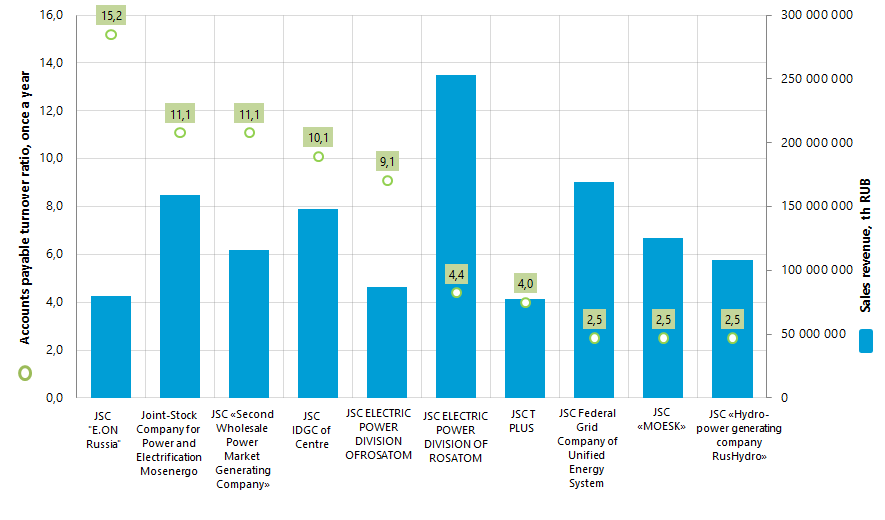 Picture 1. Accounts payable turnover ratio and revenue of the largest electric grid companies in Russia (TOP-10)
As it is seen on the diagram, accounts payable turnover ratio is not in direct dependence from the revenue for the year. For example, the largest by revenue company JSC ELECTRIC POWER DIVISION OF ROSATOM is on the sixth place of the ranking. However, this enterprise demonstrates one of the best dynamic revenue rates to the previous period. As a whole it may show effective work of the enterprise and manipulation of accounts payable as additional financial source. Besides, the company is monopolist in electric power production on nuclear plants.
On the first place according to accounts payable turnover ratio is JSС E.ON Russia with almost worst revenue rates among TOP-10 companies both for 2014 and dynamics to the previous year.
According to the latest financial account for 2014, total annual revenue of TOP-10 leaders in the industry was 1 323 bln RUB, that is 5,2% higher than values of the previous period. However, 3 of 10 companies made revenue rates worse compared to the previous period.
All the participants of TOP-10 list got the highest and high solvency index Globas-i®. It shows that all companies are able to pay off the debts in time and to the full extent, risk of non-fulfillment for those is minimal.
You can read comments of the Credinform experts on development of electric power complex in the articles of «Kommersant Business Guide» newspaper: «Dense covering of networks», «Fresh blood in the wires».