Return on assets of bus companies
Information agency Credinform represents the ranking of the largest Russian bus companies. Vehicle companies with the largest volume of annual revenue (TOP-10) were selected for the ranking, according to the data from the Statistical Register for the latest available periods (for 2015 - 2017). Then they were ranked by return on assets ratio (Table 1). The analysis was made on the basis of the data of the Information and Analytical system Globas.
Return on assets (%) is the relation of the sum of net profit and interest payable to the total assets value of a company. It shows how many monetary units of net profit gets every unit of total assets
The ratio characterizes the effectiveness of using by the company of own resources and its financial management. That is why the higher is the ratio value, the more effective is business, that is the higher return per every monetary unit invested in assets.
The experts of the Information agency Credinform, taking into account the actual situation both in the economy as a whole and in the sectors, has developed and implemented in the Information and Analytical system Globas the calculation of practical values of financial ratios that can be recognized as normal for a particular industry. For bus companies the practical value of the return on assets ratio is from -4,46.
For getting of the most comprehensive and fair picture of the financial standing of an enterprise it is necessary to pay attention to all combination of indicators and financial ratios.
Table 1. Net profit, revenue, return on assets ratio, solvency index Globas of the largest Russian bus companies (TOP-10)
Name, INN, region
Revenue, mln RUB
Net profit (loss), mln RUB
Retun on assets, %
Solvency index Globas
2016
2017
2016
2017
2016
2017
1
2
3
4
5
6
7
8
NOVOVORONEZHSKAYA AES-AVTO LLC
INN 3651008478 Voronezh region
485,6
897,3
19,8
68,1
3,42
10,15
208 Strong
IZHEVSKOE PROIZVODSTVENNOE OBYEDINENIE PASSAZHIRSKOGO AVTOTRANSPORTA NJSC
INN 1833046700 Udmurtian Republic
1648,2
1612,3

-19,1

31,1

-2,35

3,00
243 Strong
TRETII PARK NJSC
INN 7814010096 St. Petersburg
4020,0
4485,1
57,7
16,9
3,36
1,07
210 Strong
GUPSRF SAINT-PETERSBURGSKOE GUP PASSAZHIRSKOGO AVTOMOBILNOGO TRANSPORTA
INN 7830001758 St. Petersburg
11683,6
12914,7
239,9
1,1
2,00
0,01
202 Strong
GUPSRF PASSAZHIRSKOGO AVTOMOBILNOGO TRANSPORTA MOSKOVSKOI OBLASTI MOSTRANSAVTO
INN 5000000017 Moscow region
20708,0
21177,4

-2227,2

-1398,9

-8,42

-5,70
258 Medium
MUUP GORODA KAZANI PASSAZHIRSKOE AVTOTRANSPORTNOE PREDPRIYATIE №4
INN 1658007039 Republic of Tatarstan
1106,6
1138,2
0,2

-11,3

0,12
-6,92
272 Medium
MUUP GORODA SOCHI SOCHIAVTOTRANS
INN 2320051015 Krasnodar territory
784,8
939,1

-304,9

-149,8

-16,76

-8,63
311 Adequate
MUUP EKATERINBURGSKOE MUP NITSIPALNOE MUNITSIPALNOE OBYEDINENIE AVTOBUSNYKH PREDPRIYATII
INN 6659001670 Sverlovsk region


In process of reorganization in the form of accession, 04.09.2018

944,1
1059,0

-199,7

-68,6

-37,46

-16,25
600 Insufficient
VOLGOGRADSKII AVTOBUSNYI PARK LLC
INN 4719024079 Volgograd region
0,3
856,5

-12,3

-67,9

-12,93

-33,15
292 Medium
MUUP GORODA NIZHNEGO NOVGORODA NIZHEGORODSKII PASSAZHIRSKII AVTOMOBILNYI TRANSPORT
INN 5260000192 Nizhny Novgorod region
1417,5
1388,9

-200,7

-139,1

-52,58

-35,02
291 Medium
Total by TOP-10 companies
42798,7
46468,3
-2646,3
-1718,4
Average value by TOP-10 companies
4279,9
4646,8
-264,6
-171,8
-12,16
-9,15
Industry average value
63,9
64,4
-3,3
-2,3
-6,09
-4,46

— improvement of the indicator to the previous period,

— decline in the indicator to the previous period.
The average value of the return on assets ratio of TOP-10 enterprises is worse than the industry average. Six companies from the TOP-10 list showed an improvement of the indicator in 2017 compared to the previous period.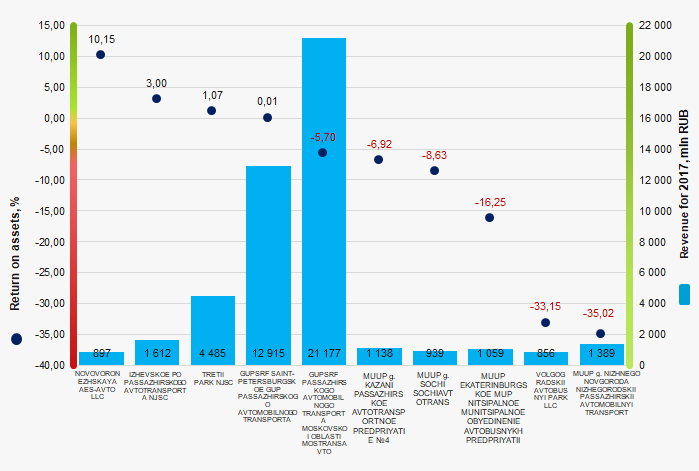 Picture 1. Return on assets ratio and revenue of the largest Russian bus companies (TOP-10)
The industry average indicators of the return on assets ratio have a downward trend over the course of 10 years (Picture 2).

Picture 2. Change in the industry average values of the return an assets ratio of Russian bus companies in 2008 – 2017
Licensing of bus transportation
A bill that revives licensing of bus transportation was passed by the State Duma and approved by the Federation Council.
Licensing is not applied to bus transportation of such special services as fire protection service, emergency medical care, emergency rescue service, law enforcement authorities, security ministries, etc. Resumption of licensing of this activity will come into legal force 120 days after the official publication of the law.
The provision concerning cancellation of scheduled inspections of motor transport operators and city electric road transport operators by specialized regulatory authorities with regard to licensed activities is to come into effect at the same time. Whereas there is a possibility of scheduled inspection of passenger transportation facilities (e.g. bus stations) based on the orders of the heads of state supervision bodies.
Moreover, the bill provides for compulsory equipping with tachographs the vehicles of a gross weight over 3.5 tons and over 8 passenger seats. This provision will come into effect 12 months after its official publication.
According to the Information and Analytical system Globas there are about 13,000 active bus transportation operators in Russia. A subscription to the system will provide you with information about them and their business activity.