The state Vnesheconombank will be forbidden to credit offshore companies
The Ministry for Economic Development has prepared a draft law, which forbids the state corporation Vnesheconombank (VEB) to conduct dealings, including credit transactions, with companies, which ultimate beneficiaries are legal entities registered in offshores. The same will be in relation to natural persons - non-residents of the RF, being the citizens of similar states and formations.
The idea to erode government support for enterprises, being out of our jurisdiction, but which fixed assets stem from Russia, has long been discussed and found support by the top management of the country.
The logic of such decision is visible enough – to rely upon the state for the support and participate in implementation of government and other contracts, the business should be registered in the country, directly where this activity is carried out. In other way all revenues fall out of taxation of the Federal Tax Service.
For participation in public procurement it is offered offshore companies in the draft law to disclose the information about location, equivalent of the tax number (in accordance with the law of that country, where an enterprise is registered), beneficiaries and management. It is also offered to create a special register of transactions. It is needed to prevent an unrecorded offshore contractor from conclusion of large government contracts (cost - above 1 bln RUB, if it is referred to the order for state requirements, and 100 mln RUB — for regional requirements).
There are no apparent errors by this measure. If a certain amount of offshore companies re-register their firms by standards of the RF, then it will be able to be considered only by the positive side.
See also: Ministry of Finance has begun to fight with offshore tax evasion schemes
Net profit ratio of distributors of pharmaceutical products
Information agency Credinform prepared a ranking of distributors of pharmaceutical products.
The companies with the highest volume of revenue were selected for this ranking according to data from the Statistical Register for the latest available period (for the year 2012). These enterprises were ranked by decrease in net profit ratio.
Net profit ratio (%) is the relation of net profit (loss) of a company to sales revenue. It shows how profitable were sales of a company.
There is no specified value, that's way it is recommended to compare companies of the same branch or ratio's change with time in one specific organization. If the indicators are negative, it means that company has a net loss. The higher is the net profit ratio, the more effective is finally company's activity.
For getting of the most comprehensive and fair picture of the financial standing of an enterprise it is necessary to pay attention not only to industry-average indicators in the branch, but also to all presented combination of financial data.
Table. Turnover, net profit ratio and solvency index of the largest pharmaceutical products (TOP-10)
№

Name

Region

Turnover

,

in mln RUB,

for 2012

Net profit ratio

, %

Solvency index GLOBAS

-i®
1

DZHONSON

&

DZHONSON

LLC




INN: 7725216105

Moscow
43 910,1
9,2
223 high
2

SANOFI ROSSIYA

CJSC


INN: 7705018169

Moscow
29 734,3
4,4
223 high
3

NAUCHNO

-

PROIZVODSTVENNAYA

KOMPANIYA

KATREN

CJSC


INN: 5408130693

Novosibirsk region

101 206,7
2,2
201 high
4

FARMATSEVTICHESKY IMPORT, EKSPORT OJSC




INN: 7710106212

Moscow
16 594,2
0,9
261 high
5

ROSTA

CJSC


INN: 7726320638

Moscow region

58 880,0
0,6
226 high
6

FIRMA

TSENTR

VNEDRENIYA

PROTEK

CJSC


INN: 7724053916

Moscow
109 120,5
0,5
245 high
7

SIA INTERNEYSHNL LTD CJSC /(SIA INTERNATIONAL Ltd)




INN: 7714030099

Moscow
81 537,6
0,3
255 high
8

TAKEDA

FARMASYUTIKALS

LLC




INN: 7711067140

Moscow
16 423,2
-0,3
287 high
9

BAYER

CJSC


INN: 7704017596

Moscow
24 806,9
-0,7
294 high
10

ORIOLA LLC




INN: 7704150140

Moscow

region

33 506,1
-1,5
302

satisfactory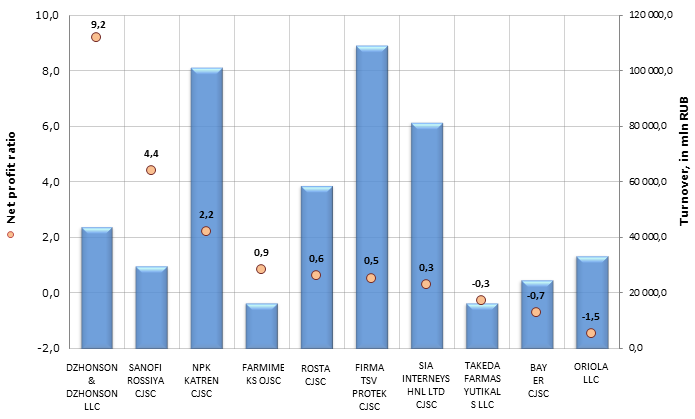 Picture. Net profit ratio, turnover of the largest distributors of pharmaceutical products (TOP-10)
The ranking includes enterprises involved mainly in distribution (and not in own production) of pharmaceuticals to retail networks of the country.
Turnover of the largest distributers of pharmaceutical products (TOP-10) made 515 719,6 bln RUB, according to the latest published financial statement. The leaders accumulate up to 35% of sales revenue of all participants of the branch. The average net profit ratio of TOP-10 companies is 1,6%.
NPK KATREN CJSC and PROTEK CJSC have the revenue above 100 bln RUB and are the main players in Russian pharmaceutical market. The net profit ratio by these enterprises is respectively - 2,2% and 0,5%. By comparable turnover of both organizations, NPK KATREN CJSC yields more net profit to its founders after deduction of all expenses, i.e. the business is more effective.
NPK KATREN CJSC takes the first place in the overall ranking of pharmaceutical distributors on the share of direct supplies of medical products and the gross sales.
Tsentr vnedreniya PROTEK is one of the largest national distributors of pharmaceutical products and goods for beauty and health in Russia. The company carries out its activity in 83 territorial entities of the RF. The regional network includes 6 interregional logistic centers, 28 branches with full-service warehouses, 9 branches with storage depots and 43 regional trade representations.
According to the independent estimation of the Information agency Credinform, the organizations of the TOP-10 list got a high solvency index (except ORIOLA LLC), what can signal to an potential investor, that the largest market players can pay off their debts in time and fully, while risk of default is minimal.
See also: Net profit ratio of the largest publishers of newspapers and magazines in Russia