Sole proprietors' accounts will be insured
As is known, small and medium business forms the lion share of the GDP in developed economy. Our country is eager to follow the same way that is why from time to time we can hear officials speaking of the small business support, creation of the open business landscape, improvement of legal system in this field, necessity of administrative restrictions liberalization and so on. At the same time, according to Federal Tax Service for January-September of 2013 more than 759 thousands sole proprietors have gone out of business, including due to decision on termination of activity – 745,8 thousands; due to court decision on declaration of sole proprietor bankruptcy – 1,1 thousand.
These figures are eloquent of the fact that everything goes not so well in this field now. Frequently, bankruptcy of the credit organization, where the sole proprietor has accounts, is the reason for the business termination. In opposition to household deposits, accounts of sole proprietors are not insured in the Deposit insurance system (DIS). Not every sole proprietor, as well as any other average citizen, could estimate reliability and risk of the bank.
Therefore, ombudsman for protection of entrepreneur rights Boris Titov and ombudsman for protection of entrepreneur rights in the banking sector Mikhail Mamuta commenced amendment of the law «On insuring of natural persons' deposits with the banks of the Russian Federation». It is expected that accounts of sole proprietors will be insured. Thus, according to this initiative, the insurance similar to household deposits insurance would cover sole proprietors' accounts, opened in the banks – members of Deposit insurance system.
Such amendments seem to be quite reasonable and logical. Under the conditions of country's stagnation and uncertainty in future, they are to give positive signal to the business landscape. Moreover, according to estimates of the Ministry of Economic Development, total sum of sole proprietors' assets on accounts in the banks numbers is just 1,2% of household deposits volume. It will actually make no impact on DIS.
Information agency Credinform is preparing to issue an independent methodology for identification of the bank financial condition that will help entrepreneurs to estimate the degree of reliability of bank and extent of cooperation with credit organizations.
Net profit of enterprises engaged in secondary processing of raw materials
Information agency Credinform prepared а ranking of enterprises engaged in secondary processing of raw materials. The ranking list includes industry's largest companies and is based on turnover as stated in the Statistics register, with the reference period of 2012. The first 10 companies, selected by turnover, later were ranked by net profit value.
Net profit – is a part of company's gross revenue, which remains at its disposal after payment of taxes, fees, assignments and other obligatory payments to the budget. The company independently defines the directions of net profit use. The part of its profit, intended for distribution between its participants, is allocated in proportion to their shares in the company's authorized capital. Another part is used for increasing of current assets, creation of funds and reserves, and also for reinvestments in production.
Net profit and solvency index of the largest on turnover enterprises, engaged in secondary processing of raw materials in Russia, TOP-10

| № | Legal form Name INN | Region | Net profit 2012, mln. RUB. | Turnover 2012, mln. RUB. | Solvency index GLOBAS-i® |
| --- | --- | --- | --- | --- | --- |
| 1 | LLC Vtorresurs - Pererabotka INN 4217126359 | Kemerovo region | 487 | 16 441 | 248 (high) |
| 2 | LLC Uralmetkom-Oskol INN 5607021177 | Belgorod region | 416 | 8 703 | 220 (high) |
| 3 | JSC Pskovvtormet INN 6027007501 | Pskov region | 55 | 8 210 | 214 (high) |
| 4 | LLC Lomprom Don INN 6144012880 | Rostov region | 48 | 8 156 | 231 (high) |
| 5 | LLC Commerce and Industry Company of Yekaterinburg INN 6670025354 | Sverdlovsk region | 32 | 17 854 | 288 (high) |
| 6 | LLC NOVOROSMETALL INN 2315057727 | Krasnodar region | 29 | 10 337 | 222 (high) |
| 7 | LLC Mechel-Vtormet INN 7714844919 | Chelyabinsk region | 28 | 8 548 | 252 (high) |
| 8 | Limited Liability Company Metallolomnaya OMC-EkoMetall INN 7705937571 | Moscow | 9 | 13 506 | 302 (satisfactory) |
| 9 | LLC Severstal Vtorchermet INN 3528165743 | Vologda region | -453 | 25 730 | 332 (satisfactory) |
| 10 | LLC NLMK Vtorchermet INN 7705741770 | Sverdlovsk region | -554 | 31 964 | 304 (satisfactory) |

In terms of industry sector, the largest 2012 turnover demonstrated the companies engaged in recycling of scrap metal.
The first place of ranking list takes LLC Vtorresurs - Pererabotka. According to 2012 results the net profit of the company amounted 487 mln. RUB. or 3% of revenue. That testifies about capital intensity of the industry. Besides the company is the fourth in industry by turnover. Such result of company's financial activity can testify about rational use of funds. Moreover it has the high solvency index GLOBAS-i®, this fact means that the enterprise is financially stable.
Net profit of enterprises engaged in secondary processing of raw materials in Russia, TOP-10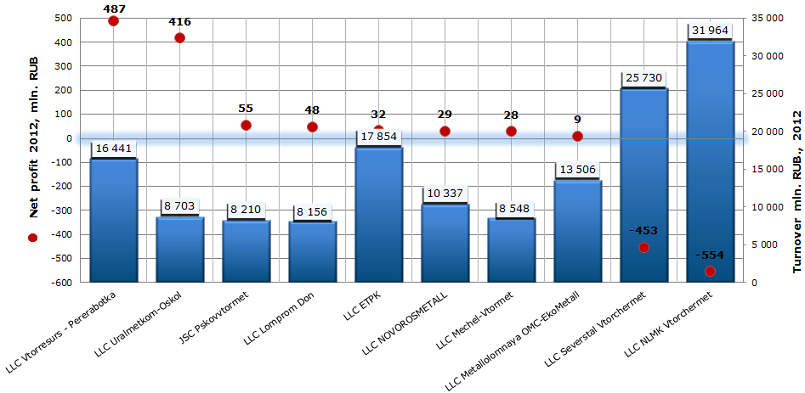 In addition to the leader of the ranking list, there are 7 industry's companies which have positive value of net profit, 6 of them have high solvency index. That means the opportunity to repay the liabilities on time and fully.
Two industry's leaders according to 2012 turnover LLC NLMK Vtorchermet and LLC Severstal Vtorchermet didn't manage to dispose efficiently the received funds and closed the ranking list with negative net profit value. Both companies have satisfactory solvency index GLOBAS-i®, which testifies about the risk of monetary default by enterprises from average to above average.
However it would be incorrect to give the assessment of the enterprise's efficiency, based only on net profit value. It is necessary to pay attention to other indicators, such as income from sales and profit before tax, for a more accurate and objective analysis.