Set-up of companies through front parties now criminally punishable
On March 31, 2015 the Federal Law №67-FZ has come into force, which is aimed at guaranteeing the reliability of the data provided by the registration of legal entities (LE) and individual entrepreneurs (IE). In particular, grounds for refusal of state registration of LE have been complemented.
Moreover, it has been clarified the definition of «front party». In the Criminal Code of the RF it has been imposed also the responsibility for submitting the data to a registering authority that resulted in the introduction of information about front parties into the Unified State Register of Legal Entities (EGRUL).
It has been increased up to 1 year the period of limitation for the institution of administrative proceedings in the sphere of state registration of LE and IE. Also it has been established the administrative responsibility for repeated commission of an administrative offense, in the form of failure to submit or submission of misinformation on a legal entity or an individual entrepreneur to the body, carrying out the state registration.
The Federal law specifies the procedure of the identification of the citizen, who has applied for a notarial act to be performed, as well as requirements for documents, being submitted for notarial acts to be performed: requirements to the notarized document have been specified and the procedure for submission of documents for the state registration of LE and IE has been established.
In the Federal Law "On Limited Liability Companies" it has been established an obligatory notarial confirmation of the fact of decision to increase the share capital taken by general meeting of company's members, as well as its membership presented at the decision.
It is also determined that EGRUL must contain the information that a legal person has decided to change the location. This obliges to introduce, among other, a record of unreliability of data about a legal entity contained in EGRUL into the Unified Federal Register of information about the facts of the activity of legal entities.
The world's largest companies of fuel and energy complex
Information agency Credinform (according to the global database Orbis of Belgian business partner «Bureau van Dijk Electronic Publishing», BvD) prepared a ranking of the world's largest fuel and energy companies (TOP-10) on the volume of annual revenue.
According to the last published accounts, there is a gradual change of long-time leaders observed on the global energy market: North-American and European companies give place to Chinese industrial giants. In recent years such companies as: Sinopec, CNPC and PetroChina, are deeply embedded in the top-10 global industry players.
Table. Consolidated revenue, net profit and net current assets value of the world's largest companies of fuel and energy complex (TOP-10), year 2014 *
№
Name
Country
Group revenue, in bln $
Net profit, in bln $
Net current assets, in bln $
1
CHINA PETROLEUM & CHEMICAL CORPORATION (Sinopec)
China
430,6
7,6

-39,9

2
ROYAL DUTCH SHELL
Great Britain
421,1
14,9
13,6
3
CHINA NATIONAL PETROLEUM CORPORATION (CNPC)
China
411,2

(2013г.)

23,1

(2013г.)

-14,7

(2013г.)

4
EXXON MOBIL CORP
USA
394,1
32,5

-11,7

5
BP PLC
Great Britain
353,6
3,8
23,6
6
PETROCHINA COMPANY LIMITED (PetroChina)
China
335,9
17,5

-30,8

7
TOTAL S.A.
France
212,3
4,2
24,3
8
CHEVRON CORPORATION
USA
199,9
19,2
10,3
9
PHILLIPS 66
USA
161,2
4,8
5,6
10
E.ON GLOBAL COMMODITIES SE (E.ON)
Germany
135,4

-2,6

9,0
…
21
GAZPROM
Russia
100,3
2,8
28,5
*
According to the global database Orbis of the Belgian business partner « Bureau van Dijk Electronic Publishing» (BvD), for 2014.
In spite of the fact that the Chinese company China Petroleum and Chemical Corporation (Sinopec) showed the largest consolidated revenue last year (430,6 bln $), net current assets are in the negative zone (-39,9 bln $), that points to the excess of current liabilities over the total cost of the firm. The other two companies from PRC also have a negative indicator of net assets: expansion policy of the management of these corporations for quick penetration of the market leads to an increase in unsecured costs and risk of cooperation with them.
Sinopec is a vertically integrated petrochemical company engaged in exploration, production, transportation, supply and processing of crude oil and gas, manufacture and sale of chemical and petrochemical products. Company's shares are listed on the domestic and international trading platforms of New York, London, Hong Kong and Shanghai. The enterprise includes more than 80 subsidiaries and branches. In 2014 the corporation took the 3rd place in the Fortune Global 500.
Another Chinese giant – CNPC - came to Russia in 2003, currently invests in the sphere of oil and gas industry, provides engineering and technical maintenance in oil-gas fields etc. In June 2013 CNPC and Rosneft signed an agreement of purchase and sale of additional volume of crude oil from Russia to China payable in advance. According to this contract, Russia, based on current supply of crude oil in the volume of 15 mln tons per year via Russia-China Pipeline, will increase the supply of this raw material to China year after year, raising its volume up to 30 mln tons per year by 2018. Contract period is 25 years with renewal option for 5 years.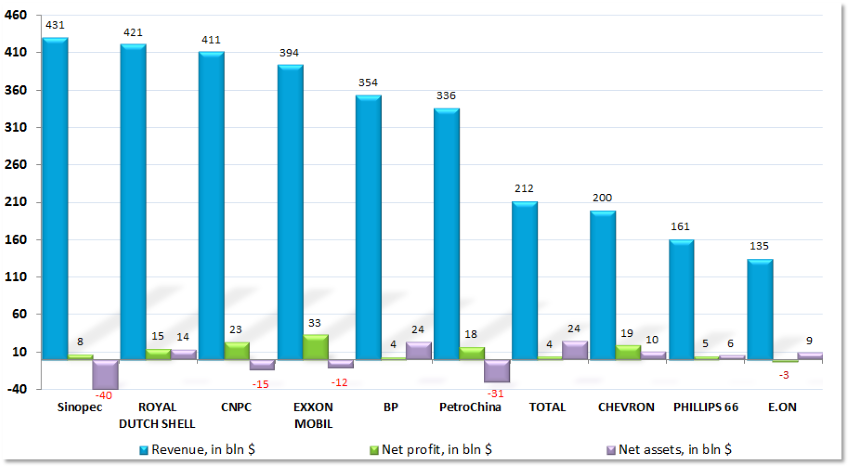 Picture. Consolidated revenue, net profit and net current assets value of the world's largest companies of fuel and energy complex (TOP-10), year 2014
Following well known giants are operating in Europe: ROYAL DUTCH SHELL, BP, TOTAL, E.ON, GAZPROM, LUKOIL (RF), ENI (Italy).
Royal Dutch Shell is one of the largest foreign investors in Russia on investment volume. Royal Dutch Shell is involved in the development of the Sakhalin shelf (PSA project « Sakhalin-2», together with OJSC «Gazprom» and Japan's Mitsui and Mitsubishi) and fields of the Salym group in the Khanty-Mansi Autonomous District (50% share in Salym Petroleum Development N.V.— joint venture with "Sibir Energy"). The company also plans to participate in the development of offshore oil and gas projects together with «Gazprom».
Shell in Russia is actively engaged in marketing of lubricants. In October 2012 it was opened the lube plant Shell in Torzhok (Tver region) priced at $100 mln. It is planned to manufacture 200 mln liters of products per annum. The plant Shell in Torzhok is a part of the regional group, that joins plants in Europe and Africa, which manufacture lubricants Shell. Production of the plant is supplied to Russia, Belarus, Kazakhstan and Ukraine.
From companies got shortlisted in TOP-10 the American EXXON MOBIL showed the highest indicator of the net profit – 32,5 bln $.
ExxonMobil is member of the project PSA(Production Share Agreement) «Sakhalin-1», holds 30 % stake in the project; the management company of «Sakhalin-1» Exxon Neftegas Ltd. is affiliated to ExxonMobil. Within the framework of the project «Sakhalin-1» Exxon Neftegas drilled the well to 12,345 km in Odoptu field (one of the deepest wells in the world).
British company BP has been operating in the Russian oil and gas market since the beginning of the 90s. On 22th of November 2012 the Government of the RF approved BP's acquisition of 5,66% of «Rosneft» from the Russian state. On the same day ВР, «Rosneft» and «Rosneftegaz» signed binding Sales and Purchase Agreements for the sale of BP's 50% interest in TNK-BP to the company «Rosneft» and BP's acquisition of additional shares in «Rosneft».
The deal was completed on the 21th of March 2013. BP received 18,5% of «Rosneft» and cash (approximately $12,5 bln) for its interest in TNK-BP. This resulted in BP holding 19,75% of «Rosneft» stock, when aggregated with BP's 1,25% pre-deal holding.
BP's significant shareholding in «Rosneft», the world's largest public company on production output, let it maintain strong positions on the Russian market. It is expected that BP's benefit from equity participation in «Rosneft» will correspond to the current decree of the Government of the RF on the base dividend rate at 25% of net profit. The company also relies on the increase of the value of shares of «Rosneft». Moreover, BP and «Rosneft» can get additional opportunities for the development of strategic and technological cooperation, as well as for cooperation within joint ventures.
Chinese PetroChina was founded as a part of the state CNPC in November 1999. In the process of restructuring of CNPC there were the assets on extraction, refining, petro-chemistry and natural gas injected into PetroChina. Majority shareholding of PetroChina belongs to CNPC.
French concern Total has been operating in Russia since 1991, realizing a number of projects in the sphere of exploration and production of hydrocarbons, marketing and trading. Since 1999 Total has oil production in Russia under PSA at Kharyaga oil field. In 2011 Total has acquired a stake in the share capital of OJSC «Novatek».
Activity of American company Chevron in Russia covers a wide range of interests, from research and transportation to licensing of technologies and consumer products.
The company Chevron is the main investor of the project "Caspian Pipeline Consortium" (CPC). Approximately 2,2 bln USD from 2,7 bln USD of the CPC budget are spent in Russia. Another 5,4 bln USD it is planned to spend in Russia within the framework of the expansion project, which was approved at the end of 2010.
Phillips 66 is an international developer and manufacturer of lubricants. The products manufactured by the brand are widely used in various spheres of industry, as well as in aviation, automobile transport, earth movers and agricultural machinery, also in industrial and marine equipment and in other varieties of technique.
German E.ON is also represented in our market. In 2005 OJSC «OGK-4» was established on the base of five electrical power plants with capacity of 8,630 MW: Surgutskaya GRES-2, Berezovskaya GRES, Shaturskaya GRES, Smolenskaya GRES and Yaivinskaya GRES. The main type of activity is manufacture and sale of electricity and heat and power.
In 2007 the controlling interest in OJSC «OGK-4» was acquired by the international energy concern E.ON, which operates in more than 30 countries around the world. In July 2011 OJSC «OGK-4» was renamed into OJSC «E.ON Rossiya». Today E.ON Rossiya / E.ON Russia is the most efficient company in the sector of thermal power generation in the RF.
Unfortunately, sanctions imposed by Europe and the USA in connection with the events in Ukraine slowed down, but did not interrupt the process of cooperation of foreign business with Russia in such mutually beneficial fuel and energy sector.
Taking into account all difficulties faced by Russia in the past - in the beginning of the current year, they did not stop it, following the results of May 2015, to become the world's largest oil producer, drawn ahead of Saudi Arabia.
On the average it was mined 10,708 mln barrels of oil for one day of May in the RF, while in Saudi Arabia only 10,250 mln barrels.
Total for May it was pumped 45,28 mln tons of crude oil and gas condensate from Russian fields, that is approximately by 1,67% more than in May 2014. In April 2015, according to the Ministry of Energy, Russia produced 43,668 mln tons of crude oil and gas condensate, that is by 1,2% higher than in April 2014.
Generally, the average daily volume of Russian oil production amounted to about 10,521 mln barrels in 2014, in 2013 — 10,469 mln barrels, in 2012— 10,329 mln barrels, in 2011 — 10,22 mln barrels, in 2010— 10,074 mln barrels.