The Letter of the Federal Tax Service of Russia (hereinafter "the FTS") #ED-4-15/13247 from July 10, 2018 "On preventive control of tax legislation" contains updated criteria of identification of legal entities and individual entrepreneurs acting as shell.
While tax statements checking, it will be made a point of signs of reasonable suspicion of taxpayers in the absence of real activity or signing documents by unauthorized or unidentified persons.
According to the FTS Letter, these signs are:
submission of corrective tax statements with false order number;
avoidance of legal entities' executives and individual entrepreneurs of presence in questioning more than twice;
residing of executives or individual entrepreneurs not at the place of registration;
absence of legal entities at the place of registration;
representation of taxpayers' interest by trustees registered or resided in another subject of Russia;
organizations established or registered after 2017;
submission of zero accounting for several reporting periods;
income amount recorded in the tax statement is close to amount of expenses;
share of VAT offset is over 98%;
absence of lease agreements for occupied premises;
average number of employees - 1 employee;
lack of employees;
lack of income of executives, including from companies they manage;
change of places of tax registration;
replacement of management with the introduction of relevant information shortly before reporting;
absence of current accounts within 3 months from the date of establishment or registration;
presence of closed current accounts;
opening or closing more than 10 current accounts;
transit of funds through current accounts;
presence of bank accounts not at the place of registration;
proved facts of cash withdrawals;
not resolved discrepancies with previous reporting periods;
presence of unreliable data on the address, executive, shareholder of company in the Unified State Register of Legal Entities (EGRUL);
executives or shareholders are non-residents of Russia.
When there is a complex of the above signs, tax statements may be considered unreliable. In this case, the withdrawal of tax statements is possible upon observance of legal procedures prescribed by law.
It should be noted that the above list of grounds for the cancellation of tax statements is open for replenishment and other criteria.
Provisions of this letter cannot be applied to tax statements with ended period of the office audits.
Accounts payable of furniture manufacturers
Information agency Credinform has prepared a ranking of the largest Russian furniture manufacturers. The companies with the largest annual revenue (TOP-10) were selected for the ranking, according to the data from the Statistical Register for the latest available accounting periods (2015 - 2017). Then they were ranked by accounts payable turnover ratio (Table 1). The analysis was based on the data from the Information and Analytical system Globas.
Accounts payable turnover ratio (days) is a ratio of average accounts payable for the period to sales revenue. The ratio indicates the number of days it took the company to pay its average payables.
The ratio reflects debt redemption to counterparties, and is calculated for assessment of money flow in order to make conclusions about company's performance and its financial strategy's efficiency.
The lower the ratio the faster the enterprise pays its debts to suppliers. Increase in turnover may indicate either difficulties in accounts settlement, or a more efficient management of relations with suppliers that provides a more profitable, deferred payment schedule, and uses payables as a source of cheap financial resources.
A calculation of practical values of financial ratios, that might be considered as normal for a certain industry, has been developed and implemented in the Information and Analytical system Globas by the experts of Information Agency Credinform, having taken into account the current situation in the economy as a whole and in the industries. Practical value of accounts payable turnover amonts up to 90.88 days for furniture manufacturers.
All indicators and financial ratios are to be considered to get a full and comprehensive vision of company's financial standing.
Table 1.Net profit, revenue, accounts payable turnover, solvency index Globas of the largest Russian furniture manufacturers (TOP-10)
Name, INN,
region, core activity
Sales revenue,
billion RUB
Net profit (loss),
billion RUB
Accounts receivable turnover,
days
Solvency index Globas
2016
2017
2016
2017
2016
2017
1
2
3
4
5
6
7
8
OZ Micron NJSC
INN 6002005478 Pskov region
Manufacture of office and shop furniture
3,53
3,88
0,546
0,623
17,89
16,60
177 Superior
IKEA INDUSTRY TIKHVIN LLC
INN 4715011103 Leningrad region
Manufacture of furniture
3,36
3,43

-0,204

-0,085

30,41
31,31
226 Strong
King of Sofas LLC
INN 6432009756 Saratov region
ПManufacture of other furniture
5,30
4,61
0,214
0,161
39,65
33,85
293 Medium
ASKONA-VEK LLC
INN 3305037917 Vladimir region
Manufacture of mattresses
7,49
8,45
1,053
0,321
44,45
42,75
218 Strong
DOK-15 LLC
INN 5050079140 Moscow region
Manufacture of kitchen furniture
3,31
3,91
0,027
0,041
128,00
43,81
219 Strong
JOINT STOCK FURNITURE COMPANY SHATURA
INN 5049007736 Moscow region
Manufacture of other furniture
3,31
3,61
0,001
0,115
49,37
47,19
202 Strong
ALIVE SOFAS LLC
INN 5029042443 Moscow region
Manufacture of other furniture
2,94
2,91
0,053
0,026
52,28
56,76
257 Medium
MEBEL STIL LLC
INN 3907046732 Kaliningrad region
Manufacture of furniture
8,81
10,50
0,012

-0,0003

99,90
72,57
253 Medium
Furniture Factory Marya LLC
INN 6455026772 Saratov region
Manufacture of kitchen furniture
6,49
7,19
0,025
0,142
62,08
74,95
204 Strong
MZ5 GROUP LLC
INN 4312146860 Kirov region
Manufacture of furniture
4,14
3,35

-0,076

0,004
85,62
89,48
304 Adequate
Total for TOP-10 companies
48,69
51,84
1,651
1,349
Average value for TOP-10 companies
4,87
5,18
0,165
0,135
60,97
50,93
Industry average value
0,03
0,03
0,001
0,001
96,31
90,88

— improvement compared to prior period,

— decline compared to prior period.
Average value of accounts payable turnover of TOP-10 companies is above the industry average value. In 2017 six of TOP-10 companies showed improvement of the indicator.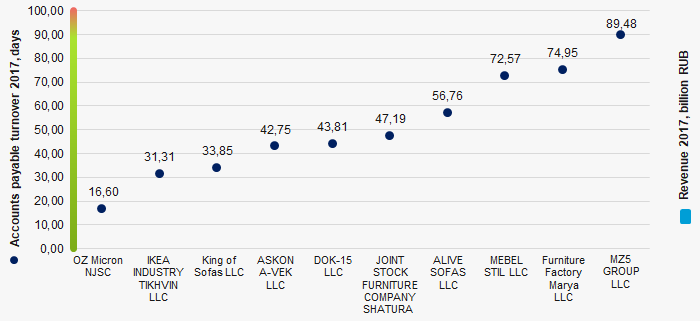 Picture 1. Accounts payable turnover and revenue of the largest Russian furniture manufacturers (TOP-10)
During the decade average industry values of accounts payable turnover tend to decrease (Picture 2).

Picture 2. Change of industry average values of accounts payable turnover ratio of Russian furniture manufacturers in 2008 – 2017