How many banks are there in Russia?
According to the Central Bank of the Russian Federation on August 20, 2014 the number of commercial banks and non-banking organizations with a valid license amounted 872 units. In this case, 418 (47.9%) of these units can be called as large organizations.
The number of banks operating in Russia declines annually. These trends are especially measurable in the current year. After the recall of license of Master Bank in November 2013 such news has become more regular. So, over a period from January 1 until August 20 of this year the number of credit organizations with a valid license reduced by 51 units. Such policy of the main regulator proves the experts' opinion that near the future there will be at about 500-600 banks in Russia. Thus, currently only 418 banks have the nominal capital that conform to requirements of the Central Bank.
According to the article 11 of the Federal Act 'Concerning Banks and Banking Activities' the nominal capital of the bank must be not less than 300 mln rubles as from the date of registration.
Top 10, the largest commercial banks according to the nominal capital in Russia
№

Name

INN

Region

Authorized capital

,

mln RUB

1

VTB BANK OPEN JOINT-STOCK COMPANY

7702070139

Saint-Petersburg

343 643,4
2

RUSSIAN AGRICULTURAL BANK OPEN JOINT-STOCK COMPANY

7725114488

Moscow

248 048,0
3

BANK VTB 24 CLOSED JOINT-STOCK COMPANY

7710353606

Moscow

91 564,9
4
GAZPROMBANK

JOINT-STOCK COMPANY

7744001497

Moscow

64 486,3
5

JOINT-STOCK COMPANY ALFA-BANK

7728168971

Moscow

59 587,6
6

JOINT-STOCK COMPANY UniCredit Bank

7710030411

Moscow

40 438,3
7

JOINT-STOCK COMPANY Raiffeisenbank

7744000302

Moscow

36 711,3
8

JOINT-STOCK COMPANY BANK URALSIB

0274062111

Moscow

29 824,0
9

INTERREGIONAL BANK FOR SETTLEMENTS OF THE TELECOMMUNICATIONS AND POSTAL SERVICES

7710301140

Moscow

29 025,7
10

JOINT-STOCK COMMERCIAL BANK AK BARS

1653001805

the Republic of Tatarstan

28 211,7
It should be noted that amid the trend of credit organizations reduction, the Bank of Russia gave the licenses for banking transactions realizations to Sevastopolskiy Morskoy Bank and Chernomorskiy Bank of Development and Reconstruction on August 13. These banks are registered in new constituent entities of the Russian Federation, in the City of Sevastopol and the Republic of Crimea.
Concerning the regional structure it should be pointed out that more than half of banks are registered in the Central Federal District: 510 credit organizations (58%). Thus, the great majority is registered in Moscow, 454 organizations in total: 425 banks and non-banking credit organizations.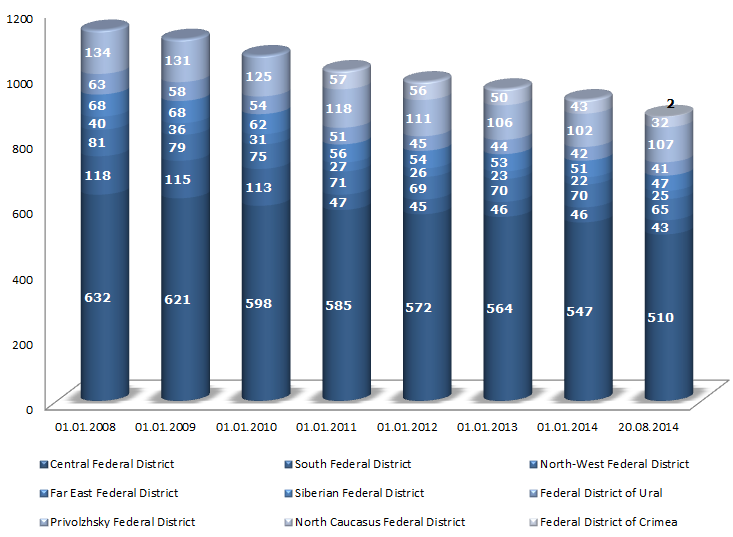 Banks and non-banking organizations trend in Russia among federal districts
The reduction of banks goes on various scenarios. Due to the raising of the minimum amount of the nominal capital by the Bank of Russia the number of procedures related to the taking over of small banks by the large ones, the consolidation of capital and self-liquidation and liquidation under the court decision has grown essentially. Cases of banks liquidation because of the law violation are also frequent.
According to analysts, the reduction of active banks in Russia that started in the period of the financial crisis is going to continue. Many experts are expecting of the essential reduction of active banks. At the same time it is early to give perfect forecasts about its total amount and the influence of such processes on economy.
The global experience demonstrates that if the bank has found and taken its special position for banking service, the size of this bank plays no role, as the ability of carrying out its obligations and acting on the legal structure is much more important. For instance, both small and large banks coexist peacefully in Switzerland. In addition to this, the section of finance services in these banks is one of the most advanced all over the world.




List of documents necessary for safe execution of a contract with counterparty
The lack of due diligence on the part of a taxpayer by choosing of counterparties can be followed by submission of claims on the side of tax authorities in execution of contracts with fly-by-night company. And, as a consequence - additional charge of tax and holding liable for a tax offence.
Following features of fly-by-night companies are singled out:
registration at «mass» address,
mass» founder or executive,
lack of information on a company in open data sources,
communication through representatives and refusal on the part of potential partner in the establishment of contacts with the management.
However, not always the presence of those or other listed criteria points to a fly-by-night company. But if there is a combination of features, then it is a serious pause for thought about the due diligence of potential counterparty.
The criteria, upon which tax authorities rely by planning of field tax audits, are presented in the order of the Federal Tax Service from 30.05.2007 № MM-3-06/333 «On approval of the concept of planning system of field tax audits».
In order to make ourselves and your business safe from possible claims on the side of taxation bodies, there are a lot of ways to make certain of trustworthiness of potential counterparty. First of all, it is required to request a number of documents by the contractor before closing of a deal. The standard minimum includes certificates of state registration, of registration with tax authorities and articles of incorporation. Besides, an extract from EGRUL (the Uniform State Register of legal entities) should be requested, as well as certificate of no arrears in tax payments. The term between getting of the extract and the moment of its presentation to a taxpayer is not prescribed by the law, but the less is the term, the better.
Also it wouldn't go amiss to test the counterparty for license for business activity (if its availability is obligatory) and its status, to be acquainted with annual accounting reports of the contractor, with the existence of arbitration cases, where he/she/it is a defendant, and to test if company is listed in the register of bad-faith suppliers.
It is considered also as a discretion, when it is got more specific information about the staff size of counterparty, his/her/its property status, about composition and value of fixed assets, reputation on the market and work experience in that or another industry.
As practice shows, verification and collection of data, confirming the trustworthiness of a potential contractor, require efforts of an interested party, as companies also provide such information to potential partners not always willingly. Information and analytical system Globas-I, in online mode, can help to get necessary information on a counterparty (registration data, availability of licenses, court proceedings, information about composition of the management), and Reliability index will easy help to find out a fly-by-night company.
See also: How to check the counterparty before signing the contract