Licenses for battery charging canceled
The amendments to the Federal law «On electric power industry» establish that power supply activities do not include works on charging of accumulator batteries with electricity, including vehicles with an electric motor. Thus, the licensing of this activity was abolished from August 2, 2019. These provisions are contained in the Federal law №262-FZ dated 02.08.2019.
The Russian Classification of Economic Activities (OKVED), approved by the Order of Rosstandart №14-st from 31.01.2014 in force as of 20.02.2019, does not contain the type of activity on charging of accumulator batteries with electricity.
---
According to the Information and Analytical system Globas, at present there are about 170 operating enterprises in Russia, specializing in the production of accumulator batteries. Information about them in full is available to subscribers of Globas.
Profit level of microfinance companies
Information agency Credinform has prepared a ranking of the largest Russian microfinance companies. The largest enterprises (TOP-10) in terms of annual revenue were selected according to the data from the Statistical Register for the available periods (2016-2018). Then the companies were ranged by net profit ratio (Table 1). The analysis was based on the data from the Information and Analytical system Globas.
Net profit ratio (%) is calculated as a ratio of net profit (loss) to sales revenue. The ratio reflects the company's level of sales profit.
The ratio doesn't have the standard value. It is recommended to compare the companies within the industry or the dynamics of a ratio for a certain company. The negative value of the ratio indicates about net loss. The higher is the ratio value, the better the company operates.
For the most full and fair opinion about the company's financial position the whole set of financial indicators and ratios should be taken into account.
Table 1. Net profit, revenue, net profit ratio, solvency index Globas of the largest microfinance companies (ТОP-10)
Name, INN, region
Revenue, billion RUB
Net profit (loss), billion RUB
Net profit ratio, %
Solvency index Globas
2017
2018
2017
2018
2017
2018
1
2
3
4
5
6
7
8
LLC MKK MOL BULAK
INN 7728744752 Moscow
1,448
na
0,452
na
31,23
na
219 Strong
LLC MKK SIBIRINVEST
INN 5408271207 Novosibirsk region
0,070
na
0,011
na
15,98
na
228 Strong
ANO RRAPP
INN 6164109350 Rostov region
0,094
na
0,011
na
11,28
na
239 Strong
LLC MFK PROSTODENGI
INN 4205219217 Novosibirsk region
1,350
1,451
0,132
0,355
9,81
na
211 Strong
LLC MKK KASSA №1
INN 274169217 The Republic of Bashkortostan
0,360
0,455
0,013
0,051
3,48
11,30
227 Strong
LLC MFK 4FINANS
INN 7724351447 Moscow


In process of reorganization in the form of acquisition of other legal entities, 17/07/2019

0,876
na
0,021
na
2,39
na
284 Medium
LLC MONEY MAN
INN 7704784072 Moscow
4,457
na
0,041
na
0,93
na
257 Medium
LLC MFK VEBBANKIR
INN 7733812126 Moscow
1,332
na
0,000
na
-0,02
na
279 Medium
LLC MKK DZHET MANI MIKROFINANS
INN 5042119198 Moscow
2,019
1,114
-0,709
-0,113
-35,13
-10,14
336 Adequate
NAO MKK DENGI SRAZU
INN 6454074861 Saratov region
0,144
0,101
-0,078
0,004
-53,96
4,45
230 Strong
Total for TOP-10 companies
12,151
-0,106
Average value for TOP-10 companies
1,215
-0,011
-1,40
Average industry value
0,016
0,013
81,74

growth of indicator in comparison with prior period,

decline of indicator in comparison with prior period.
In 2017, the average value of net profit ratio for TOP-10 companies is lower than average industry value: four companies improved the results.
*) 2018 data is for the reference.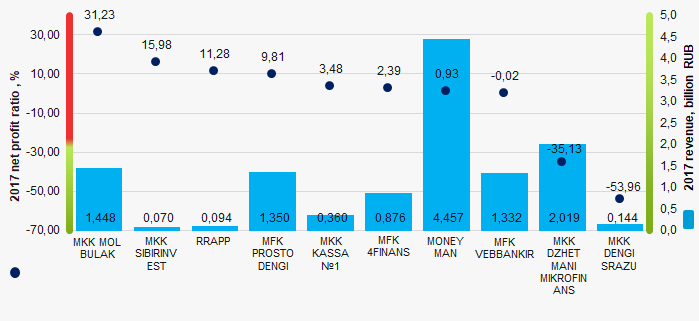 Picture 1. Net profit ratio and revenue of the largest microfinance companies (ТОP-10)
Within 7 years, the average industry indicators of the net profit ratio showed the growing tendency. (Picture 2).

Picture 2. Change in average industry values of the net profit ratio of microfinance companies in 2011 – 2017