Incomes of systemically important enterprises
Information agency Credinform represents the ranking of the largest systemically important enterprises of Russia. The companies with the largest volume of annual revenue included in the updated List of systemically important enterprises (TOP-10) were selected for the ranking, according to the data from the Statistical Register for the latest available periods (for 2016 - 2018). Then they were ranked by the return on costs ratio (Table 1). The analysis was made on the basis of the data of the Information and Analytical system Globas.
Return on costs (%) is calculated as the relation of profit before taxation to the sum of costs for production and sale of products and reflects the amount of income from one spent ruble.
Table 1. Net profit, revenue, return on costs ratio, solvency index Globas of the largest systemically important enterprises of Russia (TOP-10)
Name, INN, region, type of activity
Revenue, billion RUB
Net profit (loss), billion RUB
Return on costs, %
Solvency index Globas
2017
2018
2017
2018
2017
2018
1
2
3
4
5
6
7
8
SURGUTNEFTEGAS PJSC
INN 8602060555 Khanty-Mansijsk Autonomous District – Yugra
Oil production
1 144,37
1 524,95
149,74
827,64
20,23
88,99
172 Superior
TATNEFT PJSC
INN 1644003838 Republic of Tatarstan
Oil and petroleum (associated) gas production
581,54
793,24
100,02
197,52
31,38
48,04
147 Superior
GAZPROM PJSC
INN 7736050003 Moscow
Wholesale of solid, liquid and gaseous fuels and related products
4 313,03
5 179,55
100,30
933,14
5,04
28,83
141 Superior
ROSNEFT OIL COMPANY PJSC
INN 7706107510 Moscow
Oil production
4 892,93
6 968,25
138,97
460,78
1,84
6,87
174 Superior
GAZPROM NEFT PJSC
INN 5504036333 St. Petersburg
Wholesale of solid, liquid and gaseous fuels and related products
1 374,52
2 070,01
154,86
90,17
11,66
4,19
176 High
RUSSIAN RAILWAYS PJSC
INN 7708503727 Moscow
Activity of railway transport
1 697,55
1 798,40
17,50
18,36
3,37
3,43
193 High
TRANSNEFT PJSC
INN 7706061801 Moscow
Pipeline transportation of crude oil and petroleum products
835,94
937,77
58,84
10,11
9,68
2,54
157 Superior
TRADING COMPANY MEGAPOLIS NJSC
INN 5003052454 Moscow region
Agent's activities in wholesale of food
650,21
701,88
13,77
13,36
2,72
2,49
225 Strong
TANDER NJSC
INN 2310031475 Krasnodar territory
Retail sale of food
1 180,34
1 280,93
6,48
23,38
0,74
2,21
231 Strong
AGROTORG LLC
INN 7825706086 St. Petersburg
Retail sale in non-specialized stores
761,42
1 035,98
10,06
10,13
1,89
1,27
225 Strong
Avearge value by TOP-10 companies
1 743,19
2 229,09
75,05
258,46
8,85
18,89
Avearge value of TOP-500
78,40
94,67
5,78
9,83
20,76
33,26

mprovement of the indicator to the previous period,

decline in the indicator to the previous period
The average value of the return on costs of TOP-10 is below the average one of TOP-500. Six companies improved the result in 2018.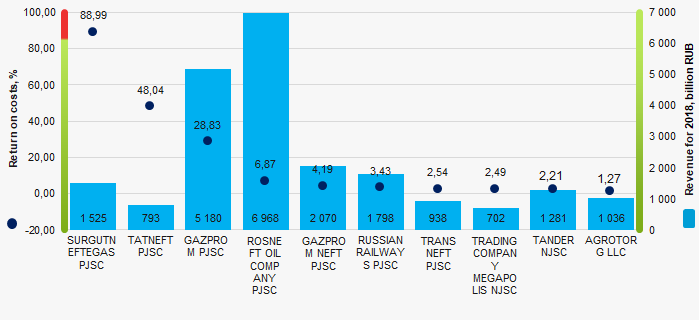 Picture 1. Return on costs ratio and revenue of the largest systemically important enterprises of Russia (TOP-10)
Over the course of 5 years, the average values of the return on costs ratio of TOP-500 companies tend to increase (Picture 2).

Picture 2. Change in the average values of the return on costa ratio of TOP-500 systemically important enterprises of Russia in 2014 – 2018
Guided by the Decree No. 309 of the President of the Russian Federation dated April 2, 2013 «On Countering Corruption» and the Federal Law No. 273-FZ dated December 25, 2008 «On Countering Corruption», the Russian Union of Industrialists and Entrepreneurs, the Chamber of Commerce and Industry of the Russian Federation, the all-Russian Public Organization "Delovaya Rossiya" and the all-Russian non-governmental organization of small and medium businesses "OPORA RUSSIA" initiated the signing of the «Anti-Corruption Charter of the Russian Business».
The representatives of the business community of the Russian Federation, realizing that success in business is impossible without a universal consensus on rejecting any form of corruption, declared their intention to promote the principles of preventing and counteracting corruption — both in dealing with government authorities and in corporate relationships.
By signing the Charter, the participants declare and undertake to observe and promote the following basic principles of preventing and countering corruption:
1. Corporate governance based on anti-corruption programmes, which set principles, rules and procedures aimed at preventing corruption in all fields of corporate activities, including business ethics, special management procedures, personnel training requirements, special anti-corruption supervision and audit rules, conflict of interest and commercial bribery prevention procedures, donation, sponsorship, and charity rules.
2. Monitoring and evaluation of anti-corruption programme implementation in accordance with a company management structure and participation of internal supervision and audit bodies.
3. Effective financial control, which includes tools for auditing bookkeeping and accounting practices, human resource management and other activities, and regular review of internal control systems in accordance with anti-corruption programme requirements. Thus, among unacceptable are the following things: generation of off-the-books (double) accounts; making of off-the-books or inaccurately accounted transactions; recording of non-existent expenses; entry of liabilities with incorrect identification of their objects; intentional destruction of accounting and other documents earlier than foreseen by law.
4. Personnel training and supervision based on anti-corruption programmes with the guarantees that none of the employees will suffer in terms of career-development or financial harm if they reject corrupt practices, even if such rejection leads to financial damages for the company.
5. Collective efforts and publicity of anti-corruption measures with the use of mechanisms to communicate anti-corruption programme information within the company. Companies shall create an environment that enables their employees and other persons to freely identify programme defects and to promptly report suspicious circumstances to officers in charge.
6. Rejection of illegally obtained benefits while promoting the interests in order to strengthen the market positions. Such rules shall envisage rejection of gifts and paying expenses, donations and sponsorship contributions.
7. Partner and counterparty relationships based on anti-corruption policy principles. When assessing the due diligence of their partners and counterparties, companies shall take into account their degree of rejection of corrupt practices in doing business; companies shall monitor the soundness and proportionality of fees paid to agents, advisors and other intermediaries. It shall be unacceptable for a company to promise, offer, give or accept any undue benefit or advantage to any executive, officer or employee of another company for any action or omission in violation of the established duties. When the government authorities perform control and audit functions, companies shall assist them in creating conditions for non-biased inspections and shall not impede lawful actions of such authorities.
8. Promotion of justice and respect for the rule of law, counteracting legalization of criminal proceeds. Financial companies shall provide proper identification of clients, owners and beneficiaries and report about suspicious transactions to the competent authorities.
9. Combating bribery of foreign public officials and officials of international public organizations
The Charter is opened for all-Russian, regional and industry associations, Russian and foreign companies operating in Russia. At the same time companies can join the Charter directly or through the membership in organizations.
Currently, about 1700 organizations, companies and individual entrepreneurs have joined the Charter. Among them 17% engaged in professional scientific and technical activities, 14% engaged in manufacturing activity, 12% - trading companies.
The biggest share of participants is concentrated in Tyumen region (23%) and in Moscow and Moscow region (21%). In addition, 6% of the participants are already liquidated or in the process of liquidation.
The list of participants of the Charter is available in «Lists we recommend» of the Information and Analytical system Globas.