Russia Intends to Launch a Bad Debt Bank
The Russian Government is reconsidering the idea to launch a bank for bad debts. Such a financial institution will buy distressed assets of banks as well as debts of corporations. The new institution will become a brand new instrument created for resolution of debts that are classified as difficult to collect. In Europe and in the USA similar financial institutions have been operating in capital markets for a long time.
As of March 1st, 2015, the volume of Russian consumer loans, with more than 90 days overdue repayment rate, amounted to EUR 13.8 billion (8.9% of loans granted to natural persons). Within a year the number of overdue consumer loans increased by 52.7%. The overdue liabilities grew quicker than loan portfolios of banks.
As of April 1st, 2015 the total overdue debt (loans granted to corporations and sole proprietors in Russia), amounted to EUR 19.3 billion (annual increase by 44.7%).
Today the sale of the distressed debts to collection agencies or the additional funding of a bank or corporation capital by the State or a private investor are the basic mechanisms for removing these debts from the balance sheets of banks. Restructuring of banks with the assistance from other credit organization is also used in some cases.
The volume of bad debts offered for sale to collection agencies increased in the 1st quarter 2015 almost by a factor of 6 and amounted to EUR 2.7 billion. An increase in supply leads to the falling price at which collectors are ready to buy debts: 1.2% of nominal value against 1.6% in 2014. In 2013 bad debts were selling at 2.7% of nominal value. Despite the lower price, debt collectors hardly showed any interest in buying debts – transaction volume has declined in comparison with the 1st quarter 2014.
The sale of debts allows banks and corporations to "clean" balances completely and facilitate the quick recovery of their funds.
If it is impossible to sell the debts, banks have to apply to the State asking infusion of budget funds. Credit institutions can't solve the problems by themselves because of the severe interest-rate policy of the Central Bank of Russia. It is still an open question whether the Government could buy the bad debts of all of the banks. Considering the difficulties with increasing the budget, the None-Top-100 banks will be in the wilderness with their debts. Bad assets will accumulate on banks' balance sheets and thus have a negative impact on their financial strength. This is the primary reason for the creation of a bank for bad debt. Such announcement came as a part of the Russian Government anti-crisis plan for 2015.
Return on investment of woodworking companies
Information Agency Credinform has prepared the ranking of enterprises engaged in manufacture of veneer, plywood, wood boards and panels by return on investment ratio. The largest enterprises engaged in this activity in terms of turnover were selected according to the data from the Statistical Register for the latest available period (for the year 2013). Then, the first ten companies by turnover were ranged by decrease in return on investment ratio.
Return on investment is an indicator of return on involved in commercial activity equity and long-term borrowed funds. It is calculated as a ratio of net profit to the sum of equity and long-term liabilities.
As it is known, there are no general standards for profitability ratios, as their meanings are significantly different depending on industry. That is why each company should be analyzed in comparison with the industry indicators.
Return on investment ratio and solvency index of the largest Russian woodworking companies, Top-10
№
Name, INN
Region
Turnover 2013, mln. RUB
Return on investment, %
Solvency index Globas-i®
1
SYKTYVKAR PLYWOOD MILL LIMITED


INN 1121009024

Komi Republic
7477
87,7
176 (the highest)
2
LLC KRONOSTAR


INN 4407006010

Kostroma Region
11 470
30,09
235 (high)
3
LIMITED JOINT-STOCK COMPANY CHEREPOVETS PLYWOOD-FURNITURE PLANT


INN 3528006408

Vologda Region
3806
21,33
157 (the highest)
4
LLC IKEA INDUSTRY NOVGOROD


INN 5310011273

Novgorod Region
3485
20,48
201 (high)
5
NAOSVEZA Kostroma


INN 4401006864

Kostroma Region
5070
20,29
174 (the highest)
6
LLC SVEZA URAL


INN 5942005010

Perm Region
5708
19,29
190 (the highest)
7
KRONOSPAN LLC


INN 5011021227

Moscow Region
13 554
13,26
205 (high)
8
EGGER DREVPRODUKT GAGARIN LLC


INN 6723019741

Smolensk Region
4699
8,9
220 (high)
9
TRADING COMPANY RUSSIAN LIMINAT LIMITED


INN 5042101105

Moscow Region
3314
4,1
216 (high)
10
LLC EGGER DREVPRODUKT SHUYA


INN 7704267807

Ivanovo Region
5124
-2,17
268 (high)
The first three places of the ranking take the following companies: SYKTYVKAR PLYWOOD MILL LIMITED (with ratio value 87,7%), LLC KRONOSTAR (30,09%), IMITED JOINT-STOCK COMPANY CHEREPOVETS PLYWOOD-FURNITURE PLANT (21,33%). All companies showed high level of return on investment ratio, that indicates about the effective use of borrowed funds. The companies have the high and the highest solvency index GLOBAS-i®, that shows its stable financial condition.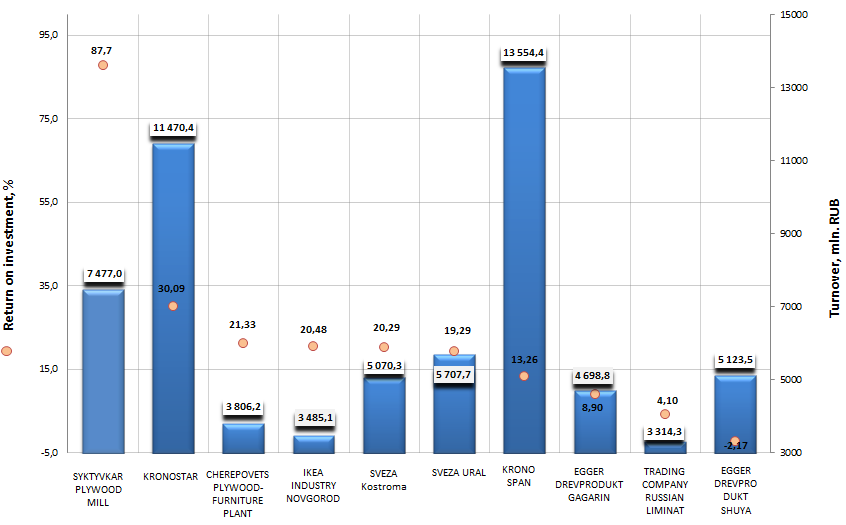 Return on investment of the largest Russian woodworking companies, Top-10
LLC EGGER DREVPRODUKT SHUYA is the only company with negative ratio value, because of the loss in the last financial period. However according to total financial and non-financial indicators, the high solvency index Globas-i® was assigned to the company.
In conclusion it should be noted that the ratio is important not only because it shows the return on investment, but also it is possible to estimate the practicability of fund raising under a certain percent on its basis. The company should take out a loan, percent on which is lower than return on investment capital.