Return on investment of special clothing manufacturers
Information agency Credinform prepared a ranking of Russian special clothing manufacturers. The companies with the mentioned activity type and the highest volume of revenue were selected for this ranking according to the data from the Statistical Register for the latest available period (for the year 2013). The enterprises of the first top 10 were ranked by decrease in return on investment ratio.
Return on investment is the index of efficiency of equity capital involved in commercial activity and long-term funds raised. It is calculated as a ratio between net profit and the sum of equity capital and long-term liabilities.
As known, there is no standard value for profitability ratio due to its high dependency on the industry, in which the company acts. That is why each specific company should be accounted in comparison with industry-specific indexes.
Return on investment and solvency index of special clothing manufacturers with the highest turnover, Top-10
№

Name, INN

Region

Turnover

2013,

mln

.

RUB

Return on investment

, (%)

Solvency index

Globas

-i

®
1
ООО

Rus-Andro




ИНН 7706294490

Moscow

1589
114,99
210 (

high

)
2
BTC GROUP JOINT-STOCK COMPANY


ИНН 7816043890

Saint-Petersburg

21 419
77,61
200 (

high

)
3
Nadezhda JOINT-STOCK COMPANY


ИНН 5226000322

Nizhniy Novgorod region

845
58,85
226 (

high

)
4
CJSC Kombinat rabochey odezhdy


ИНН 274043510

The Republic of Bashkortostan

1399
53,53
141 (

the highest

)
5
PV OOO FIRMA TECHHNOAVIA


ИНН 7724152603

Moscow

8091
28,87
163 (

the highest

)
6

CJSC MERIDIAN




ИНН 5259003336

Nizhniy Novgorod region

1340
26,91
168 (

the highest

)
7
ООО

Red Fox




ИНН 7825387961

Saint-Petersburg

992
15,24
218 (

high

)
8

CJSC FPG Energokontrakt




ИНН 7703268269

Moscow

4198
12,48
193 (

the highest

)
9
ООО

Kompaniya Splav




ИНН 7720019512

Moscow

1500
8,94
187 (

the highest

)
10

PTK Moderam JOINT-STOCK COMPANY




ИНН 7816057195

Saint-Petersburg

1329
3,18
233 (

high

)
For a long time the only requirements to special clothing were utility and comfort. Special clothing is supposed to be created for workers, that is why fashion trends have always passed this industry by. Nowadays the situation with the uniform is quite different. Many types of special clothing have appeared, such as working clothes, corporate clothes, clothes for service workers, medical wear.
Such broad variety has provoked an interest of many designers to special clothing and made companies' executives find possibilities to stand out on the market; these undoubtedly improved the development of the industry. Total turnover of domestic special clothing manufacturers at year-end 2013 exceeded 42 bln. RUB, having increased by 76% against 2012.
The first top-3 of the ranking is represented by ООО Rus-Andro (return on investment value is 114,99%), BTC GROUP JOINT-STOCK COMPANY (77,61%) and Nadezhda JOINT-STOCK COMPANY (58,85%). These enterprises showed extremely high values, indicating an efficient use of funds raised. All companies of the top-3 has got high solvency index Globas -i® and this is a feature of financial stability.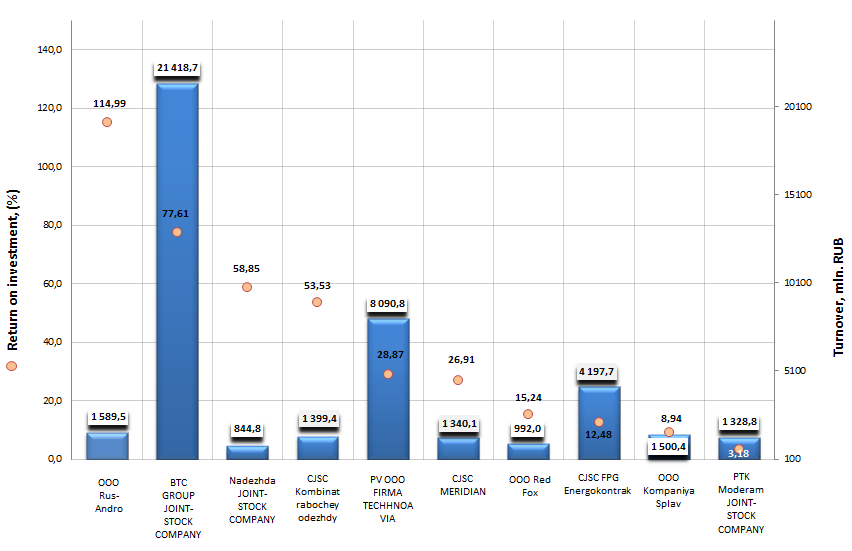 Return on investment of major special clothing manufacturers in Russia, Top-10
PTK Moderam JOINT-STOCK COMPANY with return on investment value of 3,18% closes the ranking. This value is significantly lower than the key competitors have. However the company has got high solvency index Globas-i® due to the complex of financial and non-financial indexes.

In conclusion it should be added that the importance of return on investment index is not only in return on involved funds. Using this index it is possible to assess reasonability of borrowing funds at certain interest. The company should take loans at interest lower than investment capital profitability.


In 2014 Russia had almost third part of the world gold purchase volume; last year The Russian Federation had spent the largest sum on purchase of precious metal since the collapse of the USSR.
In 2014 the Central Banks around the world bought 461 tons of gold. This is 13% more than in 2013. In January-November 2014 The Central Bank of Russia bought 152 tons of gold for a total amount of USD 6,1 bln. The growth in purchases volume amounted to 123%. Monetary valuation of gold in reserves increased by 13% (as of 01.02.2015 it was USD 49,1 bln.).
The purchasing of gold by The Central Bank of Russia can be explained by the desire to curtail dollar dependence and to support the considerably flagging ruble. However it also should be taken into account the fact that by 2014 results Russia was the second manufacturer of commodities in the world: 272 tons of gold. The first place took China with 465,7 tons and the third place - Australia with 269,7 tons. In 2014 the global gold output amounted to 3 109 tons.
That is why the hasty growth in purchasing of gold is partly explained by purchasing of home-grown metal; such values are not easy to sell abroad because of sanctions imposed by the West due to events in Ukraine.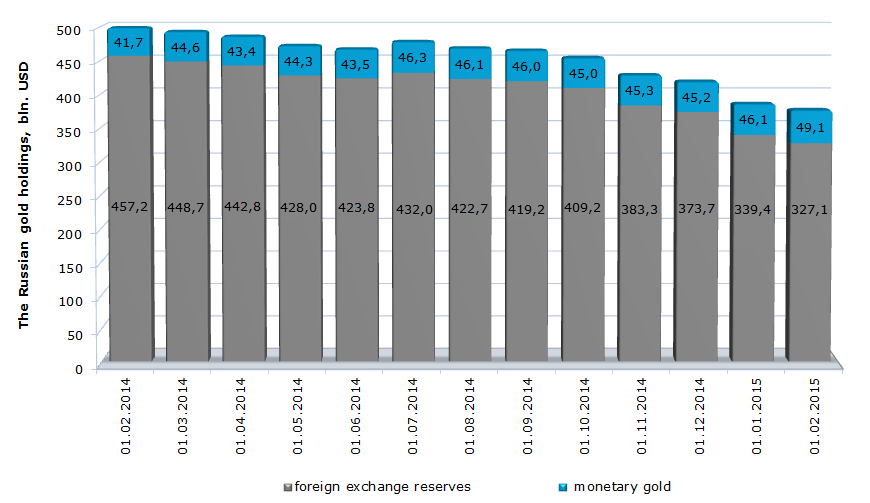 The structure and dynamics of the Russian gold holdings, bln. USD
Unstable position of the Russian economy and currency market has led to decreasing of total gold holdings by 24,6% within a year (as of 01.02.2015, till USD 376,2 bln.). At the same time, the value of monetary gold, in reserves structure, increased within the same period by 17,7% (till USD 49,1 bln.). Thus, we can see the policy of The Central Bank, which is directed on the increasing of gold holdings.