Amount of payment for financial accounts is defined
According to the amendments to the Law «On Accounting», the State information resource of financial accounts is created in Russia. The resource is in the authority of the Federal Tax Service of Russia (FTS). This information was given in our publication as of 10.12.2018.
According to the amendments, parties concerned can get information from the State information resource of financial accounts for a fee. Alongside with that, the obligation to file financial accounts to the state statistics authorities is canceled.
According to the Regulation of the Government of the RF as of 25.06.2019 №811 payment amount for disclosure of the information about financial accounts in electronic form of customer service of one workstation for one year amounts to 200 000 RUB. Payment will be charged at the request of the concerned parties. Bank details for payment are disclosed on the official web-site of the FTS RF.
Regulation will come into force since January 1, 2020.
Foreign loans in software engineering
Information agency Credinform represents the ranking of the largest Russian software developers. The companies with the largest volume of annual revenue (TOP-10) were selected for the ranking, according to the data from the Statistical Register for the latest available periods (for 2015 - 2017). Then they were ranked by solvency ratio (Table 1). The analysis was made on the basis of the data of the Information and Analytical system Globas.
Solvency ratio (х) is calculated as the relation of the amount of equity to balance sum and characterizes company's dependence on foreign loans. Recommended value is: >0,5.
The ratio value below the minimum means a strong dependence on external sources of financing, that by deterioration in market environment may lead to a liquidity crisis and an unstable financial situation of a company.
The experts of the Information agency Credinform, taking into account the actual situation both in the economy as a whole and in the sectors, has developed and implemented in the Information and Analytical system Globas the calculation of practical values of financial ratios that can be recognized as normal for a particular industry. For software developers the practical value of solvency ratio made from 0,04 up to 0,94 in 2017.
For getting of the most comprehensive and fair picture of the financial standing of an enterprise it is necessary to pay attention to all combination of indicators and financial ratios.
Table 1. Net profit, revenue, solvency ratio, solvency index Globas of the largest Russian software developers (TOP-10)
Name, INN, region
Revenue, billion RUB
Net profit (loss), billion RUB
Solvency ratio (x), >0,5
Solvency index Globas
2016
2017
2016
2017
2016
2017
1
2
3
4
5
6
7
8
YANDEX LLC
INN 7736207543 Moscow
71,69
86,06
12,14
19,01
36,45
0,87
178 High
KASPERSKY LAB NJSC
INN 7713140469 Moscow
17,72
19,72
1,24
0,09
0,75
0,68
187 High
SKB KONTUR JSC
INN 6663003127 Sverdlovsk region
8,20
10,18
1,03
0,90
0,70
0,62
179 High
YANDEX.TAXI LLC
INN 7704340310 Moscow
2,82
9,02

-0,74

-5,76

0,78
0,57
314 Adequate
MICROSOFT RUS LLC
INN 7743528989 Moscow
9,89
9,25
0,54
1,16
0,37
0,50
189 High
NEFTEAVTOMATIKA JSC
INN 0278005403 Republic of Bashkortostan
6,75
8,42
0,41
1,14
0,29
0,33
185 High
SBERBANK – TECHNOLOGIES NJSC
INN 7736632467 Moscow
20,34
30,32
0,23
0,15
0,28
0,30
256 Medium
RT-INVEST TRANSPORT SYSTEMS LLC
INN 7704869777 Moscow
10,82
10,99
3,09
2,14
0,09
0,09
249 Strong
FORS - DEVELOPMENT CENTER LLC
INN 7702270040 Moscow
4,65
6,75
0,13
0,24
0,04
0,08
179 High
RVO GROUP LLC
INN 7702531291 Moscow
4,65
6,75
0,13
0,24

-0,04

0,01
235 Strong
Total by TOP-10 companies
154,15
198,61
18,08
19,10
Average value by TOP-10 companies
15,42
19,86
1,81
1,91
0,41
0,41
Industry average value
0,04
0,04
0,004
0,004
0,45
0,64

improvement of the indicator to the previous period,

decline in the indicator to the previous period.
The average value of the solvency ratio of TOP-10 enterprises is below industry average and recommended values. Seven companies improved results in 2017.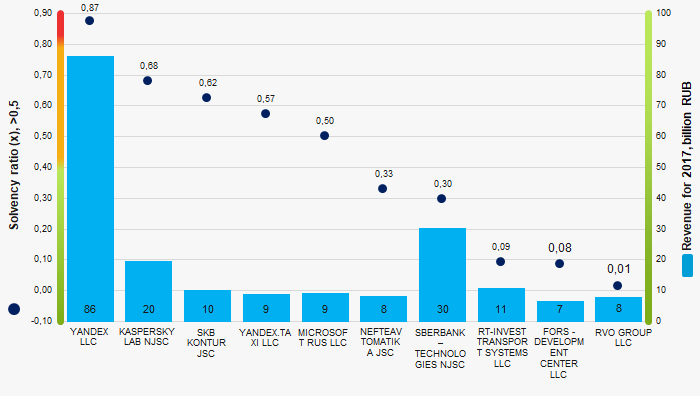 Picture 1. Solvency ratio and revenue of the largest Russian software developers (TOP-10)
The industry average indicators of the solvency ratio tend to decrease over the course of 10 years (Picture 2).

Picture 2. Change in industry average values of the solvency ratio of Russian software developers in 2008 – 2017