Amount of liabilities of agricultural producers
Information agency Credinform presents ranking of the largest manufacturers of agricultural products. Enterprises with the largest volume of annual revenue (TOP-10), were selected for the analysis, according to the data from the Statistical Register for the latest available periods (for 2015-2017). Then they were ranked by financial liabilities amount (Table 1).The analysis was made on the basis of the data of the Information and Analytical system Globas.
Financial liabilities amount is calculated as sum of short-term and long-term liabilities of an enterprise.
For getting of the most comprehensive and fair picture of the financial standing of an enterprise it is necessary to pay attention to all combination of indicators and financial ratios.
Table 1. Net profit, revenue, financial liabilities, Solvency index Globas of the largest agricultural producers (TOP-10)
Name, INN, region, activity type
Sales revenue, billion RUB
Net profit (loss), billion RUB
Financial liabilities, billion RUB
Solvency index Globas
2016
2017
2016
2017
2016
2017
1
2
3
4
5
6
7
8
JSC SEVERNAYA
INN 4706002688 Leningrad region
Poultry breeding
19,3
17,8
1,7
1,6
6,9
3,1
194 High
JSC Prioskolie
INN 3123100360 Belgorod region
Poultry breeding
35,1
33,9
2,0
0,9
6,9
8,5
206 Strong
LLC MIRATORG-BELGOROD
INN 3109004337 Belgorod region
Cattle breeding
15,7
21,2
5,5
8,3
19,5
13,2
203 Strong
LLC BELGRANKORM
INN 3116003662 Belgorod region
Poultry breeding
23,8
23,0
3,9
4,2
10,4
14,8
160 Superior
LLC TAMBOVSKII BEKON
INN 6803629911 Tambov region
Pig breeding
15,9
20,5
2,0
4,6
16,5
16,1
284 Medium
LLC STAVROPOLSKIY BROILER
INN 2623030222 Stavropol territory
Poultry breeding
23,5
22,6
1,7
0,7
19,9
18,1
249 Strong
LLC CHERKIZOVO-SVINOVODSTVO
INN 4812042756 Lipetsk region
Pig breeding
16,3
24,6
1,4
3,3
24,9
24,7
246 Strong
JSC KOROCHA Pig-breeding farm
INN 3110009570 Belgorod region
Pig breeding
45,2
47,1

-0,5

-0,3

42,8
53,1
299 Medium
JSC Agricultural Complex named after N.I.TKACHEV
INN 2328000083 Krasnodar territory
Mixed agriculture
44,8
46,7
2,9

-2,1

69,7
93,2
255 Medium
LLC Bryansk Meat Company
INN 3252005997 Bryansk region
Mixed agriculture
13,6
16,1
9,5

-2,4

93,3
110,2
318 Adequate
Total for TOP-10 companies
253,2
273,5
30,1
18,7
310,9
355,0
Average for TOP-10 companies
25,3
27,4
3,0
1,9
31,1
35,5
Average industrial value
0,05
0,05
0,01
0,00
0,18
0,07

— growth of indicator to the previous period,

— decrease of indicator to the previous period.
The average indicator of the financial liabilities amount of TOP-10 companies is significantly above the average industrial value. In 2017 five companies out of the TOP-10 have improved their indicators compared to the previous period.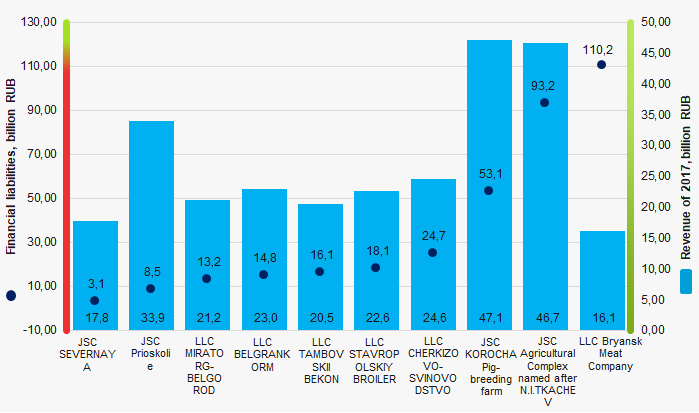 Picture 1. Financial liabilities amount and revenue of the largest agricultural producers (TOP-10)
Over a 10-year period an increasing tendency in the average values of the financial liabilities amount has been observed. (Picture 2).

Picture 2. Change in average industrial values of financial liabilities amount of agricultural producers in 2008 – 2017
The Federal Tax Service identified the signs of shell companies
According to the Federal Tax Service of Russia as of March 1, 2019, four million companies are registered in the Unified State Register of Legal Entities (EGRUL). Herewith, from the total number of registered companies, about 187 thousand or 4,7% are entities with fictitious signs.
According to the Federal Tax Service of Russia, unreliable companies have the following signs:
trading address of the company is not at the place of registration;
the residence of company's management is not at the place of registration;
frequent change of company's place of registration;
no lease agreements with the premises owners;
short-term business activity;
the company (or individual entrepreneur) is represented by trustees registered in another region of the RF;
change of company's management just before the submission of tax accounts;
inaccurate information on address, director, shareholder in EGRUL;
directorship or shareholders are non-residents of Russia;
the company's head has no income;
submission of zero accounting for several periods;
the equality of income and expenditure with minimum profit;
VAT offset ratio is more than 98%;
lack of employees / single employee in the accounting;
submission of tax returns with incorrect amendment serial number;
lack of current accounts after registration of the company;
closure of all bank accounts of the company;
the company has more than 10 bank accounts;
cash flow without account balances;
registration of the company and opening of the accounts in different regions;
failure to appear in tax authorities for interrogations more than two times.
The signs above are taken into account in the complex evaluation index by shell company signs in the Information and Analytical system Globas. The index is available for subscribers in the relevant section of company's report.