Due Diligence and Care: what documents need to be requested before entering into business transactions with contractor
Recently concept «Due Diligence and Care» is often mentioned in the business environment. First time this concept was mentioned in the Resolution No. 53 of the Plenum of the Supreme Arbitration Court of the Russian Federation of 12.10.2006: «On the assessment of arbitration courts of the grounds for receipt of tax profit by taxpayers». According to the mentioned Resolution, «tax benefit can be qualified as unjustified, if it is proved by tax authorities that taxpayer acted without «due diligence and care» and he should be aware of violations made by contractor, in particular, due to interdependence or affiliation of taxpayer to contractor».
Currently under «due diligence and care» is meant measures on investigating contractors before entering into business transactions. It includes complex of measures on confirming the following: whether the contractor is legally registered, or it is «fly-by-night» company, whether the contractor has adequate financial and human resources, or is able to execute the contract commitments.
According to the letter of the Federal Tax Service of the RF №3-7-07/84 of 11.02.2010 as part of investigating contractor «taxpayer can ask his contractor for copies of articles of association; certificate of registration in the Unified State Register of Legal Entities; Certificate of Registration with the Tax Authorities; copies of licenses (in case when business transactions are made within the context of licensed activities); orders certified the director`s right to sign documents; information about tax or administrative liabilities attached to the director».
Depending on collected information and on kind of business relations it is good practice to ask for additional documents. According to experience of specialists on investigating contractors, list of the above mentioned documents may be completed with:
notarized copy of the director`s passport,
notarized financial account for the year previous to the year of making a transaction,
confirmation of qualified personnel for the declared work/service accomplishment,
letters of reference and confirmation of contractor`s generalized experience,
information about working, storage facilities and/or showrooms,
extract from the cash flow on bank account for the last six months and others.
It is believed that investigation of collected information let secure the entrepreneur from bad-faith contractor and copies of documents can become further evidence of execution of measures on «due diligence and care», for example, while investigating your company by the federal authorities.
It should be noted that contract with the supplier of information services – Information Agency Credinform, company business reports and extract from the Unified Register of Legal Entities of the RF (EGRUL) / Unified State Register of Sole Entrepreneurs (EGRIP), received from the Information and Analytical System GLOBAS-i®, can be also additional evidence of «due diligence and care».
Dynamics of bankruptcies and registrations of companies in Russia
The current edition of the Newsletter is dedicated to the results of 2015 in the Russian economy within the framework of processes occurring in it and their impact on business climate. We will speak about dynamics of registrations and liquidations of companies, including for bankruptcies, and also exemplify the largest companies in term of assets have been set to monitoring by the Arbitration court.
According to the Federal tax service, 11 213 companies were bankrupted in 2015, that is by 7,9% higher than in 2014 when 10 931 legal entities were liquidated for the same reason.
Totally for 2015, 338 258 companies in Russia were dissolved and 504 216 were newly registered. The ratio of liquidated legal entities to companies established in 2015 is relatively 40% to 60%.
As a comparison, the trend of 2012 should be noted: 44% of newly established and 56% of liquidated legal entities (see picture 1). The rise in registered companies over liquidated is being observed for the last three years. Speaking about active processes in the Russian business environment which is still attractive, this trend is a positive indicator for investors.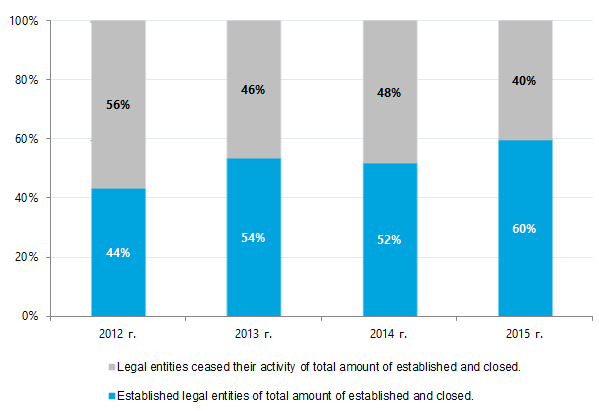 Picture 1. Percentage of new organizations to liquidated per year.
Totally for the January 1, 2016, there were 4 820 432 active legal entities in Russia, that is by 3,5% more than for the relevant date of 2015 (4 659 623 legal entities). Despite of all difficulties in the Russian economy, business activity remains and new companies continue to be established.
Traditionally, the main regions of legal entities' registration are Moscow (totally for January 1, 2016 1 110 510 companies and 23% of totally registered companies), Saint-Petersburg (367 607 companies and 7,6%) and the Moscow region (238 977 companies and 5,0%). 28 506 enterprises were registered in the Republic of Crimea and 9 352 in Sevastopol.
Main reasons for dissolving in 2015 are as follows: decisions of the registration authority (181 843 cases or 54% of total number of dissolved companies), reorganization (78 151 cases or 23%), liquidation (60 147 cases or 18%), bankruptcies (11 213 cases or 3%) and other grounds (6 904 cases or 2%).
Financial and economic activities with high tax risks, i.e. trading with unfair counterparties, lead the enterprise to be listed in the tax service's inspection plan. Inspection of the "fly-by-night" company itself has no sense, because such companies are paper operating and hardly will pay taxes and fines to the budget. That is why authorities fight against "fly-by-night" counterparties. Additional charge of tax, i.e. recognition of the savings for transactions with unreliable company as an unjustified tax benefit, can be the result of such inspection. It can lead to billion rubles losses and insolvency process. That is why it is necessary to choose and check counterparties as much careful as possible, in order to avoid negative consequences for the business..
Last year, the business community was shocked with facts of insolvency of several companies being significant in their industries. The table 1 contains the largest enterprises in Russia in term of assets, have been set to monitoring in 2015. These organizations are engaged mostly in construction and transport – the sectors most affected by devaluation and decline in consumption.
These are companies working directly with the population and got their clients in wrong. First of all, The SU-155 Group and Transaero are at stake.
Table 1. Top-10 of the largest companies in term of assets have been set to monitoring in 2015.
| № | Name | Sector | Assets, mln RUB as of 01.01.2015 | Payables, mln RUB as of 01.01.2015 |
| --- | --- | --- | --- | --- |
| 1 | Group of companies SU-155 JSC | Construction | 138 484,2 | 741,0 |
| 2 | FSUE "Unified Customer Group" at the Federal agency for railway transport | Construction | 129 980,9 | 4 418,8 |
| 3 | TRANSAERO Airlines Open Joint Stock Company | Transport | 128 862,6 | 47 832,1 |
| 4 | NPP Bioritm, OOO | Medicine; food industry | 40 297,8 | 5,6 |
| 5 | JSC ALEUTSTROY | Construction | 34 631,5 | 26 192,8 |
| 6 | LLC Stolichnyi Yuvelirnyi Zavod | Jewelry | 32 861,4 | 28 122,0 |
| 7 | LLC Minora Life | Construction | 23 311,9 | 8 842,8 |
| 8 | LLC Investment and Construction Company Stolitsa | Construction | 22 773,6 | 23 375,5 |
| 9 | LLC SM Kapital | Investment | 20 537,5 | 3 534,6 |
| 10 | JSC LOGISTIK | Transport leasing | 15 869,9 | 2 257,0 |
Group pf companies SU-155 JSC was one of the largest industrial and construction holding companies in Russia, founded almost 60 years ago and acted in Russia, Europe and CIS.
On August 7, 2015 the Moscow Arbitration Court received the case after the statement of the Bank of Moscow (JSC) on the recognition of insolvency (bankruptcy) of the JSC Group of companies SU-155. On September 8 the monitoring procedure was implemented. In October 2015 the Russian Government set up a commission headed by First Deputy Prime Minister of the Russian Federation Shuvalov I. I. on the development of the rehabilitation mechanism for JSC SU-155. "The government is in talks with the major market participants, who can be supported by the state and under certain conditions to save certain business units of SU-155", - said Igor Shuvalov, the First Deputy Prime Minister, in October 21 in the State Duma. He explained that the SU-155 has a lot of business, a lot of factories producing building materials, lift facilities, the contractors themselves".
In June, the Russian Investigative Committee opened a criminal case against Alexander Meshcheryakov, the general director of SU-155,. He is accused of tax evasion on income of natural persons on employees for 2012-2013, totaling more than 210,5 mln RUB. Later, the investigation revealed the fact of taxes non-payment by SU-155 group of companies amounted to 1,8 bln RUB. Thus, the developer became the largest defaulter in Moscow.
TRANSAERO Airlines Open Joint Stock Company, which has positioned itself as "the largest private Russian airline", also grasped the financial collapse: at the end of October it has been completed its activity. The company carried out passengers and cargo across Russia, to Europe, Asia, North and Latin America. The fleet amounted to more than a hundred aircraft. Transaero was the second in the country in term of the annual passenger traffic after Aeroflot: in 2014 it has carried about 13,2 mln people. Gross loss of Transaero for the 3Q 2015 amounted to 13 mln RUB. At the end of 2015 "last" 11,2 mln people were attended by the company.
The possible bankruptcy of the company became to be known in early October 2015 after long-time financial problems - increased lease payments on vessels, foreign exchange, and decline in passenger traffic on international routes led to the huge debt. All attempts of rehabilitation or merger did not lead to success. Following the results of inspection, the Transaero's certificate on air carriage is withdrawn by the Ministry of Transport of Russia since October 26, 2015.
Devaluation of the ruble and the decline in consumer demand made LLC Stolichnyi Yuvelirnyi Zavod (production asset of Adamas jewelry factory - the manufacturer of Olympic medals) start serious curtailing the plans to develop of retail business, and freeze the development of French brands Agatha and APM Monaco in Russia. However, the anti-crisis plans have not saved the company from serious financial problems. On October 1, 2015 LLC Stolichnyi Yuvelirnyi Zavod was put under monitoring after the suit of LLC ZoloTorg Voronezh. The company is formerly known as LLC Adamas-Classic, and in June it was declared bankrupt.
The Russian jewelry market has fallen by more than 20% in volume term in the first nine months of 2015, and by about 5% in value term, which affects negatively all jewelry companies.
The Russian jewelry market has fallen by more than 20% in volume term in the first nine months of 2015, and by about 5% in value term, which affects negatively all jewelry companies.
Thus, the policy of rapid expansion and capturing the market in today's conditions can play a low-down trick with the representatives of big business, which until recently had the reputation of "reliable", "successful" and "stable company." These examples confirm the need to take into account the volatility* on the foreign exchange market, predict the growth or drop in sales, calculate credit risk and risks of cooperation with counterparts.
Summing up, it should be noted that the poor foreign-economic environment, decrease in GDP, industrial production and consumer demand have not led to a significant increase in the number of activity termination by companies recognized bankrupt. Over the past three years, the exceeding amount of newly established companies over companies ceased their activities (including as a result of bankruptcy) is recorded.
*Volatility - indicator of the degree of variability in prices of the object relative to its average value over a certain period of time. This indicator is important in the assessment of the potential risk and return on investment.