The Government will legalize hostels and mini-hotels
The Ministry for Culture arranged a federal law "About introduction of amendments to Civil Code", which provides introduction of amendments to enactments 288 and 799 of Civil Code of the Russian Federation for simplification of hostels and mini-hotels work.
There is provided to allow homeowners to re-equip real estate into hotels with not exceeding 50 rooms without registration as nonresidential property. The Ministry for Culture accentuates these innovations designed to cut shadow transaction processing by companies which provide services on hot-bedding of tourists.
Hostels and mini-hotels are rather new format of hotel-services for Russia. These organizations usually don't need solid investment, and give net profit margin about 20-40% in a season.
In the estimation of specialists at the present time there are 350 function hostels in Russia. This service is the most popular in metropolises like Saint-Petersburg (129 hostels) and Moscow (121 hostels).
Indication only: The Information agency Credinform affords possibility to evaluate the loyalty of listed hostels and mini-hotels and other Russian enterprises as far by independent Solvency Index GLOBAS-i ®. The independent statistic of loan offices is made ready and will allow evaluating the risks of collaboration with a bank.
Loans security ratio of soft drinks manufacturers
Information agency Credinform prepared а ranking of loans security ratio of enterprises engaged in manufacturing of soft drinks: lemonade, sweet carbonated water, kvass, drinks, nectars etc. The ranking list includes the largest companies and is based on total revenue as stated in the Statistics register, with the reference period of 2012. The companies were ranked by decrease of loans security ratio.
Loans security ratio (x) – is a relation of profit before taxes and interest on loans to the amount of interest payable. The ratio characterizes the security degree of creditors from non-payment of interest on provided loan. The ratio also shows how many times during reporting period the company earned funds for interest payment on loans.
The recommended value: >1. If there is no ratio value, this indicates that the company has no borrowed funds and, consequently, interest payable to creditors. That is well, but may be not the sign of company's general well-being, after all sometimes credit resources are simply necessary for successful development. Therefore, the aim of company's financial management is to observe the reasonable balance between market holding and own financial wellbeing.
Table 1. Loans security ratio of soft drinks manufacturers
№
Name
Region
Turnover 2012, mln. RUB
Loans security ratio
Solvency index GLOBAS-i®
1
LLC PK AKVALIFE
INN: 3316017655
Vladimir region
1348,732
-
314(satisfactory)
2
United Bottling Group LTD
INN: 6952000100
Tver region
4443,133
6,93
275(high)
2
JSC Deneb
INN: 0541030620
The Republic of Dagestan
1247,19
3,43
189(the highest)
4
PO Undorovsky Zavod Mineralnoy Vody "Volzhanka"
INN: 7321008082
Ulyanovsk region
1062,578
2,5
250(high)
5
Ltd "MERCATUS NOVA COMPANY"
INN: 5031081930
Moscow region
1916,187
2,23
276(high)
6
LLC "NikitiN"
INN: 6901082384
Tver region
1482,247
1,59
299(high)
7
CJSC "Aqua Enterprise "Old Spring"
INN: 2630024445
Stavropol region
959,331
1,19
242(high)
8
JSC Rosinka Company
INN: 4822001318
Lipetsk region
888,668
1,06
249(high)
9
LLC "Coca-Cola HBC Eurasia"
INN: 7701215046
Nizhny Novgorod region
61926,027
-0,25
282(high)
10
LLC PepsiCo Holdings
INN: 7705034202
Moscow region
75851,472
-0,39
262(high)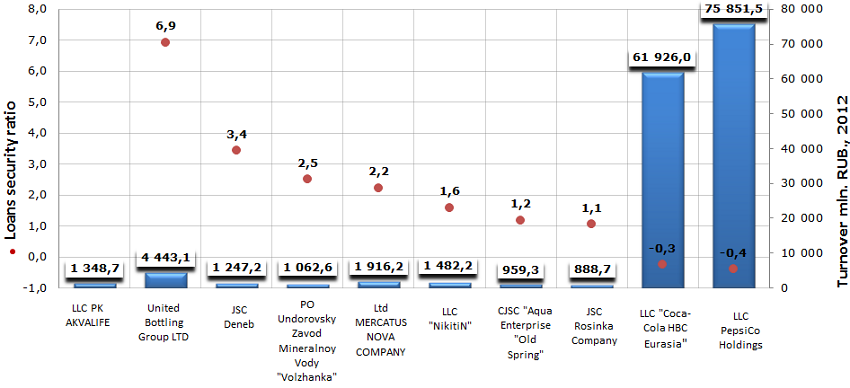 Picture. Loans security ratio of soft drinks manufacturers
According to 2012 results, total turnover of TOP-10 largest soft drinks manufacturers amounted to 151 125,6 mln. RUB, having increased on 27,3% during a year.
Popular global brands PepsiCo and Coca-Cola opened their production in Russia and have already become industry's largest companies in terms of revenue (75,9 bln. RUB and 61,9 bln. RUB respectively), having left far behind its closest competitors. At the same time, these companies showed the worst values of loans security ratio among TOP-10 list companies: LLC PepsiCo Holdings - 0,4, LLC "Coca-Cola HBC Eurasia" - 0,3. Despite the high revenue indicators, enterprises have a loss and, according to revenue ratio, don't provide interest payable to creditors. However, if to take into account the brands popularity and high turnover, investors are hardly worth being afraid of crash of these companies and credit defaults. This fact is confirmed by the independent solvency assessment, invented by Credinform agency. Market leaders have high solvency index GLOBAS-i®. The companies guarantee repayment of the debts, the risk of debt default is minimum or below average. The loans security ratio value of other companies of TOP-10 list is more than 1. In other words, enterprises have the opportunity to pay interest to creditors.
LLC PK AKVALIFE doesn't have borrowed funds, therefore the coefficient isn't calculated, but it has satisfactory solvency index GLOBAS-i®. That can be explained by cases of delayed payment of its financial liabilities.
Other enterprises of TOP-10 list have high and the highest solvency index GLOBAS-i® of the agency Credinform. This generally testifies of the favorable situation in the industry. From the investment point of view, the cooperation with the companies of ranking list seems to be quite reasonable.