Return on investment of the largest Russian manufacturers of cast iron, steel and ferroalloys
Information agency Credinform presents the ranking of the largest Russian manufacturers of cast iron, steel and ferroalloys. The largest companies (TOP-10) in terms of annual revenue volume were selected for the ranking, according to the data from the Statistical register for the latest accounting periods (2016 and 2015). Then they were ranked by the return on investment ratio in 2016 (Table 1). Analysis was based on the data of the Information and Analytical system Globas.
Return on investment (%) is calculated as a ratio of net profit (loss) to the value of net assets. The indicator characterizes the level of profitability per rouble, receiving from investments, e.g. amount of monetary units required by an enterprise for receiving one monetary unit of net profit. With the help of the ratio it is necessary to evaluate the reasonability of the borrowed funds raising at a certain percent.
Normative values for profitability indicators are not provided, because they vary depending on the industry in which an enterprise operates. The indicators of each particular company should be considered in comparison with industrial indicators.
For getting of the most comprehensive and fair picture of the financial standing of an enterprise it is necessary to pay attention to all combination of company's indicators and financial ratios.
Table 1. Net profit, revenue, return on investment (%), solvency index Globas of the largest Russian manufacturers of cast iron, steel and ferroalloys (TOP-10)
Name, INN, region
Revenue, bln RUB
Revenue, bln RUB
Return on investment, %
Solvency index Globas
2015
2016
2015
2016
2015
2016
1
2
3
4
5
6
7
8
AO OEMK
INN 3128005752 Belgorod region
76,0
79,5
-1,7
30,4
-5,36
298,01
180 High
JSC SEVERSTAL
INN 3528000597 Vologda region
278,6
305,3
40,1
84,7
32,87
58,22
170 Superior
CHELYABINSK METALLURGICAL PLANT OAO
INN 7450001007 Chelyabinsk region
96,1
107,1
4,0
15,0
17,08
38,70
350 Adequate
JSC NLMK-URAL
INN 6646009256 Sverdlovsk region
30,0
35,6
-0,3
2,2
-9,09
37,63
251 Medium
JSC MAGNITOGORSK IRON & STEEL WORKS
INN 7414003633 Chelyabinsk region
314,1
339,1
30,7
68,0
21,21
33,80
145 Superior
AO CHEMK
INN 7447010227 Chelyabinsk region
48,5
48,1
5,8
7,0
38,68
31,78
173 Superior
JSC NOVOLIPETSK STEEL
INN 4823006703 Lipetsk region
318,6
335,2
49,9
36,4
15,21
11,56
150 Superior
JSC EVRAZ CONSOLIDATED WEST SIBERIAN METALLURGICAL PLANT
INN 4218000951 Kemerovo region
140,9
148,1
21,3
8,9
26,47
9,94
162 Superior
JSC EVRAZ NIZHNY TAGIL METALLURGICAL PLANT
INN 6623000680 Sverdlovsk region
108,2
111,9
2,4
14,3
1,51
8,14
180 High
JSC URAL STEEL
INN 5607019523 Orenburg region
51,9
60,6
2,9
0,3
10,06
1,08
192 High
Total for TOP-10
1 463,0
1 570,6
155,2
267,1
Average value for TOP-10
146,3
157,1
15,5
26,7
14,86
52,89
Average value for the industry
0,3
0,5
3,7
3,7
14,12
26,22
Average industry value of the return on investment ratio of the TOP-10 companies is above average in 2016. All the TOP-10 companies in 2016 have positive values of the ratio. Four companies out of TOP-10 companies in 2016 decreased indicators of net profit or revenue in comparison to the previous period (marked with red filling in columns 3 and 5 of Table 1).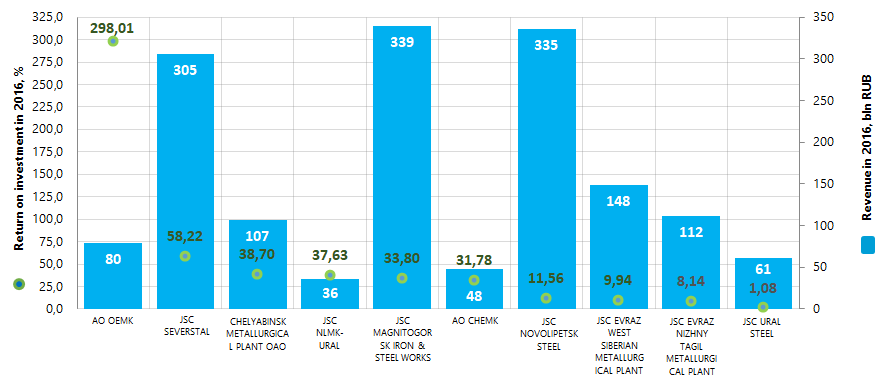 Picture 1. Return on investments and revenue of the largest Russian manufacturers of cast iron, steel and ferroalloys (TOP-10)
Average industrial indicators of the return on investment ratio for the last ten years demonstrate an increasing tendency. It may show gradual increase of profitability of companies in this field of activity (Picture 2).

Picture 2. Change of average industrial values of the return on investment ratio of the Russian manufacturers of cast iron, steel and ferroalloys in 2007 – 2016
Nine companies out of TOP-10 have got from superior to medium solvency indexes Globas that shows their ability to pay the debts in time and fully.
CHELYABINSK METALLURGICAL PLANT OAO has got adequate solvency index Globas, due to the information about bankruptcy claims and open enforcement orders. The forecast for index development is negative.
Ways of receiving information from a counterparty's credit history
Credit histories of individuals and legal persons (or subjects of a credit history) contain collected, processed, accumulated and stored data concerning fulfilment of commitments under loan agreements, or other contracts or obligations. Special business entities, credit bureaus, are engaged in this activity. According to the State Register of Credit Bureaus which is maintained by the Central Bank of the Russian Federation, there are 17 entities of the kind in Russia.
The article 6 On credit histories of the Federal Law No.218-FZ from December 30, 2004 (as amended on July 3, 2016) Provision of a credit report regulates obtaining information from the credit history in the form of a credit report.
Credit bureaus are entitled to provide a credit report at a credit history user's request based on a contract of information services provision, concluded between a user and a credit bureau. In order to become a credit history user a person has to receive a written or other recorded consent from the subject of the credit history to get a credit report, with an obligatory statement of purposes of obtaining such information. The consent is valid for 2 months, or during the whole loan agreement period.
A credit report can only be provided in the form of an electronic document with a digital signature.
Credit history users are obliged to hold information confidential.
In practical terms, the procedure of obtaining data from a credit history might be as follows:
1) in order to get full information of the counterparty's loan sources one should turn to the Central Catalogue of Credit Histories. It is a department of the Central Bank entitled to maintain the database of title parts of credit histories (surname, name, patronymic, passport data, tax number – INN, insurance individual account number). As a result, one can get a complete list of credit bureaus keeping the details of the counterparty's credit history.
Any credit bureau can conduct this search.

2) in order to get the details of the counterparty's credit history, one should turn to a certain credit bureau, conclude an agreement for information provision, register with an e-service, create an account and pay for the service. Besides, one should provide and pay for all technical, software and communications resources required for using of the e-service.
The mandatory requirements for getting a detailed credit history are:
a written consent of the subject for receiving a credit report, stating the purposes for obtaining this information;
a digital signature;
installed encryption software to ensure safe transfer of personal data;
a safety certificate in accordance with the legislation on personal data.