Russia in the frame of interrelations with the new economic leaders - China and India
The 21st St. Petersburg International Economic Forum (SPIEF), traditionally gathering leading politicians, representatives of the largest businesses and business circles, took place in Saint Petersburg from June 1–3, 2017. Special attention in the program of 2017 was given to India and China.
The subject of the Forum and interest to these countries are expectable, because under complicated relations with the western partners Russia widens integration contacts not only among EAEC members but also with new centers of East and South Asia where two the world-largest economies are forming. Experts in Russia and abroad pay undeservedly little attention to this matter: the GDP volumes are traditionally compared by the nominal rate of the national currency to the US dollar. Developing countries are remarkably behind the Golden billion in this comparison. This includes Russia, being on a small-scale position especially after the rouble devaluation.
However the accuracy of such analyses could be called into question due to the differences in purchasing power of currencies and price level on similar products in different countries. Applying the calculation by purchasing-power parity (PPP), the GDP of China exceeds the USA's one and consolidated GDP of the EU countries. The point is that India today is the third among the largest economies, living Japan and Germany behind, and significantly outrunning China by the GDP growth (see table 1).
Table 1. The world-largest economies, GDP growth rate in 20161

| | | | | |
| --- | --- | --- | --- | --- |
| Rank | | Country | GDP (PPP),$ trn | GDP growth at the end of 2016, % |
| 1 | | China | 23,2 | 6,7 |
| - | | EU | 20,9 | 1,9 |
| 2 | | USA | 19,4 | 1,6 |
| 3 | | India | 9,5 | 7,0 |
| 4 | | Japan | 5,4 | 1,0 |
| 5 | | Germany | 4,1 | 1,9 |
| 6 | | Russia | 3,9 | -0,2 |
| 7 | | Indonesia | 3,3 | 5,0 |
| 8 | | Brazil | 3,2 | -3,4 |
| 9 | | Great Britain | 2,9 | 2,0 |
| 10 | | France | 2,8 | 1,3 |
1According to the IMF (International Monetary Fund: Forecasted estimates for 2017)
Asia is gradually becoming the center of global development, and it is more than ever important for Russia to stand in with this region both in policy and mutual commodity turnover.
Dynamics of external turnover of Russia with China and India
By the volume of commodity turnover India takes a back seat among countries involved in commercial relations with Russia. However there is a positive dynamics: its share in the total import volume amounted to 1,1% in 2014, but it was 1,3% in 2016 (19th rank). Supplies of the Russian goods to the Indian market are also not exceeded 2% (16th rank) of the total volume of the Russian export in monetary terms.
Speaking about the other Russian's neighbor in the east, there is a different situation. China is the 1st by import and the 2nd by export (after the Netherlands), and its share is on the rise: following the results of January-March 2017, the share of import amounted to 21% of total volume in monetary terms, and of export - to 10,7% (see pictures 1.1 and 1.2).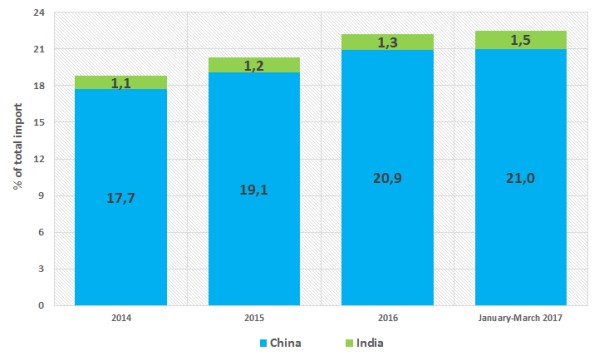 Picture 1.1. Share of China and India in the RF's import, % of its total volume in monetary terms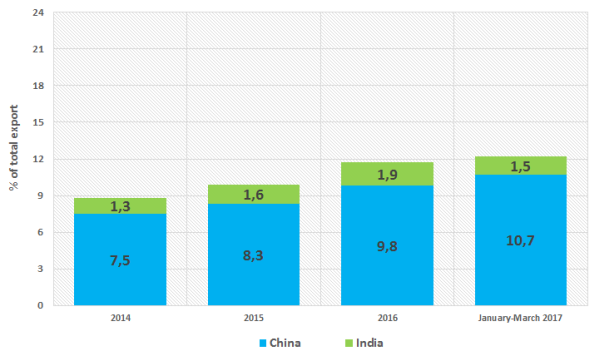 Picture 1.2. Share of China and India in the RF's export, % of its total volume in monetary terms
Structure of external turnover of Russia with China and India
China supplies a broad list of products to the Russian market: various equipment and machinery, clothing, toys, fabrics. Following the results of 2016, the highest volume of purchases fell for mobile and fixed-line phones – 11,4% of total import in monetary terms; machinery and equipment with electric and non-electric heating – 10%; computing machinery – computers, facilities for record and storage of information – 6%; parts and accessories for cars – 2,2%; kids bikes, scooters, toys – 1,9%.
Speaking about export from the RF to China, unfortunately, low value-added goods are leading – oil and oil products, sawn and rough timber (see pictures 2.1 and 2.2).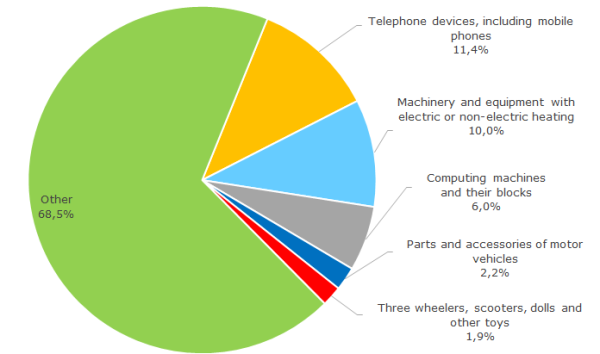 Picture 2.1. Structure of import from China to Russia, % of its total volume in monetary terms in 2016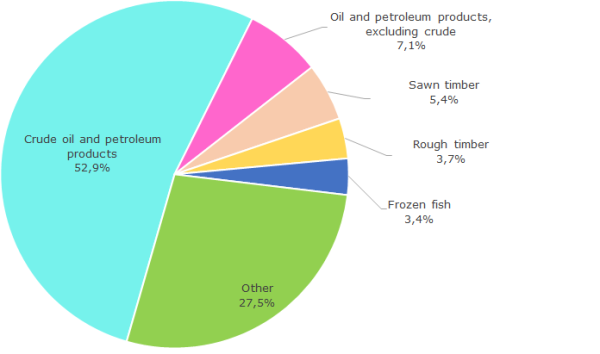 Picture 2.2. Structure of export from Russia to China, % of its total volume in monetary terms in 2016
Distinctive feature of the Indian import is supply of pharmaceutical products to the Russian market – 18,4% of total volume, as well as tea, tobacco, coffee, extracts and essences from plants growing in humid temperate climate – 14,1% of annual import.
In its trade with India, Russia specializes in hi-tech goods: first of all, in the armament, being the principal exports – 24,4% of total proceeds in cash or 1,3 bln US dollars in 2016 (see pictures 3.1 and 3.2). India also procures nuclear fuel elements from Russia and continues the second construction phase of Kudankulam Nuclear Power Plant – common project of two states in nuclear power. Taking into account the population exceeding billion, India's electrical demand is huge.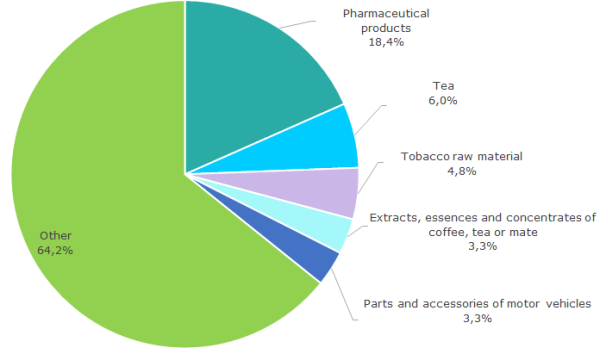 Picture 3.1. Structure of import from India to Russia, % of its total volume in monetary terms in 2016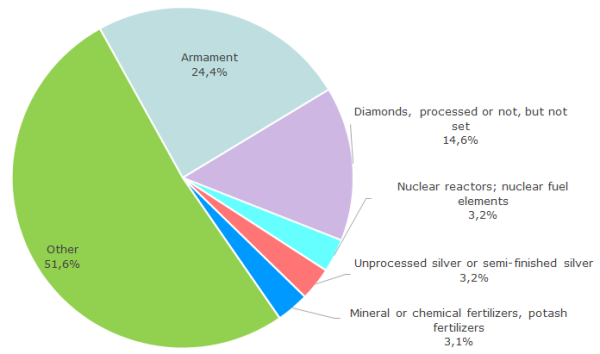 Picture 3.2. Structure of export from Russia to India, % of its total volume in monetary terms in 2016
The largest business in Russia with Chinese or Indian controlling participation
According to the Information and Analytical system Globas, currently there are about 790 active companies in Russia with dominant Chinese participation (controlling stake in the capital belongs to natural persons or legal entities from China). The table 2 contains companies largest in term of annual turnover (Top-5). These are enterprises of various sectors: telecommunications, gas filling stations, real estate, auto sales. While the EU authorities artificially limit the contacts of their entrepreneurs with Russia, Chinese investors actively aspire the Russian market.
Currently there are 60 companies in Russia under Indian control, that is not to the potential of cooperation. The companies are mainly engaged in production of pharmaceuticals. The largest among them is Glenmark Impex LLC with annual turnover about 3 bln RUB.
Table 3. The largest companies of Russia with controlling participation (over 50%) of citizens or legal entities from India (Top5)
Rank
Company
Business scope
Revenue, 2015, bln RUB
1
Glenmark Impex LLC


ИНН: 7709345865

Pharmaceutical industry
3,0
2
AGT LLC


ИНН: 6165173567

Agriculture
1,7
3
ZAO DINA INTERNATIONAL


ИНН: 7724586008

Sale and maintenance of medical equipment
1,2
4
Sun Pharmaceutical Industries Ltd.


ИНН: 7728638440

Pharmaceutical industry
0,9
5
Hreya Life Sciences Ltd.


ИНН: 7715641990

Pharmaceutical industry
0,7
India demonstrates impressive development rates. Once backward, the country now has and develops new industries – pharmaceutical, electronic, IT, etc. Domestic business structures should size up the market, which will be the first in the world by a number of consumers in the near future. According to the population counter, 1 316 mln. people currently live in India, and 1 383 mln. – in PR China. Moreover, India is traditionally wary of China and could become a kind of counterbalance, taking into account significant negative trade balance of the country with PRC: the volume of the Russian export to China is one third less than import from this country.
Currently Russia and PRC have close cooperation in both economy and politics. The country is becoming important for the Russian energy corporations (construction of "The Power of Siberia" gas pipeline is at the final stage). At the same time, considering the scale of potential demand, products of manufacturing industry and agriculture still have a very weak position in export structure.
Russia has turned to the East. This is proved by good level of political relations with new world leaders and participation in development of economic connections being profitable for all parties. The SPIEF'17 has also demonstrated this fact with a number of major agreements signed within its frameworks: agreement on the amount of 239,4 bln RUB (4,2 bln US dollars) between the SC "Rosatom" and the Indian Atomic Energy Corporation on the construction of the 5th and 6th power units at the Kudankulam NPP; agreement on the amount of 28,5 bln RUB between EuroChem MHC and the Chinese corporation ChemChina on a joint industrial production in Russia; and other promising agreements.
The structure of the russian economy is changing
The Russian companies continue to increase turnover despite of all difficulties in business process. According to the latest financial accounts, total revenue net of VAT, excises and other liabilities exceeds 207 trln RUB (see Picture 1). In the context of absolute values, this figure can be considered as a historical maximum. At the same time, the growth rate of total revenue (year to year) can indicate the efficiency of development and demand model, as well as prices increase, or inflation in other words.
Total revenue of enterprises shows the situation in economy of the state in general. For example, decrease in demand follows the prices increase, and resulted in reduction in revenue that leads to reduction of the GDP. The alike situation was observed at the crisis of 2008-2009 during which gross sales of companies decreased for the first time for several years. Russia overcomes this economic instability more easy than it was expected. It became possible due to floating rate of the national currency caused rouble devaluation that has led to negative import dynamics and improvement of competitive ability of domestic goods.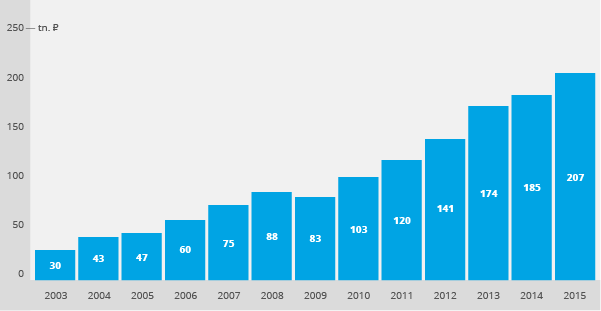 Picture 1. Dynamics of revenue from sale of goods, works and services according to the financial accounts, trln RUB
Distribution of companies by business size
The Russian corporate sector is a field mainly for large business. Corporations holding a monopoly in their industries or segments accumulate about 71% of total revenue. The rest 24% fall for small and micro enterprises and only 5% for medium-sized companies (see Picture 2).
Criteria of classification as a micro-, small- and medium-sized business are established by the orders of the Russian Government. These categories have considerable support from the state: for example, they are statutory privileged participants of procurement procedures. Currently, micro-sized company is an organization with annual revenue up to 120 mln RUB and total stuffing not exceeding 15 employees; small-sized companies have up to 800 mln RUB of revenue and 100 employees, and up to 2 bln RUB of revenue and 250 employees are for medium companies. Other structures are classified as large business.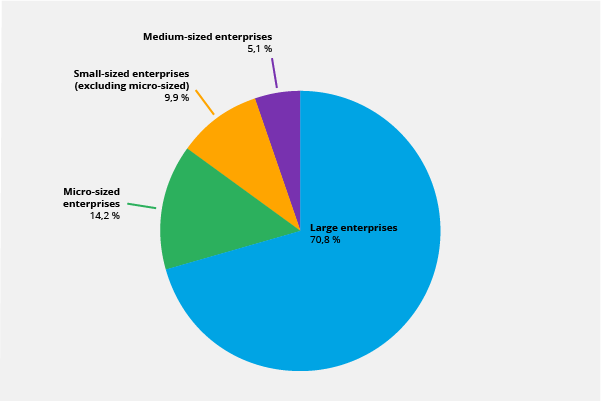 Picture 2. Distribution of total revenue by business size criterion in 2015, %
Distribution of companies by sectors (sectoral structure of the economy)
By reference to analyses of all funds virtually received on settlement or cash account, inference should be drawn that for the past 10 years the structure of domestic economy has underwent significant changes. Nowadays financial activity generates 19% of total earnings on companies' accounts, when in 2007 the share of this sector not exceeded 0,1%. Speaking about senile industries such as manufacturing, transport and mining, their share is reducing (see pictures 3.1 and 3.2). That is to say Russia is on the way of developed countries where the significant part of the GDP is formed by financial services.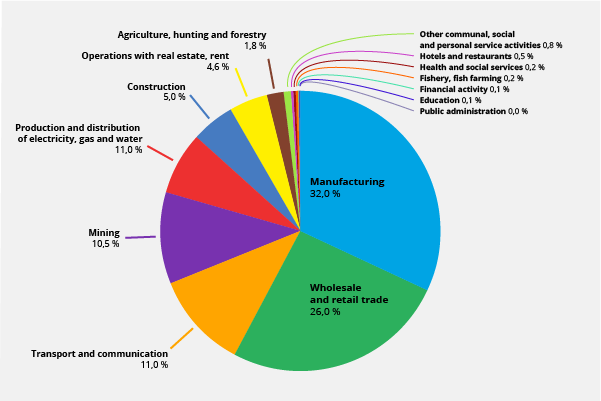 Picture 3.1. Sectoral structure of the economy as of January 1, 2007, %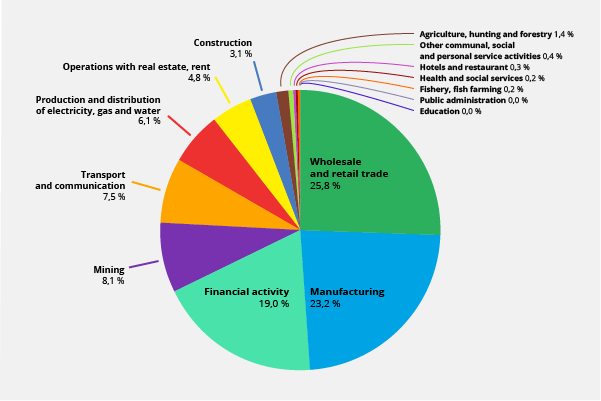 Picture 3.2 Sectoral structure of the economy as of January 1, 2017, %
Distribution of companies by regions
More than 40% of total revenue of all companies is generated in Moscow. Then follows Saint-Petersburg with 8,4% and Moscow region with 5,7% (see Picture 4). Economical imbalance becomes more obvious: almost all large business is registered in Moscow. At the same time its production sites and operating activity are located beyond perimeter of the agglomeration.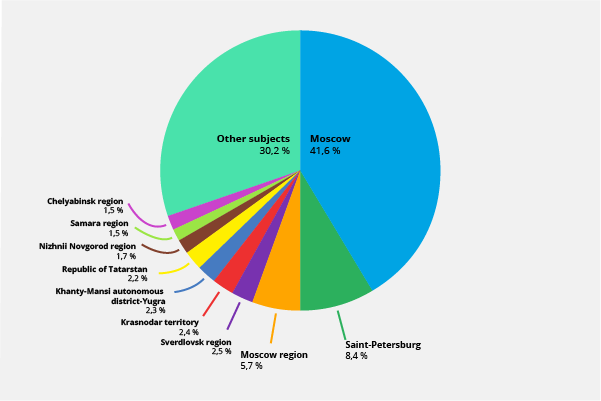 Picture 4. Regional distribution of total revenue of companies in 2015, %
In current conditions the Russian companies face the challenges hardly to be preliminary modeled and forecasted in term of plans and strategies of development. The current 2017 is expected to be as difficult as 2016. Despite of stabilization of world prices for resources and energy products, complicated geopolitical climate and higher volatility on financial and exchange markets still take place.
With a lack of significant growth, the development of certain enterprises can be provided due to competitors' market shares only. Under current conditions it is going to have to put up with a lack of high profit rate. Also it is necessary to shift the emphasis towards business optimization and increase in labor productivity to keep reliability under conditions of demand stagnation.