ТОP-10 of refrigerator manufacturers
Information agency Credinform has prepared a ranking of the largest Russian manufacturers of refrigerators and ventilation equipment. The largest enterprises (TOP-10 and TOP-1000) in terms of annual revenue were selected according to the data from the Statistical Register and the Federal Tax Service for the available periods (2017-2019). Then the companies were ranged by credit period (Table 1). The analysis was based on the data from the Information and Analytical system Globas.
Credit period (days) is calculated as a ratio of average trade payables for a period to sales revenue. The ratio shows for how many days whithin a year the company repaid the average amount of its accounts payable.
The ratio reflects the process of debt repayment to counterparties; it is calculated for the evaluation of cash flows, which allows to draw conclusions on company's effectiveness and the chosen financial strategy.
The lower the indicator, the faster the company pays the supplier's bills. An increase in turnover may indicate about the problems with bills payment as well as more effective relationships with suppliers, which provide more profitable, deferred payment schedule and use accounts payable as a source of cheap financial resources.
For the most full and fair opinion about the company's financial position the whole set of financial indicators and ratios should be taken into account.
Table 1. Net profit, revenue, credit period, solvency index Globas of the largest Russian manufacturers of refrigerators and ventilation equipment (ТОP-10)
Name, INN, region
Revenue, million RUB
Net profit (loss), million RUB
Credit period, days
Solvency index Globas
2018
2019
2018
2019
2018
2019
1
2
3
4
5
6
7
8
LLC KONTUR K
INN 6952027776 Tver region
3 346
3 831
387
139
24,27
21,02
275 Medium
JSC СONTAСT
INN 1215013114 Mari El Republic
3 563
4 227
199
415
33,36
29,24
184 High
LLC DANFOSS
INN 5017050538 Moscow region
17 631
19 433
466
786
47,07
50,30
210 Strong
LLC VEZA
INN 7720040225 Moscow region
7 679
9 246
1 043
1 126
43,01
51,72
182 High
LLC Frigoglass Eurasia
INN 5752019857 Oryol region
7 179
9 546
717
1 206
70,85
65,92
218 Strong
LLC GEA Grasso Refrigeration
INN 7719217750 Moscow
3 544
6 021
211
694
135,66
107,55
215 Strong
UBC COOL-B LTD
INN 3120083886 Belgorod region
4 478
3 820
290
77
87,94
112,60
239 Strong
LLC ENERGOINNOVATSIYA
INN 5074048366 Moscow
3 095
3 606
1
2
111,26
119,08
281 Medium
CRYOGENMASH JSC
INN 5001000066 Moscow region
6 182
9 927
863

-633

253,25
194,26
293 Medium
JSC URAL PLANT OF CHEMICAL MACHINE-BUILDING
INN 6664013880 Sverdlovsk region
5 787
5 057
145
36
224,20
230,90
291 Medium
Average value for TOP-10 companies
6 248
7 471
432
385
103,09
98,26
Average value for TOP-1000 companies
198
200
7
10
299,39
346,76

growth of indicator in comparison with prior period,

decline of indicator in comparison with prior period
The average value of credit period for TOP-10 companies is better than ТОP-1000 value. In 2019, five companies improved the result in comparison with prior period.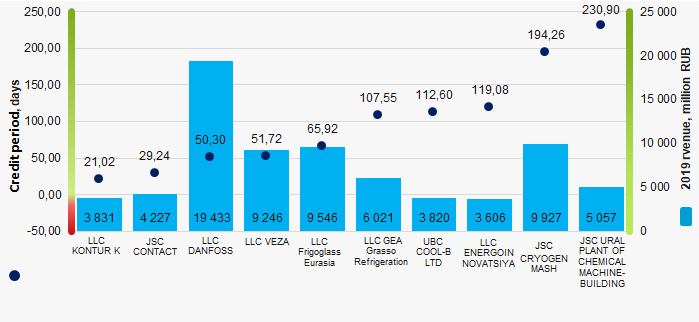 Picture 1. Credit period and revenue of the largest Russian manufacturers of refrigerators and ventilation equipment (ТОP-10)
Within 6 years, the TOP-1000 average indicators of credit period showed the negative upward trend (Picture 2).

Picture 2. Change in average values of credit period of the largest Russian manufacturers of refrigerators and ventilation equipment in 2014 – 2019
Economic census of small business
In the first half of 2021, the Federal State Statistics Service (Rosstat) carries out an economic census of the small business.
The data received during the economic census will form the basis of solutions and support programs made by the state.
In order to take part in the census, small business enterprises have to fill in the electronic form on the Government Services Portal (having an approved user account) or on the Rosstat web-site (having electronic digital signature) or with the help of operators of the electronic documents flow.
It is also possible to provide a completed form to the Statistical Register personally or to send it by e-mail.
Rosstat ensures confidentiality of the provided information. Only consolidated information is used.
The economic census of the small business is carried out once in 5 years, and it is obligatory to take part in it in accordance with the article 5 of the Federal Law as of 24.07.2007 №209-FL "Concerning the Development of Small and Medium-Sized Business in the Russian Federation".
The last census of the small business was carried out in 2015. Following its results, Rosstat identified 1 468 490 enterprises and 2 082 545 sole entrepreneurs, engaging in the activities. In general, 18 400 thousand of people were working in the small business.
Total revenue from sale of goods (works and services) amounted to 62 086 billion RUB.
Users of the Information and Analytical system Globas can get all the available information on all the legal entities and sole entrepreneurs from the Unified Register of Small and Medium-sized Enterprises of the Federal Tax Service, where more than 5 684 thousand of small business enterprises are registered as of 10.01.2021.