Russian Tax Authorities recommend conducting due diligence when contracting with new counterparties
Corporations and proprietors are often faced with additional VAT and income tax charges due to insufficient Due Diligence when dealing with fraudulent companies (in Russia, 'fly-by-night' is a common term used for such entities). Many such entities are involved in tax scams, which prompted the Russian tax authorities to stress the use of the concept of Due Diligence to avoid dealing with such companies.
The concept of "Due Diligence" is not well-defined in Russian legislation, like in other countries where it is a common practice of investigating companies prior to entering into business transactions. The Russian Tax Authorities have provided explanations and recommendations concerning Due Diligence in a letter referenced No. ЕD-4-2/4124 as of 16th March 2015 even when Register extracts (EGRUL extract) and copies of financial statements are available on a new business partner.
The use of private data on natural persons (managers, founders, proprietors) listed in State Registers is regulated by Federal Law "About Personal Data" No. 152 as of 27th July 2006 , Article 6.
The most important elements of Due Diligence are the legal status and background check concerning business reputation (past trading experiences). It is absolutely essential to verify the legal status of legal entities which are parties in transactions. Equally important is the verification of proxies held by executives, which authorizes them to execute financial transactions on behalf of the legal entity.
Tax authorities also recommend that corporations and proprietors regularly conduct an independent risk assessment on the tax implications caused by respective transactions. The Tax Authorities recommend paying attention to the following negative factors:
Entity is not registered in the State Register
Counterparty is registered at the address as described as 'mass' registration (except business centers of 15+ companies at a single legal address)
Address data of trading locations, storage and manufacturing facilities are not available Absence of such data indicates serious negative factors of a potentially unreliable party.
Transactions should be undertaken on the basis of cash in advance only, or not at all.
Tax authorities recommend that all business entities should show a high level of responsibility when authenticating business partners. It's not sufficient to only get the Register extract (EGRUL extract). To authenticate and validate the legitimacy of a new business partner requires a comprehensive Due Diligence. These recommendations are much in line with the 'Know Your Customer (KYC)' onboarding process required by anti-money laundering laws. Russia uses its tax authorities to enforce compliance in eliminating blatant tax evasion practices of 'fly-by-night' companies.
The Information and Analytical System GLOBAS-i® of Credinform provides the tools to be able to comply with the recommendations of the Tax Authorities. You can find all necessary information about your business partner/buyer/supplier on-line: registration data, licenses, legal proceedings, management holding proxies and information on shareholders. The information about records in the Register of debarment and suspension of government contractors maintained by the Russian Antimonopoly Authorities is also available. Russian companies are also assigned a Reliability Index helping to identify "fly-by-night" companies, a service which is available online.
Return on investments of machine tools manufacturers
Information agency Credinform prepared the ranking of Russian manufacturers of machine tools on return on investment ratio. The largest companies in terms of turnover for the last available period in the Statistical register (2013) of this industry were taken for the investigation. Further the top-10 enterprises were ranked in descending order of return on investment ratio.
Return on investment is an output indicator of the involved into the business activity shareholder's equity and long-term borrowed money. It is calculated as a ratio of net profit to sum of shareholder's equity and long-term liabilities.
The standard values for the profitability index are not provided, as they grossly change depending on the sector, in which the company carries out its activity. Due to this, each company should be considered in comparison with the sectoral index.
Return on investments and solvency index of the largest machine tools manufacturers in Russia, Top-10
№
Name, tax number
Region
Turnover 2013, RUB million
Return on investments, %
Solvency indexGlobas-i®
1
ООО Drevmash


TAX NUMBER 3525249949

Vologda region
252
214,68
318 (satisfactory)
2
ООО Savelovsky Mashinostroitelny zavod


TAX NUMBER 7704802518

Tver region
500
179,95
369 (satisfactory)
3
ООО Yamazaki Mazak


TAX NUMBER 7726556880

Moscow
512
38,07
227 (high)
4
ООО Teknologiya razvitykh system


TAX NUMBER 7706818288

Moscow
265
37,35
228 (high)
5
ООО Nauchno-Proizvodstvennoye Obyedinenie Stankostroyenie


TAX NUMBER 268061504

Republic of Bashkortostan
503
31,6
278 (high)
6
ОАО Moskovsky Stankostroitelny Zavod imeni Sergo Ordzhonikidze (ZIO)


TAX NUMBER 7725008666

Moscow
926
24,1
166 (prime)
7
ZAO Vnitep


TAX NUMBER 7705151026

Moscow
400
10,54
195 (prime)
8
ОАО Sasta


TAX NUMBER 6232000019

Ryazan region
735
4,49
248 (high)
9
ООО Pelkom Dubna Mashinostroitelny zavod


TAX NUMBER 5010025437

Moscow region
987
4,17
273 (high)
10
ООО Volzhsky Mashinostroitelny zavod


TAX NUMBER 6321276844

Samara region
3 113
-12,5
333 (satisfactory)
The first spots in the ranking are taken by OOO Drevmash and OOO Savelovsky Mashinostroitelny Zavod with the values of return on investments 214,68% и 179,95% correspondingly. However, in spite of the fact that companies showed such high values of the return on investment ratio, they were given the satisfactory solvency index Globas-i® per totality of financial and non-financial indicators. This scoring bears evidence to the fact that the solvency margin doesn't undertake the full and timely meeting of debt obligations.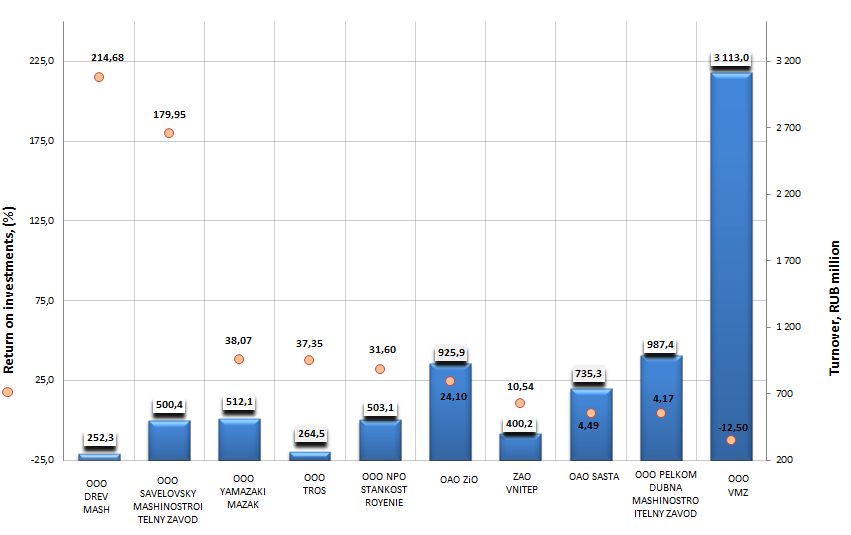 Return on investments of the largest manufacturers of machine tools in Russia, Top-10
The ultimate leader of the market by the turnover Volzhsky Mashinostroitelny zavod is placed on the tenth spot of the ranking, having shown the negative value of return on investments. At the same time the company bears losses for the reviewed period. Thus the company was given the satisfactory solvency index per totality of financial and non-financial indicators.
The importance of the return on investments indicator lies not only in the fact that it shows the output from the invested assets, but also the fact that the usefulness of borrowing funds at a certain interest may be estimated on its basis. The company should take the credits where the interest rate is lower than the return on invested capital.