Enforcement of Compliance has been Strengthened Concerning the Establishment of "Financial Pyramids" ("Investment Pyramids")
A new article «Activity on fund (assets) raising» to the Code of Administrative Offences came into effect by the Federal law No.54-FZ of 09.03.2016 "On Amendments to the Code of Administrative Offences of the Russian Federation".
Financial Pyramids are considered fraudulent schemes where the income of investors is based on funds raised from next investors.
The new law has eliminated a long standing practice of raising funds and liquidating liabilities as the expense of additional investors. Based on past practices each "pyramid" was active, as a rule of thumb, from one up to three years in average. When the funds came to an end, a pyramid suddenly announced the termination of activity and founders absconded generally with large sums of money.
According to the Ministry of Internal Affairs of Russia, the activity of "financial pyramids" has even intensified in recent years. In 2014 the number of such entities exceeded 160, more than nine thousand individuals were affected and the damage amounted to over 24 million USD. The new law defines the illegal practice of a "financial pyramid" as follows: "An organization or entity raising funds or other assets (property) from individuals or legal entities, where the investors' income is generated from the funds received from follow-on investors. Thus the pyramid never generates any other income from investments or legal trading activities.
The creation of financial (investment) pyramids as well as their advertising are in violation of the law. Penalties for individuals are set in the amount of from 70 to 700 USD or officials – from 280 to 1400 USD and for legal entities – from 7 000 to 14 000 USD. The administrative liability occurs if funds up to 20 000 USD are raised, for sums of over 20 000 USD a criminal liability is triggered. The relevant amendments to the Criminal Code are now under consideration in the State Duma of Russia: Individuals or legal entities raising big funds will be fined up to 14 000 USD or in the amount of salary of a convicted party for the period up to two years, or compulsory works or up to 4 years' imprisonment; for extremely large funds raised stricter fines are imposed or prison terms up to 5 years as an alternative to the financial fines. "Financial pyramids" are considered a criminal activity will be single out in a separate article from the Article 159 of the Criminal Code of the RF "Fraud".
Receivables turnover of housing and utility enterprises
Information agency Credinform has prepared the ranking of housing and utility enterprises in Russia.
Companies with the highest volume of revenue were selected for this ranking according to the data from the Statistical Register for the latest available period (2014). The enterprises were ranked by increase in receivables turnover ratio (Table 1).
Receivables turnover is a proportion of the average short- and long-term receivables for the period to sales revenue. It shows the average number of days required for debt recovery. The less is the number, the faster receivables turn to the monetary funds, therefore, liquidity of working capital increases. The ratio shows the efficiency of resources usage by the enterprise by taking the time factor into account.
For the most comprehensive and fair view on the company's financial condition it is necessary to pay attention not only to the average values in the industry, but also to the whole presented set of financial indicators and ratios of the enterprise.
Table 1. Revenue, receivables turnover and solvency index Globas-i of the largest housing and utility enterprises (TOP-10)
№
Name, INN
Region
Revenue 2013, th RUB
Revenue 2014, th RUB
Revenue 2014 to 2013, %
Inventory turnover, days
Solvency index Globas-i
1
TSN YASHMA (Partnership of real estate owners)


INN 5246030332

Nizhny Novgorod region
2 521 214
2 739 081
109
0,06
305 Satisfactory
2
TSZH DOM NA TRUBNIKOVSKOM (Housing cooperative)


INN 7704243740

Moscow
6 195 270
6 926 446
112
30,22
186 The highest
3
PAO HOUSING MAINTENANCE OFFICE OF THE YUZHNOE BUTOVO DISTRICT


INN 7727702615

Moscow
2 611 630
2 560 126
98
52,86
224 High
4
STATE UNITARY MOSCOW ENTERPRISE ON OPERATION OF HIGH-ALTITUDE AND RESIDENTIAL BUILDINGS


INN 7704010270

Moscow
2 728 064
2 772 019
102
65,05
250 High
5
LLC MUNICIPAL MANAGING COMPANY – KRASNODAR


INN 2311104687

Krasnodar territory
3 892 295
3 834 603
99
74,82
255 High
6
LLC DEAPRTMRNT OF HOUSING AND PUBLIC UTILITIES OF TOLYATTI


INN 6321300279

Samara region
1 166 379
2 909 506
249
87,58
298 High
7
PAO LYUBERTSY MUNICIPAL HOUSING TRUST


INN 5027130207

Moscow region
2 608 416
2 635 383
101
97,51
178 The highest
8
LLC PIC-KOMFORT


INN 7701208190

Moscow
2 980 475
3 448 666
116
99,90
250 High
9
LLC ADMINISTRATION OF HOUSING AND PUBLIC UTILITIES OF PETROPAVLOVSK-KAMCHATSKY


INN 4101122429

Kamchatka territory
4 910 727
4 500 547
92
117,15
345 Satisfactory
10
LLC ZHILSERVIS


INN 4202047190

Kemerovo region
-
4 720 676
-
-
340 Satisfactory
Receivables turnover of the largest housing and utility enterprises (TOP-10) varies from 0,06 days (TSN YASHMA) to 117,15 days (LLC ADMINISTRATION OF HOUSING AND PUBLIC UTILITIES OF PETROPAVLOVSK-KAMCHATSKY ). There was no calculation of index for LLC ZHILSERVIS because of the fact that the company was founded in 2014 and there are no financial accounts for the previous periods.
Picture 1. Revenue and receivables turnover of the largest housing and utility enterprises (TOP-10)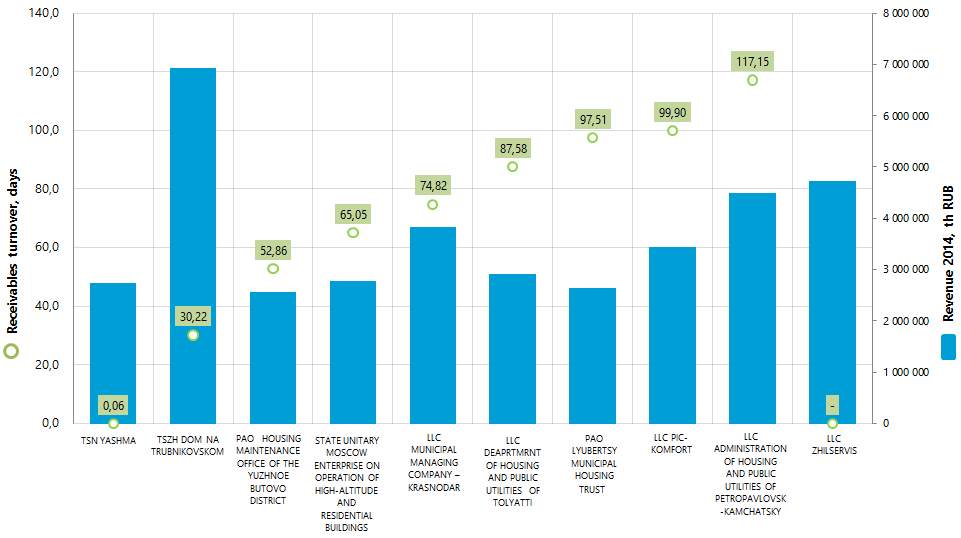 Annual revenue of the TOP-10 market leaders according to the data of financial account for the latest period (2014) was more than 37 bln RUB, that is 9% higher than in the previous period (among comparable range of enterprises).
Receivables turnover of the market leader according to revenue TSZH DOM NA TRUBNIKOVSKOM is 30,22 days. At that, the average value in the industry is 253,4 days. Consequently, all TOP-10 enterprises have values much less than the average value in the industry that is characteristic of the most powerful enterprises in the meaning of resources usage of taking the time factor into account.
7 participants of the TOP-10 list have got the highest and high solvency index Globas-i, that shows the ability to pay the debts in time and to the full extent, risk of non-fulfillment is minimal.
Totally in the housing and utilities service industry growing of problems is observed, connected with increase in receivables. For example, from 2010 to 2014, according to the Federal State Statistics Service (Rosstat), value of this index has grown in one and a half. (Picture 2).
Picture 2. Receivables turnover of the Russian organizations providing housing and utility services according to Rosstat (th RUB)