Liabilities to assets ratio of the largest Russian perfume and cosmetics manufacturers
Information Agency Credinform has prepared the ranking of the largest Russian perfume and cosmetics manufacturers by liabilities to assets ratio.
Previously, we have already referred to this category of producers in the ranking «Accounts payable turnover of manufacturers of perfumery products».
The largest enterprises (TOP-10) in terms of revenue were selected according to the data from the Statistical Register for the latest available period (for the year 2015). Then, the companies were ranged by liabilities to assets ratio (Table 1).
Liabilities to assets ratio (х) is calculated as a ratio of long-term and short-term borrowed funds to total assets and specifies the share of company's assets, which is funded with borrowings.
The recommended value is from 0,2 to 0,5. The ratio higher than normative value testifies the excessive debt load, which may stimulate development as well as negatively influence on the sustainability of corporate finance. The ratio value lower than normative may indicate about conservative strategy of financial management and excessive caution in attracting new borrowed funds.
For the most full and fair opinion about the company's financial position, the whole set of financial indicators and other ratios should be taken into account.
Table 1. Net profit, revenue, liabilities to assets ratio and solvency index Globas-i of the largest perfume and cosmetics manufacturers (TOP-10)
Name, INN, Region
2015 net profit, mln RUB
2015 revenue, mln RUB
2015/2014revenue, %
Liabilities to assets ratio, (х)
Solvency index Globas-i
JSC NEVSKAYA COSMETICA


INN 7811038047 Saint-Petersburg

3 007,0
12 737,6
122
0,09
162
The highest
LLC UNICOSMETIC


INN 7826704356 Saint-Petersburg

809,5
4 970,7
128
0,17
172
The highest
JSC FABERLIC


INN 5001026970 Moscow

3 097,5
12 782,4
161
0,37
151
The highest
SOCIETE PAR ACTIONS FERMEE L`OREAL


INN 7726059896 Moscow

2 001,8
42 395,4
116
0,54
203
High
JSC ARNEST


INN 2631006752 Stavropol region

567,7
6 913,5
141
0,57
202
High
ORIFLAME PRODUCTS, LLC


INN 5024055294 Moscow region

-356,5
2 636,8
118
0,62
320
Satisfactory
JSC PARFYUMERNO-KOSMETICHESKAYA KOMPANIYA VESNA


INN 6311064600 Samara region

101,7
3 378,9
129
0,63
204
High
LLC PERVOE RESHENIE


INN 7701298966 Moscow

160,9
6 409,3
126
0,69
229
High
PAO KOSMETICHESKOE OB'EDINEBNIE SVOBODA


INN 7714078157 Moscow

8,6
1 968,4
127
0,71
236
High
NAO MEZOPLAST


INN 7721025967 Moscow

12,8
3 379,6
112
0,85
205
High
In 2015 the average liabilities to assets ratio of the TOP-10 companies amounted to 0,52. The same ratio of the TOP-100 companies amounted to 0,68 with average industry value 0,52.
There is only one enterprise in the TOP-10 list with the recommended value - JSC FABERLIC. There are 11 enterprises with the recommended ratio value in the TOP-100 list, 74 enterprises have the ratio above the recommended value and 15 companies have the ratio below the recommended value.
9 companies out of TOP-10 list have the highest and high solvency index Globas-i, that shows the ability of enterprises to meet their obligations in time and fully.
ORIFLAME PRODUCTS, LLC has satisfactory solvency index Globas-i due to information about participation as a defendant in arbitration court cases on debt collection, outstanding enforcement orders and losses in the balance.
Picture 1. Liabilities to assets ratio and revenue of the largest perfume and cosmetics manufacturers (TOP-10)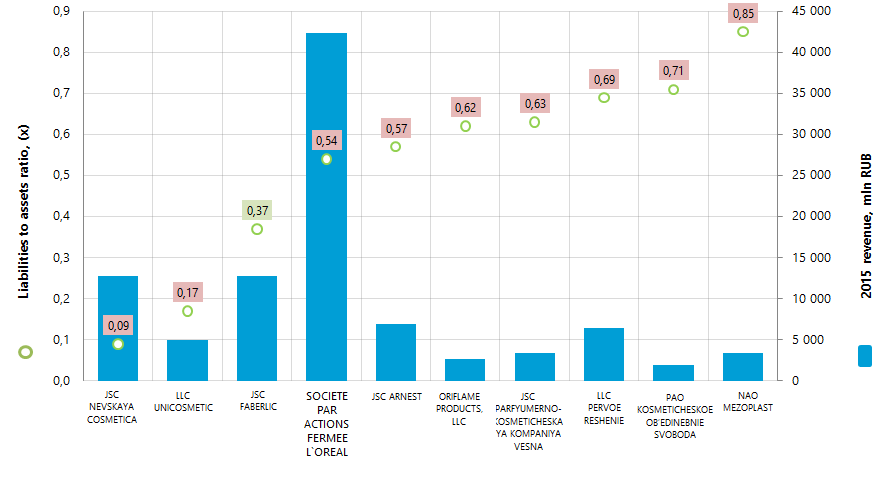 According to 2015 results, the annual revenue of TOP-10 enterprises amounted to 97,5 bln RUB, that is 25% higher than total revenue in 2014. In addition to this, the total net profit of this group of companies increased by 53%. The only company from the group, which showed the decrease in net profit and loss - is ORIFLAME PRODUCTS, LLC. Total revenue of TOP-100 group of companies for the same period increased by 26%, while total net profit increased by 58%.
In general the industry of manufacture of perfume and cosmetics is relatively stable against the background of economy indicators as a whole. This testifies the data from the Federal State Statistics Service (Picture 2).
Picture 2. Manufacture of perfume and cosmetics (mln RUB)

In addition to above, the dependence of production growth rate from the overall economic situation is observed (Picture 3).
Picture 3. The growth rate (drawdown) of perfume and cosmetics manufacture from year to year * (%)

*) – data for 6 months 2016 is given to the corresponding 2015 period
Manufacture of perfume and cosmetics significantly concentrates in the largest industrial centers of the country - Moscow, Moscow region and Saint-Petersburg. This fact is confirmed by the data from the Information and analytical system Globas-i on distribution across the country of 100 largest manufacturers of perfume and cosmetics in terms of 2015 revenue (TOP 7 of Regions):
| Region | The number of registered companies |
| --- | --- |
| Moscow | 37 |
| Moscow region | 25 |
| Saint-Petersburg | 9 |
| Altai region | 4 |
| Krasnodar region | 3 |
| Novgorod region | 3 |
| Stavropol region | 3 |
Thus, 71% of the largest perfume and cosmetics manufacturers are concentrated in Moscow, Moscow region and Saint-Petersburg.
Russian labor market is on the way to recovery
How the economy of the country overcomes one of the most negative crisis consequents
Taking the crises with a wave of dismissals in 2014 – 2015, the labor market is becoming stronger again. Employers are ready to offer jobs, but there are no talks about high salaries yet.
Depression in the labor market is one of the integral consequences of the economic crisis. In 2014 – 2015 dismissals, observing in the majority of economy sectors, continued at the beginning of 2016. According to the Federal state statistics service (Rosstat), maximum level of unemployment for the past 3 years was recorded in March and reached 6%, i.e. 4,6 mln of 71,6 mln people of working population.
Employers have advantages. At the same time, the situation is going to change in favor of employers: due to constant dismissals (not only in small and medium enterprises, but also in large companies and state undertakings), the pressure on the labor market increased; that allowed employers to freeze salary increments. The research has shown that only 20 – 30% of hirers planned to increase personnel expenses in 2016. Today incentive payments in the form of perks and bonuses became a general trend, indicating not only companies' efforts to optimize labor costs, but also inefficient productivity, another serious problem of the Russian economy. All these led to decrease in salary expectations, being about 10% at average. Citizens are ready to take an extra work, willing to compensate drop in direct work income; about 30% of employees improve their finances this way. At the same time, it is quite questionably that income from additional activity is paid in term of formal contract conclusion. Much more likely that about 80% of gains are informal and accommodate black economy growth.
Not everyone will conceive positive changes. Since the second half of the current year, positive tendencies in the labor market have appeared. At the end of spring recruiters carefully spoke about increase in jobs. Today it is obvious that steady trend of the labor market growth takes place for several months. However the experts warn that positive tendencies will cover just particular branches of economy. First of all, job hunting web-sites record requests from large and prosperous companies, while office-seekers are still not hired for small and medium business. IT industry grows fast as usual; consulting sector offers even more jobs, and things also go well in transport and logistics. The number of vacancies for sales managers and beauty industry stuff is increasing too.
Demand on youth is falling. In the current situation, the continuous reduction of youth among economically active population is disturbing. On the one hand, decline in economic activity is a result of increase of education popularity. On the other hand, fall of employers' interest to this age range should not go unnoticed. In 2011 graduates with no work experience were hired by 66% companies, and in 2016 this indicator fell to 60%. Today large business is more loyal to newcomers – 72% of companies with stuff number exceeding 1 th and only 50% of companies with less than 100 employees hire graduates. Speaking about fields, technologically developed banking sector and IT-field are ready to sign on young specialists – 78% and 73% relatively. Production and construction sectors are less interested in applicants with no work experience. Along with reduction of young employees, the hirers are disappointed with vocational training of graduates. Most of all they are dissatisfied with poor theoretical training, unreasonably high ambitions and self-importance of young professionals.
Follow up success. Being in serious times along with the economy in general, the labor market starts to demonstrate positive tendencies for the first time in two years. Following the results of September, Rosstat recorded increase in actual wages by 2,8% from year to year; unemployment figures reduced to 5,6% in the 3Q 2016. Now the possibility of being in dry dock seems to be less likely for the Russian people. Worries connected with unemployment went down to the level of January 2015. The way was opened, but we are still too far from complete recovery. Development of small and medium business, legalization of shady business, provision of high-efficiency jobs using advanced technology – here are high priority measures aimed not only at the labor market recovering, but also at arrangement of highly attractive and conform conditions for employment of youth as a key force for the economic development in long-term perspective.