Assets turnover of the largest Russian agencies for operating with real estate
Information Agency Credinform has prepared the ranking of the largest Russian agencies for operating with real estate by assets turnover ratio.
The largest enterprises (TOP-10) in terms of revenue were selected according to the data from the Statistical Register for the latest available periods (2015 and 2014). Then the companies were ranged by decrease in assets turnover ratio (Table 1).
Assets turnover (times) is the ratio of sales revenue and company's average total assets for a period. It characterizes the effectiveness of using of all available resources, regardless the source of their attraction. The ratio shows how many times per year the full cycle of production and circulation is performed, generating the corresponding effect in the form of profit.
For the most full and fair opinion about the company's financial position, the whole set of financial indicators and ratios should be taken into account.
Table 1. Net profit, revenue, assets turnover and solvency index Globas-i of Russian agencies for operating with real estate (TOP-10)
Name
2015 net profit, mln RUB
2015 revenue., mln RUB
2015/2014 revenue, +/- %
Assets turnover, times
Solvency index Globas-i
LLC COMMERCIAL PROPERTY


INN 5047101035 Moscow

9,8
2 049,8
-3,5
8,20
275
High
LLC REAL ESTATE GROUP


INN 7713612658 Moscow

1,7
2 306,9
-2,1
1,99
235
High
LLC PERSPECTIVAINVEST


INN 7722803063 Moscow

321,4
2 354,4
8,0
1,41
253
High
LLC MORTON-INVEST


INN 7714611150 Moscow

139,6
6 887,7
-25,9
1,30
220
High
LLC DOKON


INN 7743609405 Moscow

1 287,2
4 003,8
-19,1
0,72
217
High
LLC REAL ESTATE INVESTMENT AGENCY


INN 5902190905 Perm region

3,7
2 639,1
-35,5
0,72
253
High
LLC DOMODEDOVO ASSET MANAGEMENT CORPORATION


INN 5009096987 Moscow region

-906,1
2 118,8
2,3
0,53
311
Satisfactory
LLC ALFAMEDIA


INN 7724522886 Moscow

4,4
2 874,8
-20,5
0,51
206
High
LLC REUTOV-INVEST


INN 7709918555 Moscow

162,8
2 076,0
-76,6
0,35
292
High
JSC FIRST MORTGAGE COMPANY – REGION


INN 7729118074 Moscow region

3 489,4
15 759,0
-15,2
0,26
252
High
In 2015 the average assets turnover ratio of TOP-10 companies amounted to 1,6 times. The average ratio of TOP-100 companies amounted to 992,07 times with the industry average value of 0,42 times.
9 out of 10 participants have high solvency index Globas-i. This fact shows the ability of the companies to meet their obligations in time and fully.
LLC DOMODEDOVO ASSET MANAGEMENT CORPORATION has the satisfactory solvency index Globas-i due to its participation as a defendant in debt collection arbitration proceedings and loss in balance sheet ratio structure.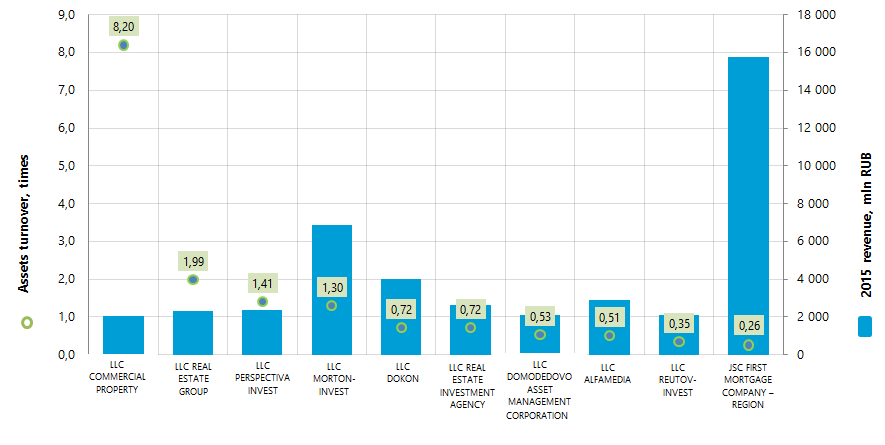 Picture 1. Assets turnover and revenue of Russian agencies for operating with real estate (TOP-10)
In 2015 total revenue of TOP-10 companies amounted to 43 bln RUB, that is 26% lower than in 2014. Herewith total net profit of the group increased almost by 6%.
LLC PERSPECTIVAINVEST is the only company, which preserved the increment in profit as well as in revenue in 2015. Other participants of TOP-10 list (red color in Table 1) have decline in net profit or loss in comparison with previous period or decline in revenue.
Total revenue of TOP-100 companies for the same period increased by 12%, although total net profit declined almost by 6%.
Over recent years the industry as a whole due to macroeconomic circumstances faces hard times with deterioration in consumer demand and decline in construction speed. This testifies the estimated data from the Federal State Statistics Service.
Thus, according to the results of 3 quarter 2016 the average price of the apartments' square meter on the primary housing market has reached the absolute peak for the last 15 years and amounted to 53 476 RUB against 8 225 RUB in 2000. In addition to the above, the rates of price growth from year to year almost directly dependent on the general economic situation in the country (Picture 2).
Picture 2. The rates of average price growth of the apartments' square meter on the primary housing market from year to year (+/- % according to 3 quarter results)
This is accompanied by reduction in construction; this fact is confirmed by data from the Federal State Statistics Service on production index of basic building materials (Picture 3).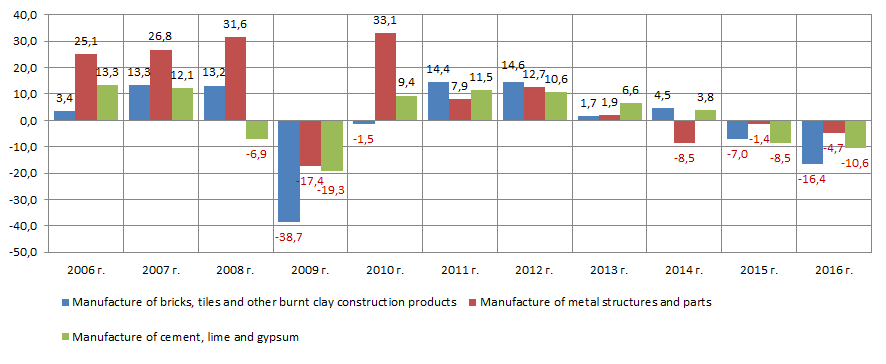 Picture 3. Growth / decline in production index in October (operational data) by full range of companies from the beginning of reporting year, in % to the relative period of previous year
Agencies for operating with real estate are significantly concentrated in Moscow and Moscow region – the largest financial center of the country. This fact is confirmed by data from the Information and analytical system Globas-i, according to which 100 largest companies of the industry in terms of 2015 revenue are concentrated in 17 Russian regions (Picture 4).

Picture 4. Distribution across the country of 100 largest agencies for operating with real estate
Federal law regulating debt collection is coming into force
In our article as of 25.04.2016 "New Debt Collection Regulations Introduced in Russia" we particularized the history of the bill. Over the past period the law has been passed and endorsed by the President of the RF on July 3, 2016. The Federal law №230-FL "About protection of the rights and legitimate interests of physical persons when implementing activities for return of the overdue debt and about introduction of amendments to the Federal law "About Microfinancial Activities and the Microfinancial Organizations" will come into force since January 1, 2017.
The law fixes legal basis for return on the overdue debt of physical persons. The fundamental proposition of the law is debt collection being the main activity type of the organization.
Use of physical force or threat of it, personal or property injury, bullying and circumvention are forbidden by law. Collector is entitled to communicate with the debtor maximum twice a week on the phone and meet in person once a week. Moreover, communication with the debtor at night is forbidden. Collectors have no right to hide using phone numbers and e-mails.
Debt collection will be controlled by the Federal bailiffs service, which is endowed with powers to keep the Register of legal entities engaged in collection of overdue debts. According to the law, debt collection without registration in the register is forbidden.
So, activities for forced and unforced collection of debt will be divided between subdivisions of this federal department and debt collection agencies.
In the publication mentioned above we noticed that tough law requirements to legal entities can reverse debt collection market of Russia.
According to the Information and analytical system Globas-i®, the number of companies containing "collection agency" in their names reduces from 890 as of April 2016 to 414 as of December.
Only 66 companies have registered main activity type directly related to debt collection (OKVED2 82.91) "Activities of collection agencies and credit bureaus". 79% of them are registered as Limited Liability Company and 21% are individual entrepreneurs. These companies are located in 28 regions of Russia (see Picture 1).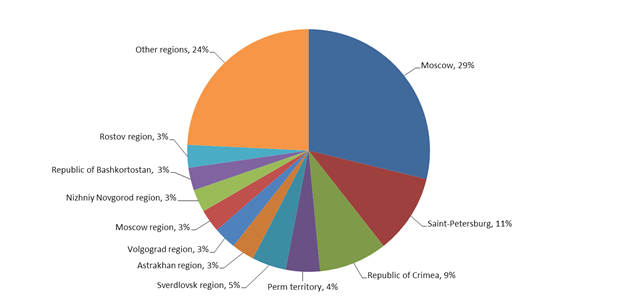 Picture 1. Distribution of companies with main activity type of debt collection, %