New codes OKVED 2 in Globas-i®
Since 11.07.2016 all new established legal entities and sole entrepreneurs will get economic activity codes of the Russian Classification of Economic Activities OKVED 2 OK 029-2014. Till that period classifiers OKVED OK 029-2001/2007 were used.
Legal entities and sole entrepreneurs have no obligation to enter changes to registration documents for getting new OKVED 2 codes. The Federal Tax Service will change codes to OKVED 2 for all types of entities registered before 11.07.2016. In the process of changing the match keys developed by the Ministry of Economic Development of the RF will be used.
Till the 1st January 2017 the following versions of OKVED classifier are valid:
OKVED OK 029—2001/2007 (NACE Rev. 1, NACE Rev. 1.1),
OKVED OK 029—2014 (NACE Rev. 2).
Starting from the 1st January 2017 classifiers OK 029-2001/2007 will be cancelled. The transition period is set till this date.
In Globas-i types of economic activity are up-to-day and updated online using xml files from the Unified State Register of Legal Entities (EGRUL) and the Unified State Register of Sole Entrepreneurs (EGRIP).
Please note that for the beginning of the transition period the extract from EGRUL/EGRIP contains economic activity codes in accordance with OKVED OK 029—2001/2007 classifiers. Due to this fact codes from the extract can be out-of-date and vary from the data in Globas-i System.
Taking into account changes to OKVED 2 codes and the necessity to recalculate the batch of data, including archive data, some analytical functions (Industry ratios, Company's position in the industry, Analysis of competitive environment, Analytical balance sheet) may contain errors. In the nearest future all calculations will be finished and mentioned analytical functions will be available as usual.
Football clubs of Russia in terms of return on investment ratio
Information agency Credinform has prepared the ranking of football clubs of Russia in terms of return on investment ratio.
The largest companies in terms of turnover for the last available period in the Statistical register (2014) were taken for the ranking. Further the top-10 football clubs were ranked in descending order of return on investment ratio for 2014 (Table 1).
Return on investment (%) is calculated as a ratio of net profit (loss) to net worth. Indicator demonstrates revenue level taken from investments that is how many monetary units an enterprise needs to get one monetary unit of net profit.
For the most full and fair opinion about the company's financial position, not only return on investment level with should be taken into account, but also the whole set of financial indicators and ratios.
Table 1. Net profit, revenue, return on investment and solvency index Globas-i of football clubs of Russia (TOP-10)
Full name
Net profit (loss) 2014, mln RUB
Sales revenue, 2014, mln RUB
Sales revenue, 2014 to 2013, %
Return on investment, 2013, %
Return on investment, 2014, %
Solvency index Globas-i
JSC FOOTBALL CLUB CUBAN
INN 2311067932
Krasnodar territory
88,7
260,5
20
54,1
837,2
328 Satisfactory
JSC FOOTBALL CLUB ZENIT
INN 7812005799
Saint-Petersburg
-5 232,8
6 084,8
118
35,6
83,2
273 High
JSC FOOTBALL CLUB ROSTOV
INN 6166035680
Rostov region
-316,1
378,2
60
100,2
57,4
297 High
LLC FOOTBALL CLUB ANJI
INN 0541024552
Dagestan Republic
4 243,2
3 277,1
207
-29,0
41,7
228 High
JSC FOOTBALL CLUB SPARTAK-MOSCOW
INN 7728212268
Moscow
562,6
3 474,8
195
34,6
10,2
191 The highest
LLC FOOTBALL CLUB TOM
INN 7017998090
Tomsk region
-81,0
835,5
1 882
44,5
6,3
351 Satisfactory
JSC FOOTBALL CLUB URAL
INN 6671129236
Sverdlovsk region
0,1
506,9
122
0,1
0,2
232 High
NPO MINI-FOOTBALL CLUB TYUMEN
INN 7203117825
Tyumen region
0,0
196,1
86
-201,2
-0,4
550 Unsatisfactory
JSC PROFESSIONAL FOOTBALL CLUB CSKA
INN 7734046851
Moscow
-2 481,1
1 895,1
137
-9,8
-169,9
258 High
JSC FOOTBALL CLUB DINAMO-MOSCOW
INN 7714067099
Moscow
-2 555,6
4 658,8
121
-34,3
-725,7
308 Satisfactory
FOOTBALL CLUB ZENIT, with the largest revenue for 2014, is on the second place of the ranking. Share of this club in total revenue volume of TOP-10 clubs is 32%, at that the largest loss of TOP-10 is observed.
FOOTBALL CLUB CUBAN demonstrates the largest return on investment as well as the largest profit in 2014 among TOP-10. According to available data for 2015, return on investment of FC CUBAN kept staying on high level, but decreased to 105,89%. However, this enterprise has got satisfactory Solvency index Globas-i. It is caused by the available information of its participation as a defendant in debt collection arbitration proceedings. For the same reason, as well as for loss in financial structure LLC FOOTBALL CLUB TOM and FOOTBALL CLUB DINAMO-MOSCOW have got the same solvency index Globas-i.
MINI-FOOTBALL CLUB has got unsatisfactory solvency index Globas-i because of bankruptcy petition.
The rest 6 football clubs have got the highest or high solvency index Globas-I, that shows the ability to pay the debts in time and to the full extent.
It worth mentioning that three clubs taking last places of the ranking have negative value of return on investment ratio. Average ratio value among TOP-10 clubs in 2014 is 14%, and average value of industry related with sport activities is 15,4%. It is possible to make a conclusion about positive return of investments, both in organizations operating in sport industry in general and football clubs in particular.
Picture 1. Return on investment and revenue of football clubs of Russia (TOP-10)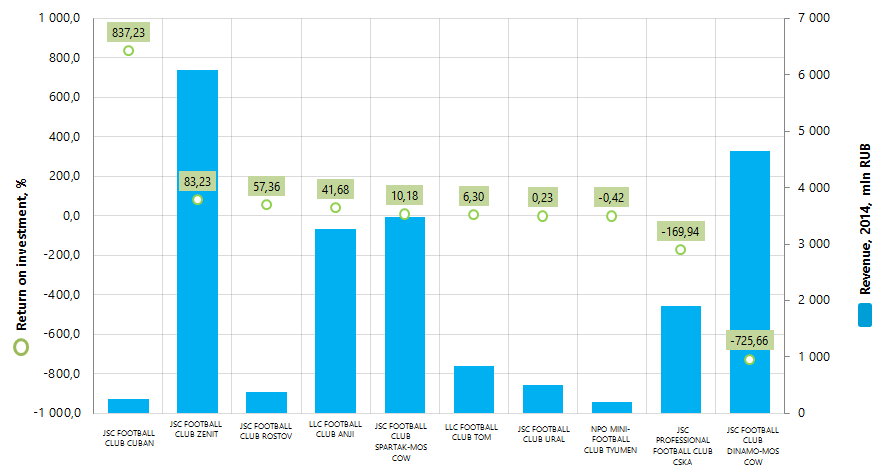 Total revenue volume of TOP-10 football clubs for 2014 is 21,5 bln RUB, that is 32% higher that value for 2013. For the industry related with sport activities in general, revenue growth for the same period is more than 30%. The industry demonstrates revenue growth for the last 10 years. Decrease in this value was observed only in 2011. This is proved by the data of the Federal State Statistics Service (Picture 2).
Picture 2. Revenue (net) from sale of goods, products, works, services related to sport activities (except for value-added tax, excise duties and other statutory payments), mln RUB.

Football clubs are relatively equally distributed on the territory of 54 regions of the country, that is proved by the data of the Information and analytical system Globas-i about registration of 100 largest clubs in terms of revenue volume for 2014 (TOP-12 regions):
| Region | Quantity of football clubs |
| --- | --- |
| Moscow | 8 |
| Sverdlovsk region | 8 |
| Krasnodar territory | 5 |
| Moscow region | 4 |
| Volgograd region | 3 |
| Voronezh region | 3 |
| Kemerovo region | 3 |
| Novosibirsk region | 3 |
| The Republic of Crimea | 3 |
| Rostov region | 3 |
| Samara region | 3 |
| Tyumen region | 3 |