The Federal Law No. 6-FZ dated 17.02.2021 amended the Article 86 of Part I of the Tax Code of the Russian Federation to oblige credit institutions to provide tax authorities with the following documentation upon their requests:
the copies of passports of individuals with the right to receipt or dispose of funds on customer accounts;
powers of attorney for opening, maintaining and termination of customer accounts;
contracts for opening of accounts;
applications for opening or termination of accounts;
service agreements in the "client-bank" system;
documents and information provided by the clients or their representatives while opening of accounts;
samples of signatures and seal impressions;
information on beneficial owners, including information obtained by the bank while identifying the beneficial owners;
information on beneficiaries, including particular transactions or transactions for a certain period;
information on client's representatives.
It is assumed, that such information is provided not only on legal entities and individual entrepreneurs, but also individuals.
The tax authorities have the right to request such information in the following cases:
tax audits;
requesting documents from the taxpayer in accordance with the Article 93.1 of the Tax Code of the Russian Federation "Requesting documents (information) concerning a taxpayer, levy payer or tax agent and information concerning particular transactions»;
To obtain information on individuals who are not individual entrepreneurs, the requests to banks must be approved by the head of higher tax authority (the regional Department of the Federal Tax Service of Russia) or the head, deputy head of the Federal Tax Service of Russia.
TOP-10 companies with 2020 financial accounts
Over 400 thousand companies have submitted 2020 financial accounts to the Federal Tax Service of Russia. The analysis of 2018 – 2020 revenue and net profit of the largest of them makes it possible to assess their efficiency in 2020. Companies with the largest volume of annual revenue (TOP-10 and TOP-1000) were selected for the ranking, according to the data from the Statistical Register and the Federal Tax Service for the latest available periods (2018 - 2020) (Table 1). The selection and analysis is based on the data of the Information and Analytical system Globas.
For the most complete and objective view of the financial condition of the enterprise, it is necessary to pay attention to the complex of indicators and financial ratios of the company.
Table 1. Net profit, revenue, solvency index Globas of the largest Russian companies submitted the 2020 financial accounts (TOP-10)
Name, INN, region, activity type
Revenue, billion RUB
Net profit (loss), billion RUB
Solvency index Globas
2018
2019
2020
2018
2019
2020
1
2
3
4
5
6
7
8
JSC ROSNEFT OIL COMPANY
INN 7706107510 Moscow
Oil extraction

6 968,2

6 827,5
4 835,1

460,8

396,5
155,8
209 Strong
JSC GAZPROM NEFT
INN 5504036333 Saint Petersburg
Wholesale of solid, liquid and gaseous fuels

2 070,0

1 809,8
1 512,8

90,2

216,9
162,6
220 Strong
JSC MINING AND METALLURGICAL COMPANY NORILSK NICKEL
INN 8401005730 Krasnoyarsk territory
Production of other non-ferrous metals

609,1

878,1
923,9

165,0

514,7
300,1
185 High
LLC GAZPROMNEFT-REGIONAL SALES
INN 4703105075 Saint Petersburg
Wholesale of motor fuel, including aviation gasoline

661,9

617,9
601,0

9,4

11,8
15,2
202 Strong
JSC SEVERSTAL
INN 3528000597 Vologda region
Production of cast iron, steel and ferroalloys

432,8

457,6
450,9

124,3

105,7
114,9
222 Strong
JSC NOVOLIPETSK STEEL MILL
INN 4823006703 Lipetsk region
Production of cold-rolled steel sheets

493,8

421,8
437,1

117,9

83,4
61,1
237 Strong
JSC MAGNITOGORSK IRON & STEEL WORKS
INN 7414003633 Chelyabinsk region
Production of cast iron, steel and ferroalloys

458,2

434,9
400,2

73,7

55,6
51,5
172 Superior
JSC MOSENERGOSBYT
INN 7736520080 Moscow
Electricity trade

351,0

370,4
372,8

2,3

4,0
4,1
196 High
LLC RN-YUGANSKNEFTEGAZ
INN 8604035473 Khanty-Mansi autonomous district - Yugra
Provision of services in the field of oil and natural gas production

293,2

297,8
311,5

1,9

5,3
7,8
233 Strong
JSC AERFOLOT – RUSSIAN AIRLINES
INN 7712040126 Moscow
Transportation by scheduled air passenger transport

504,7

551,8
229,8

2,8

5,3

-96,5

284 Medium
Average value for TOP-10
1 284,3
1 266,8
1 007,5
104,8
139,9
77,7
Average value for TOP-1000
18,8
18,8
15,4
1,8
2,1
1,0

growth of indicator to the previous period,

decrease of indicator to the previous period
The average values of revenue and net profit of TOP-10 companies are much above the average one of TOP-1000. In 2019, four companies have increased their values compared to the previous period.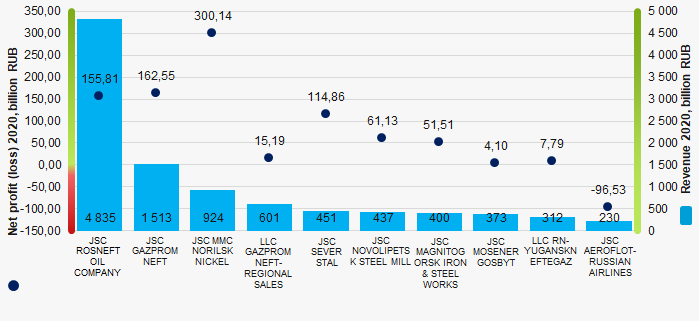 Picture 1. Net profit (loss) and revenue of the Russian companies submitted the 2020 financial accounts (TOP-10)
In 2015 – 2018, the revenue of TOP-1000 companies had a trend to increase. In 2019, the zero increase rate was observed, and in 2020, it was the negative one. The 2020 revenue fell 18% (Picture 2).

Picture 2. Change in the average 2015 - 2020 revenue of TOP-1000 largest Russian companies submitted the 2020 financial accounts
A slight net profit gain among TOP-1000 companies, and diverse growth rate were recorded up to 2019. In 2020, there was almost double fell of the profit compared to the previous period (Picture 3).

Picture 3. Change in the 2015 - 2020 net profit of TOP-1000 largest Russian companies submitted the 2020 financial accounts