Dear Users!
Following the tradition, we sum up the results of 2020 and share our plans.
The Year of Entrepreneurship in Russia was to be held in 2020. Ironically, the business has faced many difficulties that affected the development of the enterprises and economy in general. That is why relevant and up-to-date information is especially valuable today.
In 2020, we have improved the tools in Globas and added sources to help in identification of new risks and doing business in a rapidly changing environment.
We have increased information support: hold about 100 webinars on current issues, organized corporate training, advised on questions arose during the counterparties check.
We would like to thank you for your confidence and interest in our product. Heeding your valuable advices and recommendations, we develop Globas to be better and friendlier for you!
According to the experts of RAEX-Analytics rating agency, Globas takes the lead in the first Russian rating of information and analytical systems.
NEW TOOLS AND FUNCTIONS
Globas app
Company's position in the industry – fully updated section
New tools for Lists
Tax burden and assessment of the field tax inspection probability
Risk assessment for sole entrepreneurs
Profile of a natural person with extended checking capabilities, new types of extractions on self-employment, search by enforcement proceedings and suspicion of committing a crime
Successors/Predecessors – new section of the report
Interactive analysis in all sections of Globas
Signs requiring attention in all sections of the report
Even more accurate risk assessment - improving the Globas indices
Arbitration proceedings – improving data, including of counter-claims
Selection for transfer pricing.
It takes two steps using pre-installed criteria customization template to make a selection of comparable companies that meet the requirements of the Tax Code of Russia by interrelationship, net assets, losses and financial indicators.
NEW DATA
In 2020, new data have been added to Globas: job vacancies, audit reports, explanatory notes on the financial statements and corporate action notifications for listed companies.
Analysis of procurements is added with commercial tenders organized by for-profit companies or Sole Entrepreneurs by their own rules and using their own funds. New data makes it possible to monitor the companies' activity and better assess the market opportunities.
Globas has all tools and functions for a fast and proper analysis of business partners. In 2021, we will continue to improve tools and functions and add new sources: our plans involve changes in express assessment taking into account new sources, enhancement of analytical tools, update of a company's report structure and many other improvements for more efficient and comfortable use of Globas.
Information agency Credinform wishes you a Happy New Year 2021! May your important and not easy work be rewarded with new perspectives and opportunities in the forthcoming year!
We wish you well-being, health and success!
---
QR Code for Globas download in App Store and Google Play.
| | | |
| --- | --- | --- |
| App Store |     | Google Play |
| |     | |
Use your login and password to enter the application.
Return on sales of the largest retailers
Information agency Credinform represents a ranking of the largest Russian food retailers. Companies of "Perekrestok, "Pyaterochka", "Karusel", "Lenta" and "Magnit" chains with the largest volume of annual revenue were selected for the ranking, according to the data from the State statistical authorities and the Federal Tax Service for the latest available periods (2017 - 2019). The companies were ranked by return on sales ratio (Table 1). The analysis was based on the data of the Information and Analytical system Globas.
Return on sales (%) is calculated as the share of operating profit in the total sales of the company. The ratio shows the efficiency of the production and commercial activities of the company, as well as the share of funds received from sale of products after covering its cost, taxes and interest on loans.
The range of values of the ratio for companies of the same industry is determined by differences in competitive strategies and product groups.
For the most complete and objective view of the financial condition of the enterprise, it is necessary to pay attention to the complex of indicators and financial ratios of the company.
Table 1. Net profit, revenue, return on sales ratio, solvency index Globas of companies included in the largest food chains of Russia (TOP-10), 2017 - 2019
Name, INN, region
Revenue, million RUB
Net profit (loss), million RUB
Return on sales, %
Solvency index Globas
2018
2019
2018
2019
2018
2019
1
2
3
4
5
6
7
8
LLC AGROASPEKT
INN 7715277300 Moscow
97 797
100 955

-16 464

5 402
8,59
6,76
208 Strong
LLC SELTA
INN 2310053662 Krasnodar territory
38 531
38 996
1 935
1 896
7,20
6,09
200 Strong
LLC AGRO-AUTO
INN 7714211088 Moscow region
22 638
26 538

-3 156

299
3,96
5,37
222 Strong
LLC AGROTORG
INN 7825706086 Saint Petersburg
1035979
1 234 350
10 128
7 206
5,77
4,55
239 Strong
LLC LENTA
INN 7814148471 Saint Petersburg
438 812
445 021
5 140
9 146
3,87
4,39
242 Strong
LLC KOPEYKA-MOSCOW
INN 7715196234 Moscow
57 587
60 613
1 405

-1 153

3,22
2,98
293 Medium
JSC TRADING HOUSE PEREKRESTOK
INN 7728029110 Moscow
878 818
906 694
5 980
21 698
2,26
2,79
234 Strong
LLC SLADKAYA ZHIZN N.N.
INN 5257041777 Nizhniy Novgorod region
60 482
79 021

-753

-712

-1,33

-0,30

303 Adequate
JSC TANDER
INN 2310031475 Krasnodar territory
1280930
1 396 525
23 377
12 985

-0,70

-1,58

240 Strong
LLC X 5 GIPER
INN 7710529680 Moscow
38 259
53 514
451
7 840

-1,20

-2,09

200 Strong
Average value for TOP-10
394 983
434 223
2 804
6 461
3,16
2,90
Average value for TOP-50
83 880
89 003
1 342
2 449
13,09
7,86

growth of indicator to the previous period,

decrease of indicator to the previous period
The average indicator of the return on sales ratio of TOP-10 is below the average one of TOP-50. In 2019, four companies have increased the value compared to the previous period.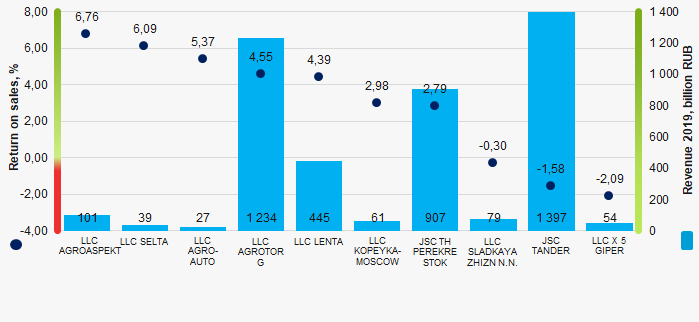 Picture 1. Return on sales of companies included in the largest food chains (TOP-10)
During six years, the average values of the return on sales ratio of TOP-50 have a trend to decrease (Picture 2).

Picture 2. Change in the average values of the return on sales ratio of TOP-50 companies included in the largest Russian food chains, 2014 - 2019