Working assets of battery factories
Information agency Credinform presents ranking of the largest batteries manufacturers. Enterprises with the largest volume of annual revenue (TOP-10) were selected for the analysis, according to the data from the Statistical Register for the latest available periods (for 2016-2018). Then they were ranked by decrease in working capital to current assets ratio (Table 1). The analysis was made on the basis of the data of the Information and Analytical system Globas.
Working capital to current assets ratio (x) is calculated as diminution of equity and net assets to working assets. Indicator shows ability of an enterprise to finance current activcities by means of own working funds. Recommended value of the ratio is > 0,1.
For getting of the most comprehensive and fair picture of the financial standing of an enterprise it is necessary to pay attention to all combination of indicators and financial ratios.
Table 1. Net profit, revenue, working capital to current assets ratio, solvency index Globas of the largest manufacturers of batteries (TOP-10)
Name, INN, region
Revenue, billion RUB
Net profit (loss), billion RUB
Working capital to current assets ratio (x), > 0,1
Solvency index Globas
2017
2018
2017
2018
2017
2018
1
2
3
4
5
6
7
8
LLC ANIKS
INN 7703671051 Moscow
212
1280
17
111
0,12
0,97
262 Medium
JSC MPKF ALKOR
INN 7204015103 Tyumen region
1862
1601
294
184
0,89
0,92
231 Strong
JSC TYUMEN BATTERY FACTORY
INN 7204001630 Tyumen region
3980
4137
361
147
0,75
0,82
182 High
LLC KAZ
INN 4632167682 Kursk region
896
1373
48
112
0,14
0,45
211 Strong
JSC ELEKTROTYAGA
INN 7805230257 Saint Petersburg
1354
1591
94
151
0,56
0,33
170 Superior
JSC ENERGIYA
INN 4821000142 Lipetsk region
1839
2534
298
450
0,23
0,28
169 Superior
JSC ELEKTROTYAGA
INN 7805020789 Saint Petersburg
2900
3000
310
157
0,44
0,27
193 High
JSC AKOM
INN 6345011371 Samara region
4618
5610
272
209
0,08
0,17
233 Strong
LLC RAZ TANGSTOUN
INN 2313019123 Ryazan region
1823
2242
68

-22

0,17
0,13
269 Medium
ISTOK+ LIMITED COMPANY
INN 4632161433 Kursk region
3754
4768
84
6

-0,10

-0,07

262 Medium
Total for TOP-10 companies
23237
28136
1846
1514
Average value for TOP-10 companies
2324
2814
185
151
0,33
0,43
Average industrial value
374
381

-3

9
0,00
0,00

growth decrease of indicator to the previous period,

decrease of indicator to the previous period.
Average value of the working capital to current assets ratio of the TOP-10 group is higher than average industrial value of 2018. Seven companies have improved their results in 2018.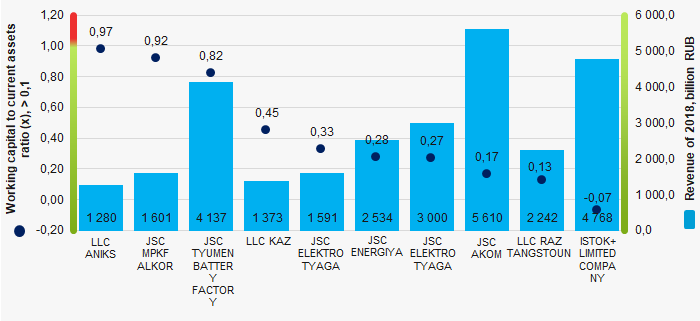 Picture 1. Working capital to current assets ratio and revenue of the largest manufacturers of batteries (TOP-10)
Over a ten-year period average industrial values of the working capital to current assets ratio had decreasing tendency. (Picture 2).

Picture 2. Change in the average industrial values of the working capital to current assets ratio of manufacturers of batteries in 2009 – 2018
Contract system slows down national projects: who is to blame and what to do
To implement the ambitious program "National projects 2019-2024", record-high 18,1 trillion RUB are planned to be allocated from the federal and regional budgets.
By September, only 46% out of 1,7 trillion RUB received for national projects were committed.
The primary obstacle to implement the projects is unfinished mechanism of budget allocation through the public procurement system.
Customers cancel procurement procedures
From the implementation of development programs as part of national projects concerning almost all segments of domestic economy and public life, the problem of procurement inefficiency has become acute. Bureaucracy in public procurement is very strong. The procurement system is highly complicated for both customers and suppliers. Principles of budgetary savings when selecting the supplier lead to decline in quality of supplied goods or services. As a result, customers interrupt procurement due to unavailability of suitable vendors, or they failing to conduct procurement within the legal deadline due to complex paperwork.
In January-June 2019, the customers placed procurement notices under the 44-FL with a total value of 4,4 trillion RUB, that is by 59% higher than in 2018. At the same time, total volume of concluded contracts amounted to 3,1 trillion RUB, that is by 6% lower that in the first six months of 2018.
There is a paradoxical situation of allocating big funds by the government, but they do not serve for the economy being committed by the customers too slowly through no fault of their own.
Fair suppliers refused to participate in procurement
Economic sense of procurement for potential participants is declining due to unavailability of attractive and detailed investment projects, as well as due to price reduction policy in determining the winner.
Electronic auction is the most popular way to determine the supplier by the lowest total contract price as one of the key criteria. Total volume of such procurement type in January-June 2019 amounted to 3,3 trillion RUB, or 76% of total procurement volume.
In business community, there is a strong belief that demands of customers artificially limit the pool of participants. Documents are prepared for pre-selected suppliers, and there is very little chance to win for other suppliers.
Affiliation of the customer with one of the participants and strict contract schedule do not boost the confidence in feasibility of cooperation. Some companies do not participate in procurement because of obligatory securing the contract, and not all small companies are able to pay large amount for placing the bid.
Significant quick corrections to the contract system
The existing procurement system is criticizing by both business community and highest authorities. In this regard, the legislator began to make quick corrections to the 44-FL, aimed at simplification of public procurement system and attracting new potential participants including those of small enterprises. Changes will affect both customers and suppliers.
For example, small business will be allowed to provide bank guarantee instead of withdrawing funds from turnover to the special account to secure the large bid. The customers will be able to conduct short procedure procurement without duplicate workflow and reporting.
The list of most significant changes in procurement procedures is presented in Table 1.
Table 1. Major changes to the 44-FL with effect in 2019
| | | |
| --- | --- | --- |
| Issue | Old rules | New rules |
| Excessive workflow | The customer prepared duplicate documents - schedule and procurement plan, where it was required to specify the goals and rationale for procurement | Only procurement schedule not containing goals and rationale for procurement |
| Blocking funds on a special account in procurement exceeding 1 million RUB | Securing the bid with funds in a special account | Securing the bid with funds in a special account or bank guarantee |
| Financial capabilities of the business to secure the application are not taken into account | Small business (SMP) secured bids for participation in the procurement along with other participants | Securing an application for SMP is not required if there is experience in the execution of contracts over the past three years |
| Amount of the security for the bid for SMEs is artificially high | Calculated from the initial (maximum) contract price | Calculated from the final price of the contract, which is usually lower than the initial |
| Repeated procurement in case of contract failure | Customer is required to conduct new procurement | It is allowed to enter into contract with the second participant without new procurement |
| Minor amounts of procurement from a single supplier | Maximum price from a single supplier amounted to 100 thousand RUB | Price from a single supplier was increased 3 times - up to 300 thousand RUB |
| Low speed of procurement arrangement | Notice of the start of procurement was placed 10 days after changes in the procurement schedule | Procurement notice is published the day after changes in the schedule |
| Inability to make large purchases under the expedited procedure | For compact auctions, the initial contract price was limited to the amount of 3 million RUB | For short auctions, the contract price bar has been increased to 300 million RUB, for construction - up to 2 billion RUB |
| Necessity of reporting on contract execution | Mandatory required to generate and post reports | Contract performance reporting is canceled |
Conclusion
Despite positivity of changes, the measures taken are insufficient to make the contract system flexible and simplified. Main shortcomings of public procurement under the 44-FL have not been resolved: principle of reducing prices for receiving the order and mechanism for determining the initial contract price by the customer. It is unprofitable for companies to participate in procurement, as they have to sell products / services at below cost or even lower. The customer is forced to save allocated funds, and quality in most procedures takes second place.
Transformation of the contract system must facilitate access to procurement to a wider range of participants, speed up the timing of competitive procedures, and relieve customers from excessive reporting.
The economy receives huge funds. The active participation of entrepreneurs in procurement is essential for successful implementation of national projects and new impetus for economic growth in the country.
Whether national projects will be implemented and whether the economy can develop successfully depends largely on the will of the senior officials of the country.